From Syria, reports have come that Syrian government forces have completely taken control of the strategically important section of the M5 highway between Aleppo and Sarakib (Serakib). Intensive advance along the highway did not allow the militants to maintain their positions, which they had been trying to strengthen over the past few days.
Meanwhile, Turkey continued to transfer military equipment to Syria. A column of equipment, in which several
tanks
and armored vehicles, some time ago it entered from the side of the Turkish settlement of Chilvegeusu (near Reyhanla). This is another Turkish convoy that uses the Reyhanli-Idlib highway.
Against this background, Kurdish experts in Syria commented on the next Turkish demarche on patrolling the area with the military police of the Russian Federation, naming its cause. Recall that the Turkish contingent today did not go on a patrol route. According to Kurdish experts, patrolling in the presence of Russian troops lost any practical meaning for Ankara, since under the circumstances Turkey lost the opportunity to use the northern part of the M4 highway to transport its equipment.
Thus, the Kurds in the north of the SAR are making a judgment that the Russian military presence has recently begun to "hamper" the Turkish headquarters with the implementation of the saturation of the region with military equipment and more and more new troops.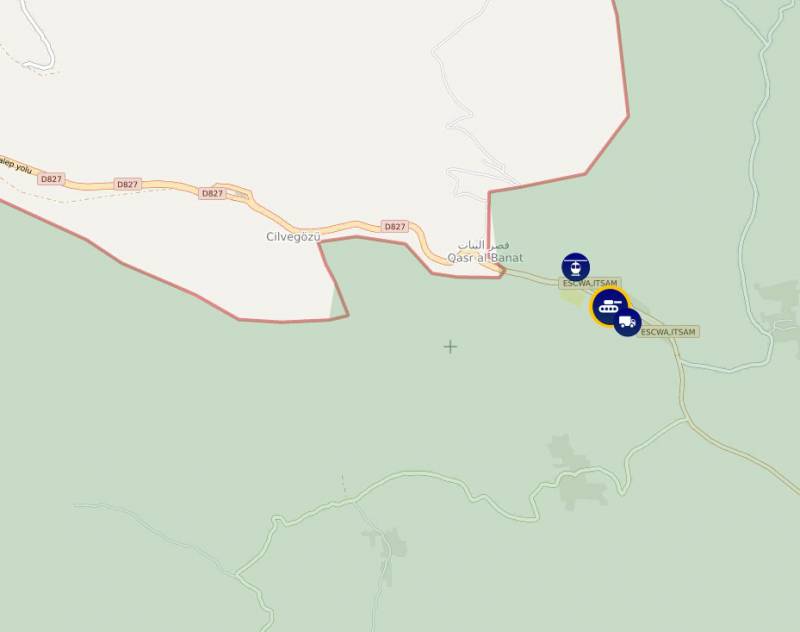 The point of view has the right to life, especially when you consider that now the main Turkish forces cross the border of the SAR in the section mentioned above - in the Reyhanli region, where there is neither a Russian nor a Syrian military presence, and where the territories are actually controlled by militants. Moreover, if you introduce the equipment from the north, then on the way to Idlib she still has to overcome the site in the Aleppo region, which is under the control of the SAA. And since the M5 highway was in Aleppo and Idlib under the complete control of the Syrian forces, for the Turkish army, such a "campaign" seems, to put it mildly, difficult.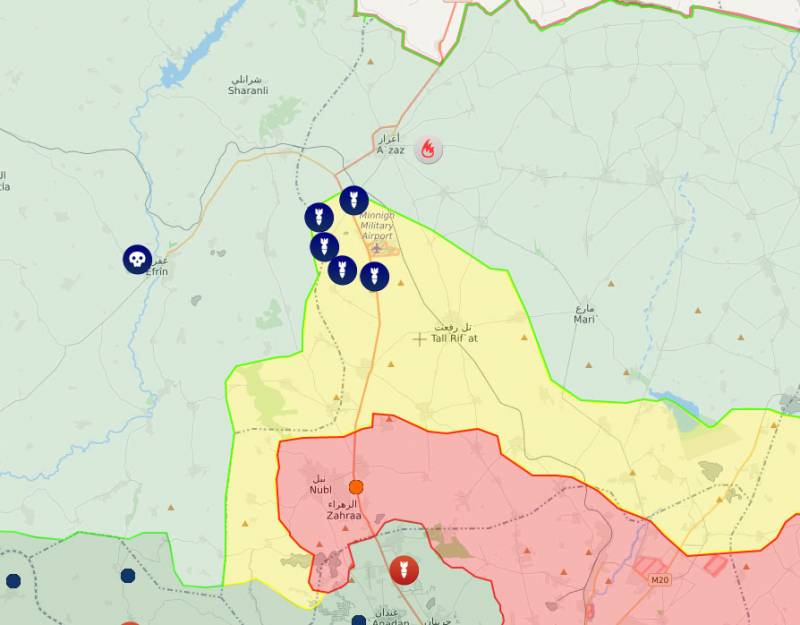 The CAA control zone is marked red, the buffer zone is yellow, the blue marks are the shellings from the Turkish Armed Forces
In addition, it should be noted that the Turkish army resumed shelling of settlements in the north of the SAR. Intense fire is conducted in the Syrian region of Tel Rifat.