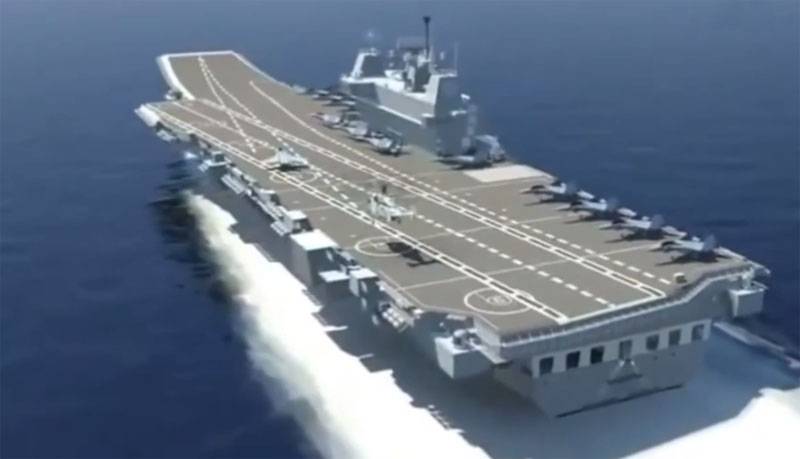 In India, they announced the completion of tests of power units for the Indian aircraft carrier IAC-1 INS Vikrant. Additionally, Indian media reports say that the aircraft carrier itself is "at an advanced stage of construction."
During an inspection conducted by members of the EAC commission (which monitors the work of shipyards in India), it was found that the engines, gas turbines and diesel generators of the Wikrant aircraft carrier are ready for full operation.
According to the latest data, the aircraft carrier will be launched for sea trials in the summer of 2020.
From an Indian media report:
Dock tests of the aircraft carrier will soon begin, and then, by the middle of the year, full-fledged sea tests.
Initially, they planned to put the combat ship into service with the Indian Navy in 2018.
At the same time, in the Indian parliament, during the report of the Minister of Defense and representatives of the shipbuilding industry, they did not miss the opportunity to attack Russia. The industry representative said that the deadlines for commissioning the Wikrant aircraft carrier are being shifted "due to the fact that Russia has delayed deliveries
aviation
technicians. " MiG-29K fighters serve as this technique.
The statement is strange. And where is the supply of aviation equipment, if until now in India itself the work related to testing the power units of the aircraft carrier under construction has not been completed? Probably, the accusation made against Russia should convince parliamentarians that Indian shipbuilders have no relation to the postponement of the commissioning of Wikrant.
In India, they reminded that they were going to build another aircraft carrier - INS Vishal. Great Britain offered to help the Indians in this project.