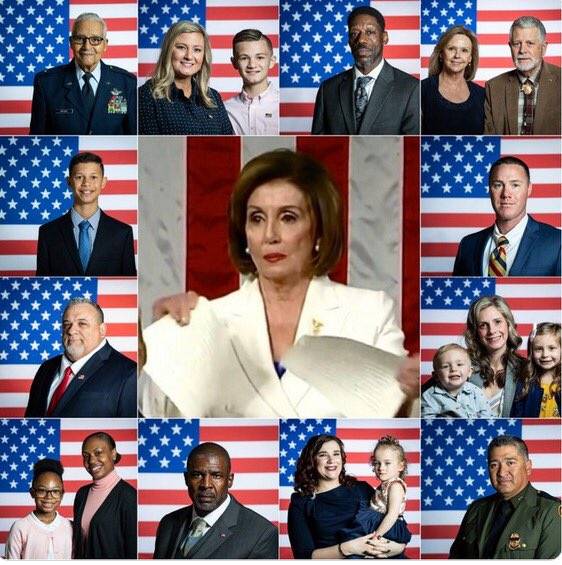 The US Democratic Party, represented by Speaker of the House of Representatives Nancy Pelosi, announced the continuation of the war with President Trump: Nancy defiantly broke Trump's report right behind him in Congress when he finished reading his hourly report and received applause from the audience. A scandal is egregious, one might say
historical
. On the sidelines, Nancy called Trump's report "dirty," commentators say she paid Trump so much for not shaking hands with Congress.
Challenge accepted
Yes, Trump did not shake Nancy's hand, but, in fact, it was for what: how many attacks and what he heard from her! And if Trump shook Nancy's hand? Then would the Democrats talk about giving up Trump?
In response to the demarche of the Democrat, Pelosi Trump tweeted an ironic video with the slogan "Trump forever!" The Democrats' call has been accepted! This means that a quiet political war between Trump and the Democratic Party will continue until November 2020, when the next presidential election will be held. This portends not only noisy pre-election scandals in the USA, but also a certain lull in the international arena, which Russia, China and other independent players can take advantage of.
For Russia and Germany, this facilitates the completion of Nord Stream 2, and it will also be possible to pay attention to the American semi-colonies in Europe like the "Baltic tigers" and the "tiger cubs" that joined them.
The collapse of American "democracy"
Pro-American observers call the scandal in the US "real democracy," saying that democratic institutions are demonstrating their effectiveness. The usual propaganda trick: to draw the opposite conclusion from what is happening, calling black white and vice versa. Without any rules, they give political strife, defamation and bullying to democratic institutions, while "democracy is a procedure," they broadcast yesterday!
The Trump presidency has clearly shown the whole world one important thing: if you scrape any "democracy", you will see some kind of dictatorship, that is, a "deep state". Note any "democracy", not just American! Without an internal dictatorship, not a single "democracy" works! Trump scraped the American "democracy", and the world saw the dictatorship of the Democratic Party with a "deep state." Such that the US president was in his White House as in a besieged fortress.
President Trump and his comrades turned out to be a tough nut, and his feud with the Washington Marsh continues. The very fact of this democratic war says that the hopes of our cosmopolitans and liberal hopefuls to agree on something with America, their hopes for a new convergence is an illusion. Even if Trump wins in this battle in Washington, he will also establish his "deep dictatorship," only another American party. What mutually beneficial democracy can be negotiated with dictatorship? As Trump said in his video, "democratic dictatorships" are forever!
Still time
President Trump is now gaining the upper hand in the battle with the Democrats, but how will it end in the end? In any case, Trump will have to deal with the American "demshiza": LGBT activists and other professional activists for their rights, against the rights of everyone else. And behind them are puppeteers like George Soros, who harasses Trump publicly as a "daffodil", a liberal Hollywood bohemian who feels a threat to his income from Trump's pragmatist and producer.
It is hard to say how the American "silent war" will end, but nevertheless we wish good luck to Trump, because his opponents are "much worse", as the parasitic elite eater Joseph Stalin said.