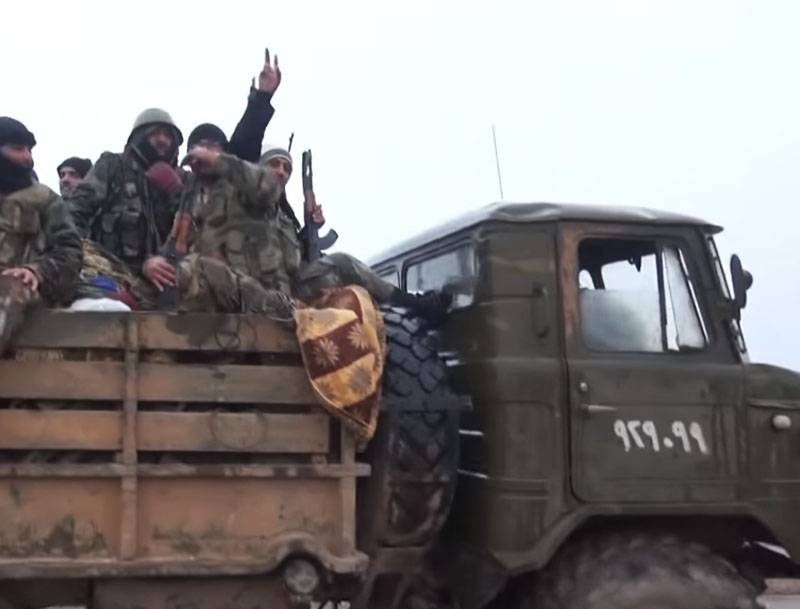 The Syrian army continues to attack in several directions at once in the provinces of Idlib and Aleppo. The most difficult situation is in the direction of the village of Kafr Nuran, north of Taftanaz, as well as a few kilometers south of the city. In the Taftanaza area, there is an airfield, which under its control holds the Turkish military contingent. Militants are trying to snuggle in the same direction.
Over the course of the day, the SAA, with the help of active actions on the spot of Kafr-Khalyab and Miznaz, was able to break through the defenses of the militants and advance several kilometers in the direction of Kafr-Nuran. It is important to note that the offensive was unfolding in several directions, which allowed disorientation of the militants. As a result, the Syrian government forces managed to take a strategically important object on the M5 highway (Aleppo-Damascus), defeating the militant group defending it.
We are talking about a transport and infrastructure unit southwest of the village of Ras al-Kirmid. At this point, two roads converge, one branch of the railway, as well as an oil pipeline. The defeat inflicted on the militants in this area greatly simplified further advancement along the M5.
During the operation, the SAA really managed to advance along the M5 to the village of Wadi Abu Shailam. Thus, the section of the national highway uncontrolled by the Syrian army was reduced to less than 7 km.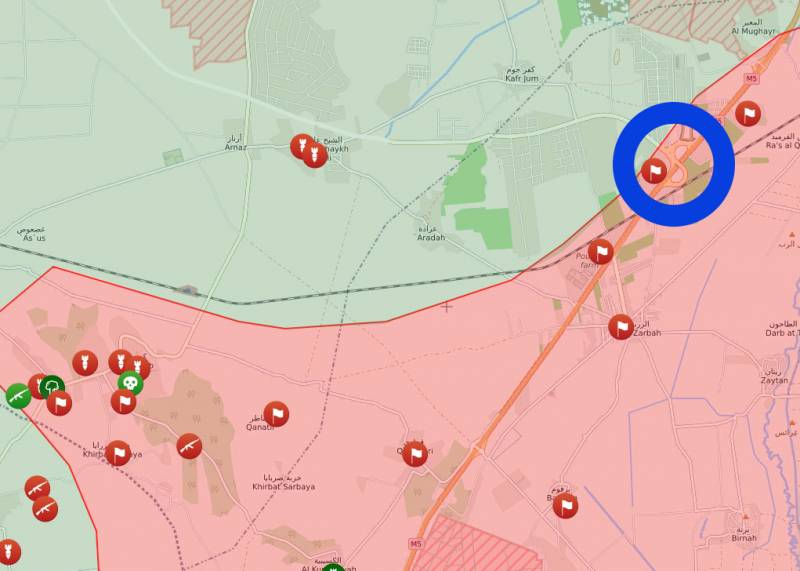 Last weekend, its length was about 25 km.
Meanwhile, the Turkish Ministry of Defense confirmed the loss data. In Ankara, they say that the number of dead Turkish soldiers in Taftanaz increased to six. Reported more than 10 injured. They were evacuated away from the war zone. For this, helicopters were involved.
#Syrie Vidéo qui documente un hélicoptère de la #Turkey qui a evacués les 5 morts & 5 blessés vers #Antioche après que leur poste d'observation a été bombardé à Taftanaz.
Aucune frappe de représailles d '#Ankara n'a été signalée actuellement.# Syria #Turkey pic.twitter.com/OwDGZCCm0L

- Rebecca Rambar (@RebeccaRambar) February 10
A few minutes ago, Russian-Turkish talks on the situation in Syria ended in Ankara. Russia was represented by Deputy Foreign Minister Sergei Vershinin, Turkey - by his colleague Sedat Onal. The results of the negotiations have not yet been reported.
Militants in Idlib publish threatening footage of the Syrian military, promising them a "tough answer." The frames show him the Turkish armored vehicles:
#Syrie Vidéo qui documente les militants intégristes soutenus par la #Turkey qui ont été équipés avec des véhicules blindés turcs acheminés récemment pour tenter de faire face à l'avancée des troupes syriennes à #Idlib.# Syria #Turkey pic.twitter.com/NpuYdJIRGb

- Rebecca Rambar (@RebeccaRambar) February 10