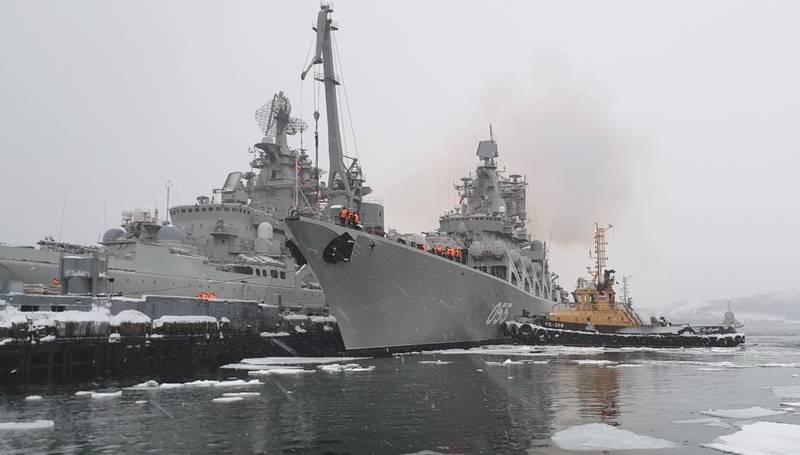 Squad of ships of the North
fleet
led by the missile cruiser Marshal Ustinov, arrived in Severomorsk, thereby completing a seven-month long voyage. This was reported by the press service of the Federation Council.
According to the report, on February 8, 2020, the Marshal Ustinov missile cruiser, the Vyazma medium-sized sea tanker, and the SB-406 rescue tugboat moored at the Northern Fleet's main base - the permanent base - Severomorsk.
The cruiser was moored in the main base of the Northern Fleet - Severomorsk to its full-time berth, on the other side of which is the Peter the Great heavy nuclear missile cruiser
- said in a statement.
The press service noted that during the trip, the cruiser "Marshal Ustinov" walked about 42 thousand miles (more than 77 thousand km).
The cruiser Marshal Ustyinov has been on a long hike since July 2019. The ship initially arrived in Kronstadt to participate in the Main Naval Parade, then operated for two months in the Mediterranean Sea. Subsequently, the cruiser visited Algeria, Egypt, Turkey, Greece and Cyprus. In November, the cruiser participated in joint exercises with the frigates of the Navy of South Africa and China.
"Marshal Ustinov" - missile cruiser project 1164, laid on October 5 1978, at the Nikolaev shipyard under the name "Admiral of the Lobov Fleet". He is armed with 16 launchers of cruise missiles, as well as anti-aircraft missile, artillery and anti-submarine systems.
The Russian Navy includes three such cruisers: the flagship of the Black Sea Fleet - "Moscow", "Varyag" - on the Pacific and "Marshal Ustinov" - on the North.