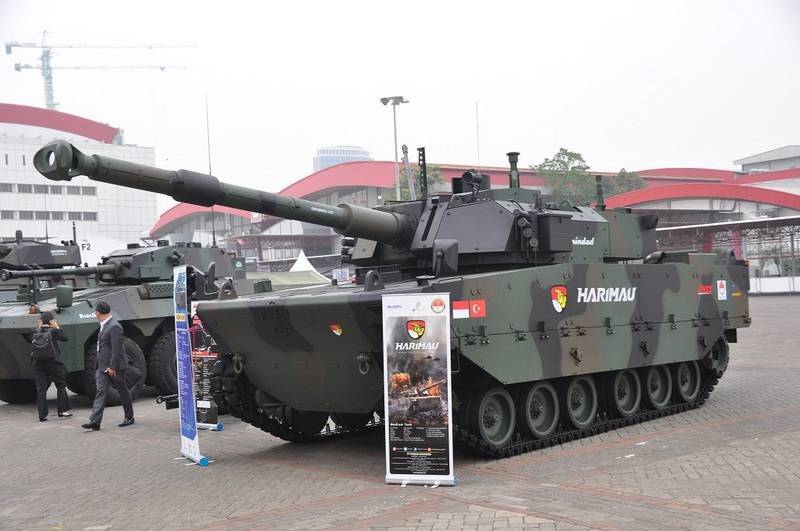 The latest Turkish-Indonesian medium tank Harimau reached the stage of mass production, Turkey issued a permit for the production of the first 18 serial
tanks
for the indonesian army. This was reported by armyrecognition.com.
The Ministry of Defense of Indonesia ordered the first batch of the latest medium tanks back in April last year, all the while negotiating a contract with the Turkish side took place. After obtaining the permission of Ankara, the Indonesian company PT Pindad begins to release the first production batch.
Harimau ("Tiger") is a joint development of the Turkish company FNSS Savunma Sistemleri and the Indonesian PT Pindad specifically for the Indonesian army.
The hull and chassis of the tank are completely created by Turkish FNSS, and the tank tower is a Belgian steel double CMI Defense Cockerill 3105 with a 105 mm rifled gun CMI Defense CT-CV 105HP equipped with a muzzle brake and a coaxial 7,62 mm machine gun. The gun is equipped with a drum-type automatic loader for 12 shots, another 30 shots are placed in the machine body. The gun is capable of firing standard NATO 105-mm tank ammunition. The contribution of the Indonesian side was to finance the project.
The weight of the tank 32-35 tons (not exactly disclosed), the crew of three people. The machine is able to overcome the ford with a depth of 1,2 m, a ditch with a width of 2 m and a wall with a height of 0,9 m.
Booking the hull and turret of the tank provides protection against the 14,5 mm armor-piercing bullet with the 200 m, but can be enhanced to protect against the 25-mm projectile projectile.
At the first stage, the Indonesian army intends to acquire the 44 tank Harimau. In total, it is planned to deliver to the troops up to 400 tanks.