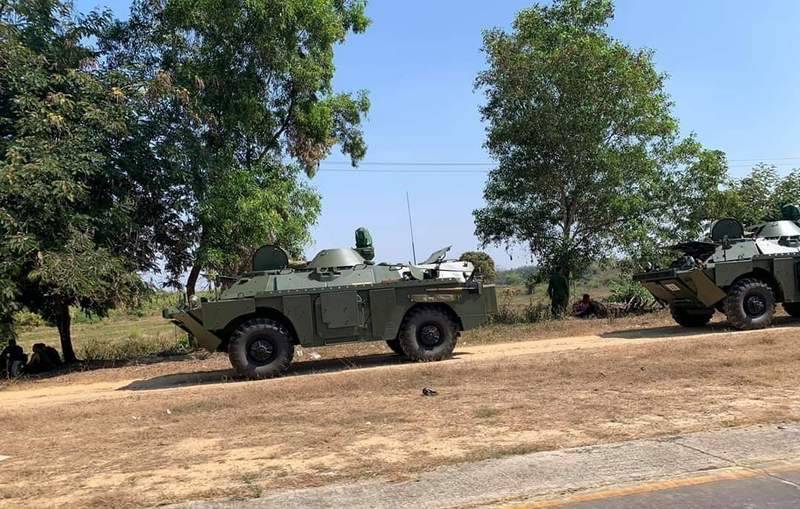 Myanmar's Armed Forces received a batch of Russian modernized armored reconnaissance and patrol vehicles BRDM-2MS. This was reported in the social networks of Myanmar.
According to publications, the equipment entered the country at the beginning of February this year, and it will be publicly presented only at the military parade in honor of Myanmar's Armed Forces Day, which will be held on May 27. In total, the Myanmar military received 33 BRDM-2MS, of which three were commander-made vehicles.
The upgraded version of the BRDM-2MS differs from its original version in the absence of additional wheels and installed additional armor protection, which is clearly visible in the photographs of the vehicles. According to reports, 20 armor plates with a thickness of 6 mm are placed over the hull area, thereby increasing the crew's protection against damage by 7,62 mm and 12,7 mm and 14,5 mm caliber bullets in the frontal projection.
In addition, the BRDM-2MS received anti-shatter flooring, a new 150-horsepower diesel engine, a new fire control system and stabilizers for sighting devices. New detection and aiming tools can pinpoint targets at distances of up to 5 meters during the day and up to 000 meters at night. Special television equipment, consisting of 3 cameras, allows you to control the situation around the car.
As the main armament, a 14,5 mm KPVT machine gun and a twin 7,62 mm PKTM were installed.
The speed of the BRDM-2MS is 50 km / h on rough terrain and up to 100 km / h on the highway. Crew 5 people.