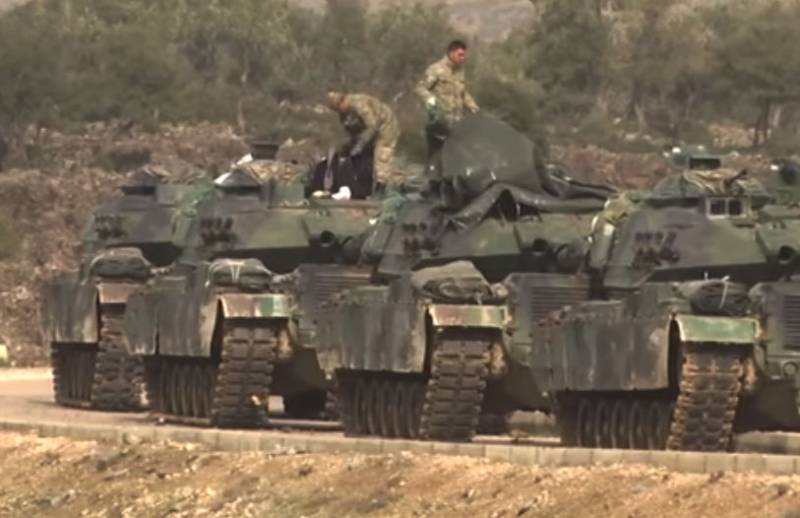 It became known that the Turkish army removed
Tanks
and other armored vehicles that were being flown to Syria from the direction of Idlib-Sarmin-Serakib. Recall that on the eve of the Turkish military convoy was at the village of Sarmin, which is still controlled by militants.
This actually opens the Syrian Arab (government) army (SAA) a direct path to the administrative center of Idlib province - a large (by Syrian standards) city of the same name.
But where did the Turkish tanks "disappear" from the Idlib-Serakib road?
According to recent reports, the Turkish military command decided to redistribute the military equipment of the specialized convoy, taking one part to the military base of Al-Mastum (south of the city of Idlib), and the other to the area of ​​the Taftanaz airfield. The tanks of the Turkish Armed Forces are located on the base of Al Mastum.
CAA continues its progress not only towards Idlib, but also along the M5 highway. Just a few hours ago, Syrian troops liberated three settlements located on this highway from terrorists at once. Among them is Sheikh Ahmed, which is located at the crossroads of the M5 with a road leading to the mentioned military base of Al-Mastum, where the Turkish military are located.
If you look at the map, the question arises about the further tactics of CAA. If the Syrian government forces conduct an offensive exclusively along the Sarmin-Idlib road, then there is a possibility that Turkish troops may bombard advancing assault groups from two flanks: from Al-Mastum and Taftanaz. All this looks like a trap set up by the Turks for CAA.
In this regard, the Syrian army would be advisable to use the previous tactics and move to Idlib from two sides. In this case, through the settlements of Ariha south of the administrative center of the province and Marat Misrin to the north of it.