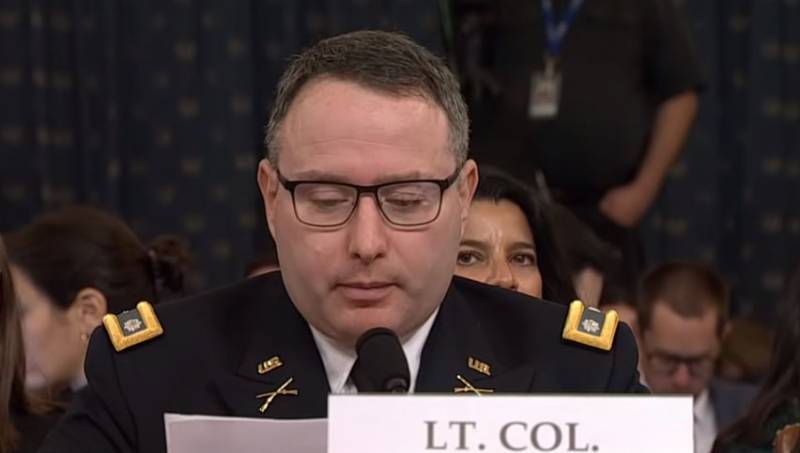 It became known that the man who was an officer of the US National Security Council and testified against Trump in the so-called "Ukrainian case" was dismissed from his post. It's about a man named Alex (Alexander) Windman.
Lieutenant Colonel Windman was used by the Democratic Party as a witness as part of the impeachment procedure, which ultimately failed.
The lieutenant colonel of the American NSS said that he had "heard the details of the conversation between US President Donald Trump and his Ukrainian counterpart." Windman's statements were tried to give weight as evidence for Trump's alleged abuse of office. But in the end, the US Democratic Party was defeated in the launched impeachment procedure, and now Windman has lost his job.
Together with Alexander Windman, his brother Eugene (Eugene), who worked as a lawyer, lost his place in the structures of the US NSS.
Windman's lawyer said his client "was fulfilling the duty of an American officer and was faithful to the oath." The US Presidential Administration decided that the duty of an American officer cannot consist in eavesdropping on the conversations of the head of state with a view to their further own interpretation to the press and opponents of the head of state. Because Windman pointed to the door.
For reference: Alexander Vindman was born in Ukraine (in the Ukrainian SSR) in 1975. At the age of 4, he was in New York with his father and other relatives. Subsequently, he became a member of the US Army, participated in the war in Iraq. In 2018, he appeared in the National Security Council, and among the officers who have the right to listen to telephone conversations of the country's president.