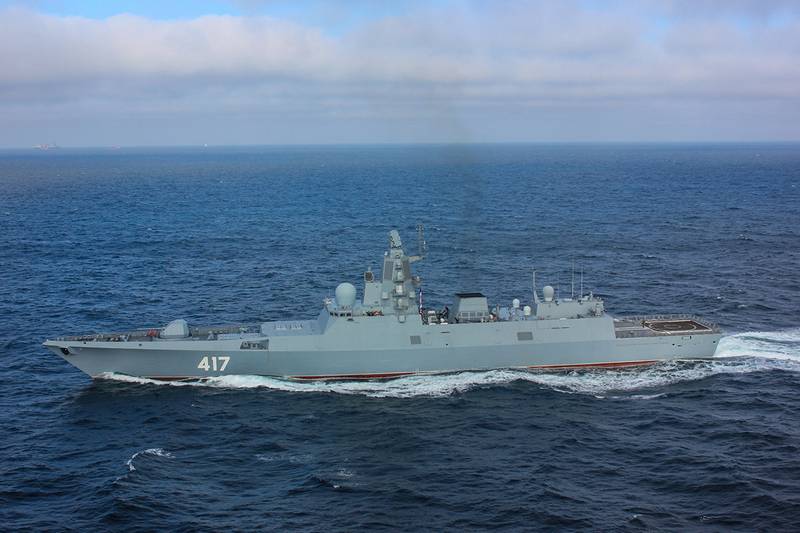 Head frigate of the 22350 project "Admiral Gorshkov"
Two more frigates of project 22350 of the Admiral Gorshkov type will be laid at the Severnaya Verf shipyard by the end of this year. It is reported by Mil.Press FlotProm with reference to two sources in the shipbuilding industry.
According to the publication, the decision to lay two more frigates of project 22350 was made following the operation of the lead ship of the series - Admiral Gorshkov, serving in the North
navy
. According to available information, the number of cruise missiles on board will be increased on the ships planned for laying. Instead of 16 KR, like the first ships of the series, the new frigates will carry 24 missiles.
Recall that at present the head frigate of project 22350 Admiral Gorshkov is serving as part of the Russian Navy; the first serial Admiral Kasatonov is getting ready for commissioning. The second serial frigate Admiral Golovko is being prepared for launching; its commissioning in the Navy is scheduled for next year. The fourth ship of the Admiral Isakov series is under construction.
Initially, they wanted to limit the series of frigates of project 22350 to four ships, but last year it was decided to lay down two more combat ships of this project: Admiral Amelko and Admiral Chichagov, which were laid in April 2019.
Recall that the ships of project 22350 have a displacement of 5 thousand tons with a length of 135 m and a width of 16 m. The frigate is able to cover 4500 miles, while developing a speed of up to 29 knots. Autonomy of swimming is 30 days. Crew - from 170 people.
Main power plant: gas turbine engine with a total capacity of 65 thousand liters. pp., diesel generators with a total capacity of 4 thousand kW.
The frigate is armed with: the 130-mm A-192 artillery mount, the Poliment-Redut anti-aircraft missile system; launchers for 16 anti-ship missiles "Onyx" or "Caliber", anti-submarine complex "Package", anti-submarine helicopter Ka-27.
In May last year, it was reported that the Ministry of Defense decided to build a series of frigates of the modernized project 22350M. In total, it is planned to build 12 ships, the first of which should be part of the Navy in 2027.
The new project should provide for the construction of a ship with a tonnage of 7 thousand tons, with the deployment of Caliber, Onyx and Zircon cruise missiles on board to 48. Also, the frigates will be equipped with the Polimen-Redut anti-aircraft missile system with ammunition up to 100 missiles, anti-submarine and torpedo weapons. Frigates should receive a single universal automated fire control system for all types of ship-borne weapons.
The Northern Design Bureau is engaged in the development of design documentation for the upgraded frigates of Project 22350M, the technical design was supposed to be ready by the end of 2019.