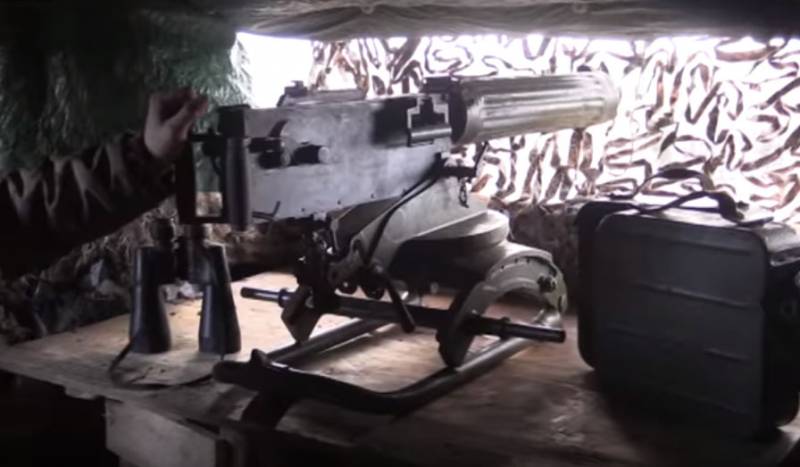 The attention of reporters and YouTube users was attracted by a three-minute video published by the Ukrainian Channel 5 (owned by Petro Poroshenko). The video talked about the units of the Ukrainian security forces, which occupy positions in the Lugansk region - the part that is controlled by Kiev. The title of the report: "We hold the position: The echo of the battles near Krymsky reaches the Three-huts.
Users after watching the video noted that
weapon
, with which the Ukrainian army is fighting, not just having seen, but "antediluvian".
Such an epithet arose after flickering in the frame of a Ukrainian soldier using a Maxim machine gun.
From the report:
Vyacheslav charges the machine gun Maxim. He says that the weapon, though old, is reliable.
Ukrainian soldier:
I had practice with him at the Avdeevsky industrial zone. We served there (with a machine gun). If you follow the weapon, it will be trouble-free.
This report of Ukrainian TV was noticed even across the ocean. At the same time, American reporters are at a loss:
If the administration (American) allocates hundreds of millions of dollars (dollars) of military aid annually to them, if Ukraine itself spends more than 5% of its GDP on its army, then why are the Armed Forces servicemen not equipped with modern weapons, but are fighting the arms of the XNUMXth century before last?
So far, the Ministry of Defense of Ukraine has not answered this correspondence question.
The question about old weapons in the Armed Forces was also asked by experts from the military section of The Drive.