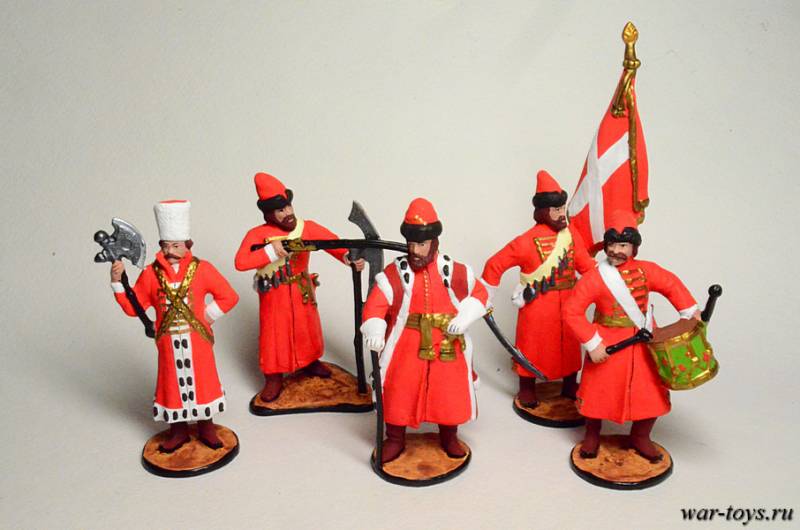 Russian archers. To make figures from egg shells on their basis is worthless. The main thing is to paint them red!
"Who to be? - thought the egg,
Frowning a white face.
- A snake, a little animal, a bird?
Penguin? Turtle?
Dove gray-winged?
Toothy Crocodile?
Peacock long-tailed?
Echidna? Platypus?
Or maybe a quokhtunya -
How is mom, colorful?
... Or maybe a fried egg.
Or maybe an omelet. "
Maria Dubikovskaya. Poems for breakfast
This reduced, reduced world.
Today we continue our story about the figures of soldiers and how to make money with them. First of all, recall the testament of the Main Commerce Advisor to the Snow Queen: "We need to get rich on the rarity!" and the second very important commandment: "Unstable things are bought more often!". That is why the ideal business is panty liners for intimate hygiene, razor blades, toilet paper, bakery products and all that jazz. But someone needs to release soldiers too! And here one small problem arises. How to play them? Yes, you can play with them, but you can't "kill" them. This is a make-believe, and therefore uninteresting. Here are computer games - yes! There it is possible. But is it possible to make sure that our children, whose hands grow in the wrong place (which they are because parents, immersed in their own worries, simply do not deal with them), do not get into the mobile phones that they are all the same parents are already three years old, but at least something to do with their own hands? For example, would you play something desktop that would require a little manual labor? Can you come up with this and make money on it? It turns out you can, you just have to try.
How and on what? In Soviet times, a goose egg fell into my hands. It was big, just amazingly big, and I thought what could be made of it ... the spaceship of engineer Los and Gusev, in which they flew to Mars, since it is described in great detail in the novel by Alexei Tolstoy. No sooner said than done! Riveted seams, hatches, a spiral brake, a nozzle were made, all this was painted accordingly, and two figures were put next to it - Elk and Gusev in a scale of 1:72 - pilots from the Spirit of America set, respectively modified. Around was sand scattered from the blow and fallen and standing red cacti. In a word, it was a diorama. The article about this makeshift was published by the magazine "Family and School", and then 1991 happened, the "windows" to Europe and America opened, and I sent this diorama to the USA, to the editorial office of the magazine "Fine Skale Modeler". Like, that's what we do ...
The diorama came almost intact, but the egg still choked a little. It is clear that it was impossible to photograph it for the cover of the magazine, but they liked both the idea and the fact that it turned out they wrote about the flight to Mars in Russia back in 1923. However, the editorial staff warned me against developing the set. We need a series, they said, an assortment. And we need kits with what the Americans know, but can you do it? One original set from the novel that no one has read in our country will not do the weather!
So with the "space egg" according to the novel "Aelita", the case was bent, but there was a proven technology for extracting the contents from the egg. It is necessary to erase a solid layer from one end, then drill a hole in this place, insert a spoke inside and mix all contents. Then insert the straw for the cocktail, and, holding the egg over the bowl, blow it into it. The contents of the shell will immediately pour into it, after which it will only have to be washed! Naturally, the yolk mixed with protein should be used to make scrambled eggs, but the shell can also be used with benefit for the development of the mind and imagination.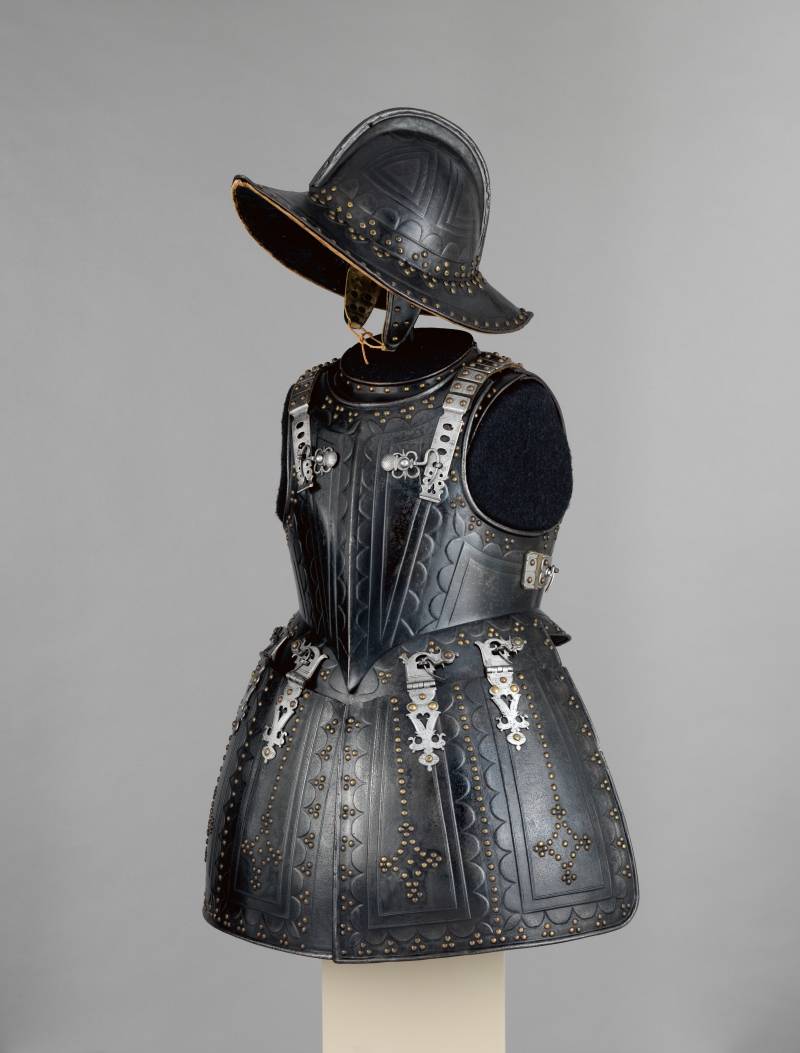 Here are the pikiner armor from the New York Metropolitan Museum of Art. Imagine an egg in their place, and you will see how almost perfectly they fit into its shape
Then, by the next New Year, I made several figurines, which I called "ovules". They looked about the same as the lemon soldiers from Gianni Rodari's fairy tale "The Adventures of Cipollino," that is, quite funny, but spectacular. The upper and narrower part of the eggshell served both head and face. Hands and feet were made of paper tubes wound on a pencil. Legs - paper funnels, paper caftan floors. Feet - again paper tubes cut in half. At first I stuck them on round paper coasters, but then I thought of pouring tin on my feet with tin so that they were heavy and held the figure well.
Rear view of a pikiner armor. The lower part of the egg should be covered with a "skirt" - leggings. And the legs should be short so that the figure is stable!
It turned out that by this principle warriors work well. The figures came out a bit grotesque, but very realistic in terms of armor and weapons. Greek phalangites and Roman legionnaires, primitive people and XNUMXth century armored men in helmets of morion, as well as musketeers, turned out well. The latter had paper cloaks, hats with feathers, and lapel boots.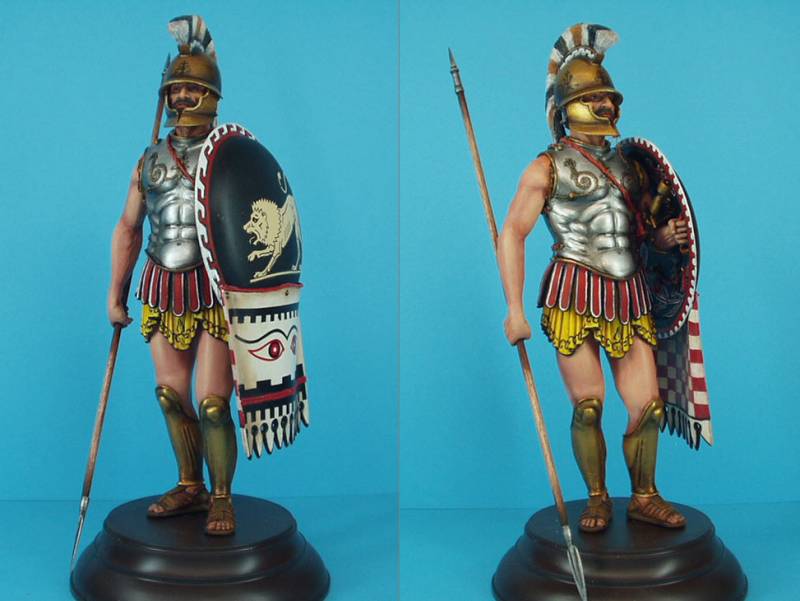 Greek phalangite - ideal as a prototype for the manufacture of ovarian warriors
At first the figures were painted with gouache. But then acrylic paints appeared and it became very easy to stain ovules. By this time, I already had a catapult made of paper tubes, and I tried to shoot them. It turned out that when a sufficiently heavy projectile hits the body of the ovule, the figure irreversibly "dies". That is, in the battle of one army of ovules against another, it is very easy to determine the winner. At the same time, let's say, nothing happens with the most labor-intensive details of the figures. Hands and feet, weapons, hats with feathers - everything remains intact and can be used to make more and more figures!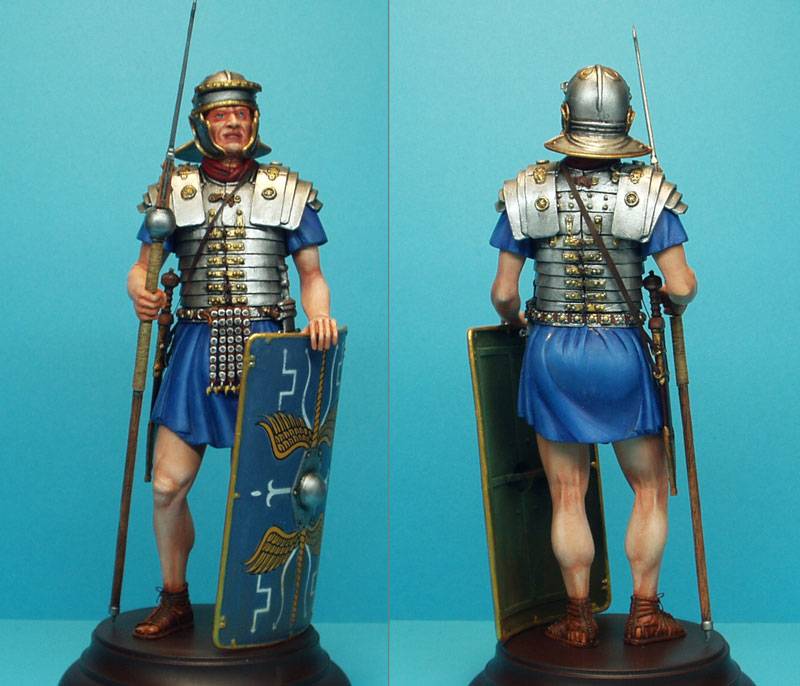 Roman legionnaires must have colorful shields!
It's best to glue them to the eggshell with superglue, although Moment is also good. To my great regret, with age I developed an allergy to superglue, which is why no photograph of an ocelop is illustrated in this article. But to make at least one such soldier for trial is not difficult. You need to choose a figure that would be like an egg in clothes.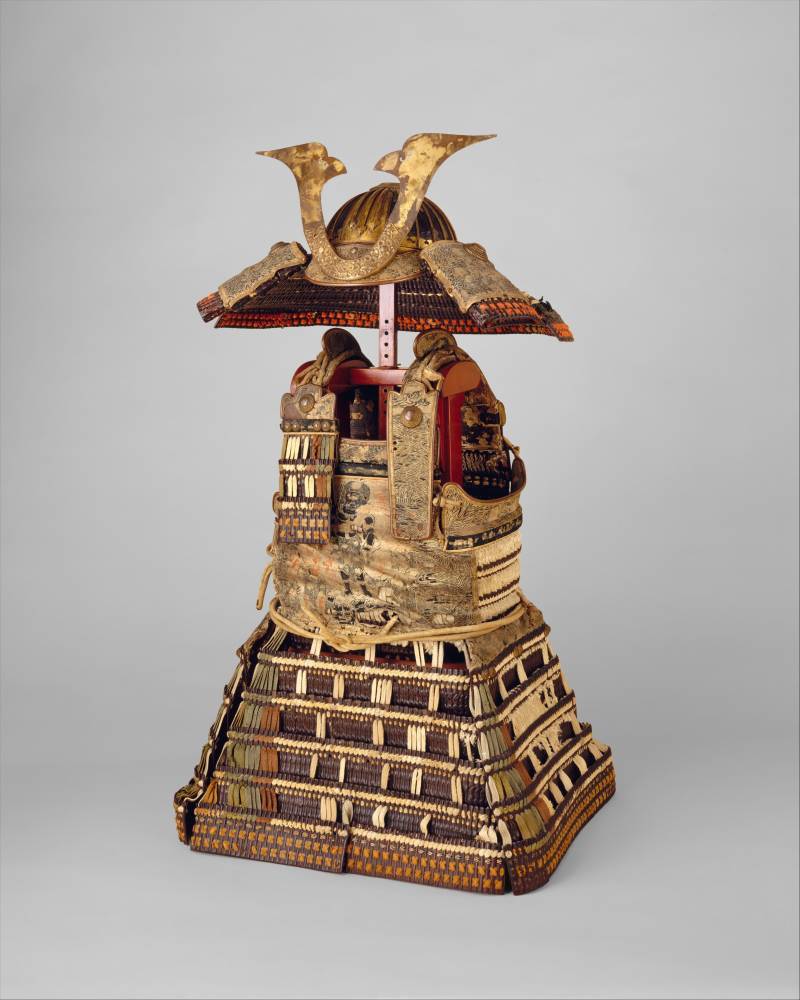 Suitable for ovaries and samurai armor ...
For example, it can be an ancient Greek warrior in a zoma skirt, a muscular cuirass and with a large round hoplon shield. The crest of the helmet can be glued directly to the top of the egg shell, and below the skin paint to draw a face, and also paint your hands and feet. The cuirass is painted with bronze paint, although you can make it white with shoulder pads, but it is better to make a skirt from belts to match the color of the skin. And, of course, you need a beautiful shield with an emblem. I ate ten eggs - here you have ten warriors! Almost a phalanx!
Since 1995, I began to teach PR at Penza State University and advertising, and somehow, after the year 2000, I remembered the ovaries, when we covered the topic of sales intensification through PR events. What is the difference with advertising? And the fact is that advertising is selling. We do not say that our eggs are the freshest, most delicious and cheapest. We simply put colorful instructions on how to make ocelop figurines in the package and invite those who wish to take part in our competition for the largest army of ovaries and become the commander of the ovule cells. And in other packages we put equally colorful leaflets with recipes for various egg dishes. Well, in order to spur the imagination of those who suddenly decide to diversify their diet, as his egg consumption unexpectedly increased slightly.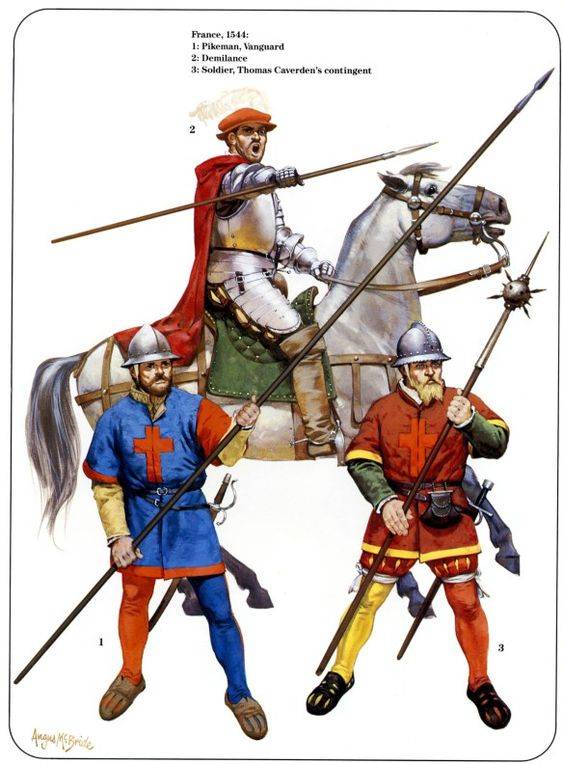 Angus McBride's drawings can well be taken as a model for the manufacture of ovules. It can be Landsknechts with pikes and two-handed swords, and warriors with Morgensterns, but you never know. Here riders of ovaries cannot be by definition. Tried - some ugliness comes out
On television, we organize several programs for children on how to make ovule figures in which children must participate, because three things sell better than others: children, animals, and very naked women. We will not have the last two factors, however, children who made their own figures, so to speak, independently, or with the help of their father and mother, will definitely provoke a positive reaction from the viewers. Naturally, the winners of the competition must wait for the prizes and they will need to be written in the inserts in the boxes with eggs, and said on the TV program.
But the most important thing is that in the TV show it will be necessary to show the "battle" of two armies of ovaries, so that their commanders shoot at the enemy soldiers from the simplest cannons. How to make them, you will also need to tell and show on the diagrams - and so that the "blood" poured on the battlefield. Arms and legs after the fight should be collected and told to children about how it is possible to repair oviducts, or rather, to do it again without much difficulty.
You can use the printing method to produce paper reamers for twisting arms and legs, and even weights for the latter from tin. Similarly, you can print and weapons: shields, swords, axes, halberds. Shafts for spears are barbecue sticks, and arrows are very well obtained from straws. That is, you can produce ready-made printing kits, say, for 10 egg-warrior warriors, where you can even put swords, bows (made of flexible plastic!), Arrows, spears (or, as already mentioned, already stamped and painted (if desired!)) only barbecue sticks, and let the child do the rest with his dad.
I shared this idea with my advertising students, and they really liked it. Moreover, they took an active part in the creation of figures of oocytes. Moreover, many had not done anything like this before, but then they got something that they could play with success. When this group received diplomas, the head of the department asked them a question: "What did they remember most from studying in their specialty?" And the answer was: "How did we do egg-growers at Vyacheslav Olegovich!" To clarify, of course, what was the matter, she did not. But to hear it was funny and pleasant.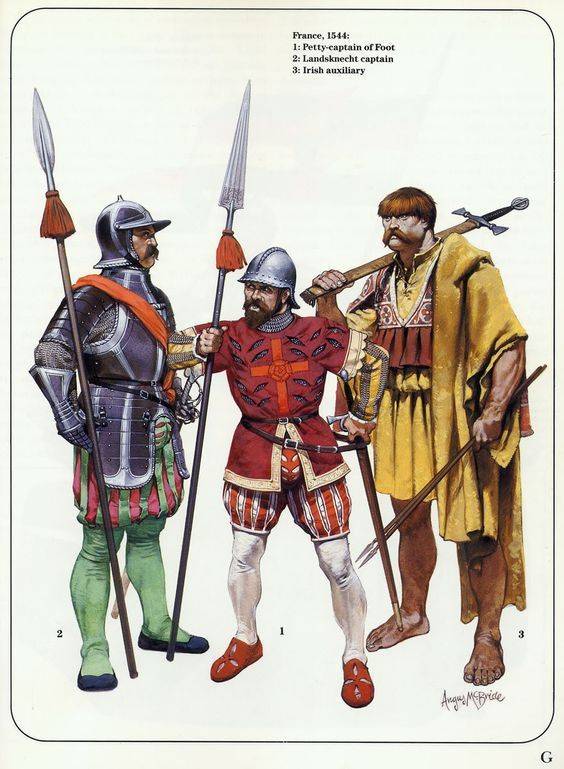 Another drawing by Angus McBride. Some details, for example, tapul, can be molded into vacuum technology, like pants with puffs, and let the kids laugh at this strange fashion. But the hands with fingers are the easiest to cut out of cardboard, because the fingers must be bent and, as a result, after several "revivals" also become worthless!
And now a short afterword. The case, which is described in this material, must be dealt with. Seriously, persistently, purposefully. Like any other business, which, in principle, can bring a lot of income. But today it's not interesting to me anymore, it's more interesting to write and travel around the world. I was engaged in business in the 90s and for a number of years later, and now it's hard just physically. This is the answer to a possible question: "What about yourself ..." But among those who read all this on "VO", there may well be those who can use this development. Why not?
To be continued ...