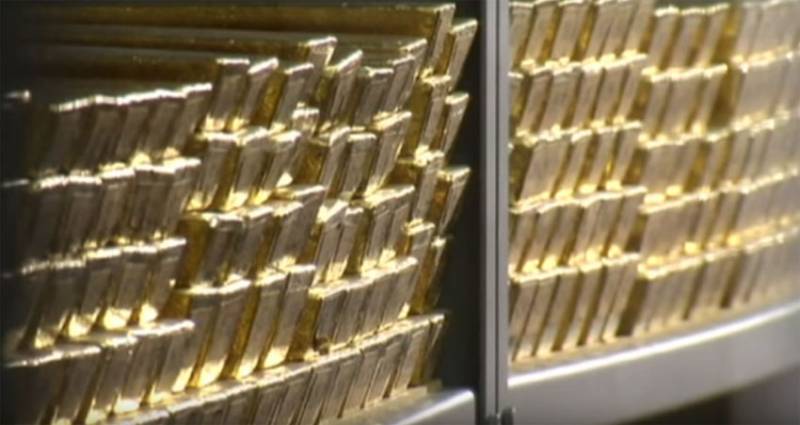 In early childhood, we were told a fairy tale about a small wooden scum who went through interesting and dangerous adventures in order to make his father, friends and many other people happy.
A little later, we watched the film adaptation of this fairy tale and realized that for the sake of freedom from the tyrant Karabas-Barabas's power, one should not be afraid of dangers, one should sacrifice the last gold ones, sometimes one should sacrifice freedom.
When we read this tale to our children, it came to understand that gold in the hands of a naive, poorly understanding child's life is an evil that dooms him to danger, to intrigues from bad people.
And only now, reading the same story to grandchildren, you begin to understand the truth that the author laid down in this children's book. Yes, the possession of gold is a great danger to man. But at the same time, in order to become happy and make others happy, a golden key is needed.
Gold as an indicator of real state independence
After the collapse of the USSR, enough countries appeared that abandoned the previous political course and changed their vector of development. They abandoned the idea of ​​building a social state and returned to building a capitalist society.
Moreover, there is a certain pattern in the actions of many new states. The new governments first of all took care of preserving the gold reserves of their country.
Further events occur in one of two scenarios. The first is simple: holding reserves in gold is not profitable, since in this case wealth does not generate income. You need to sell gold and buy to buy stocks or bonds of another state. Best of all, the United States as the richest and most reliable state.
Simply put, gold is sold in the United States, and in exchange for real gold, countries receive US debt. In fact, small states finance the economy of the United States or other countries if the obligations of other states are bought for gold.
The second option is a little more complicated: we transfer our gold reserves for storage in the United States or another country, since we cannot ensure the security of gold on our territory. Gold is exported to other countries and completely lose control over it.
It is clear that custodians of other people's gold from Fort Knox (or West Point) will, upon request, write you a beautiful report on the status of your stock. But try to demand to show your gold. Alas, it will not work out for the safety of your own gold. One cannot see where it is located specifically.
In general, if you think a little, a very unpleasant question for Americans arises. Is all the gold there? Do the "guards" use other people's good? Moreover, do the Americans themselves know how much gold is really in their vaults? Are not gold bars of lead stored in place of gold bars? By the way, the question is quite relevant. There have been no revisions in American vaults for more than 60 years!
And one more fact related to the gold reserves of the state. Those who transferred gold for storage or turned it into securities of Western corporations make up the lion's share of those countries that, in terms of foreign policy, strictly follow directions from Washington. Economic dependence leads to political dependence. Simply put, by transferring its own gold to other countries in any form, a country transfers part of its sovereignty to these countries.
Dollar vs Gold
For quite some time, world currencies were tightly tied to gold. Those readers who found the times of the USSR remember the inscription on Soviet banknotes: "Bank tickets are provided with gold, precious metals and other assets of the State Bank." Two lines that provided a fairly stable rate of money.
But the attachment to gold prevented financiers from making money out of money. It was necessary to introduce another system. Simply put, abolish the interdependence of money and precious metals. This is exactly what the world financial bigwigs did in 1971 at the Jamaican Conference.
Within a few years, the old (Bretton Woods) currency system was abolished and a new - Jamaican - introduced. The gold standard and gold parities were officially abolished. Gold is recognized as a common commodity. A system of special drawing rights and the concept of reserve currencies have been introduced. The reserve currencies are the American dollar, Japanese yen, pound sterling, Swiss franc, French franc and German mark (Germany).
In practice, it looked like a dollar win. There was an opportunity, raising and lowering the exchange rate, to earn huge money. But gold has survived. It remained in storage. And it remained real wealth.
Therefore, starting from 1976-1978, the main task of financiers was to artificially keep the price of gold at a low level. It was not possible to get away from the gold addiction. Any crisis showed the vulnerability of the dollar. In other words, when the dollar falls, the price of gold rises, with the strengthening of the dollar, the price of gold decreases.
This task was carried out simply. All the same pieces of paper. Gold began to be traded not in kind, but on paper, without moving real metal. And the paper will endure. Gold, which often simply does not exist in reality, seems to be in stock, and its owner is constantly changing. Thus, you can increase the amount of "paper gold" to any size.
The global economic crisis is necessary
We are used to talking about public debt as an integral part of the financial activities of the state. Any government takes money in various forms both domestically and abroad. But few people thought about this problem on a more global scale. We prefer to consider government loan obligations only in the context of a particular country.
And if you look at the planet? For 2019, the total loan commitments of all countries of the world amounted to 247 trillion dollars! To understand the scale of universal debt, it suffices to say that this amount is three times higher than global GDP. To repay such a debt is almost impossible.
Let's look at the richest country in the world, in the USA. Today, public debt there is 23 trillion. dollars! This is almost 3 trillion. dollars more than GDP. Can the Americans give it away? Not. Even servicing such a debt requires huge amounts of money.
And now, in the light of the above, we will try to predict the further development of the global financial system. The global economy is filled with virtually unsecured dollars. Debt obligations of countries are unbearable for their economy. The country - the "printing press" is buying up world wealth for nothing with all its might. What's next?
Debt must be paid. And here a problem arises. Will developed countries be able to pay their own debts? Are there among the presidents and prime ministers "suicides" who will go to a sharp deterioration in the life of the people? Who wants to experiment with revolutions in their own countries? There is only one way out. It is necessary to sharply reduce the dollar.
Thus, relying on reserve gold, you can turn a dollar debt into zilch. Depreciate it as much as possible. Yes, it will cause a global financial crisis. Many states whose gold and foreign currency reserves are stored in loan obligations, or in dollars, will die. But the monsters who own the gold will remain.
Cruel? Maybe yes. Only moral principles, humanity and other "chimeras" in the world have not been welcomed for many centuries.
Golden airbag
What I wrote above has been known for a long time. If you carefully look at the movement of gold on world trading floors, an interesting fact will become visible. Since 2010, the world's leading central banks have stopped selling gold. Only operations for the purchase of real gold are conducted. For ten years, precious metals are most often bought.
It was in 2010 that the Basel III protocol began to be drawn up by the World Bank for International Settlements. This revolutionary decision was finalized on March 29 last year. The essence of the protocol is simple. Under the Jamaican system, gold belonged to the third category of gold reserves. Simply put, it was possible to evaluate it only at 50% of the real value.
Last year, gold began to belong to the gold reserves of the first category. Its value has grown to 100%. Simply put, a reassessment of the balance has occurred. Just as an example: almost 3 trillion can be invested in the Russian economy. legal dollars. Legitimate in terms of VBMR.
On some results of the work of the Russian government
Today, many countries are buying gold. The leader in terms of procurement is Russia. We buy more than 40% of gold. If you look at last year's purchases, the numbers look impressive: 274 tons.
I specifically asked about the subject of gold reserves of the USSR. Amazing fact: the largest gold reserves were under Stalin. In 1941! 2800 tons of gold. The USSR never had more of this.
Today, our reserves have not yet caught up with the Stalinist ones. A little more than 2207 tons (in the middle of last year). To understand the volume of work of the government of the Russian Federation in this direction, it is enough to recall one more figure. In 2000, after the successful democratic reforms of Yeltsin, Russia's gold reserve was as much as ... 80 tons.
But with all the success in this area, we do not yet occupy a leading position in gold reserves. At the middle of last year: the USA - 8133,5 tons, Germany - 3367,9 tons (only the majority is stored in the USA), Italy - 2451,8 tons, France - 2436 tons. There is room to grow ...