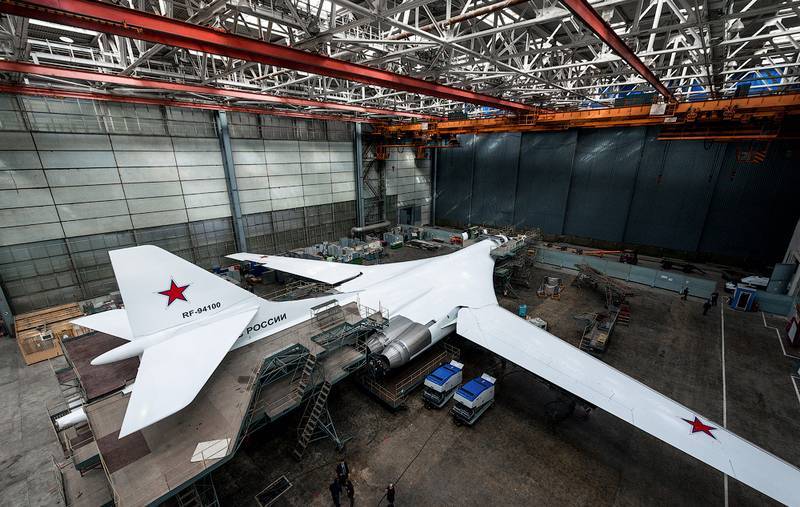 The first modernized strategic missile carriers Tu-160M ​​will begin to arrive in the Russian Aerospace Forces in 2021, according to the previously scheduled dates. This was reported by the press service of the Russian Ministry of Defense.
According to the report, the first deeply modernized strategist Tu-160M ​​will be handed over to the military in 2021, and then every year the supply of missile carriers will increase.
Under the current contract, the transfer to the troops of the upgraded strategic Tu-160M ​​bombers will begin in 2021 with a further annual increase in the number of deliveries
- said in a statement.
As previously reported, in the course of modernization, the Tu-160M ​​should receive a new airborne radar of the Novella family HB1.70 instead of the Obzor-K airborne radar standard for the Tu-160. A new "glass cockpit" is being installed on the aircraft, a new navigation system HO-70M with the inertial system BINS-SP-1, the astronautical system ANS-2009M and navigation BTsVM, navigation radar DISS-021-70, space navigation receiver A737DP, autopilot ABSU-200MT , communication system S-505-70, state recognition system BKR-70M and on-board defense complex "Redut-70M". Information about new systems and devices was taken from open sources, so ultimately the equipment installed on an aircraft may differ from the above.
In addition, the aircraft will receive new NK-32-02 engines (series 2) and new missile weapons.
Modernization will increase the range of the strategist's flight by 1 thousand km, as well as the overall effectiveness of the missile carrier in carrying out combat missions as intended.
Meanwhile, the Ministry of Defense published on the web a video of the first flight of the first prototype of the deeply modernized Tu-160M ​​missile carrier. The flight took place on February 2 of this year, the plane took off from the airport of the Kazan aircraft plant and spent 34 minutes in the air.
This Tu-160M ​​model received all the improvements, except for the new engines, which will be installed on it later.