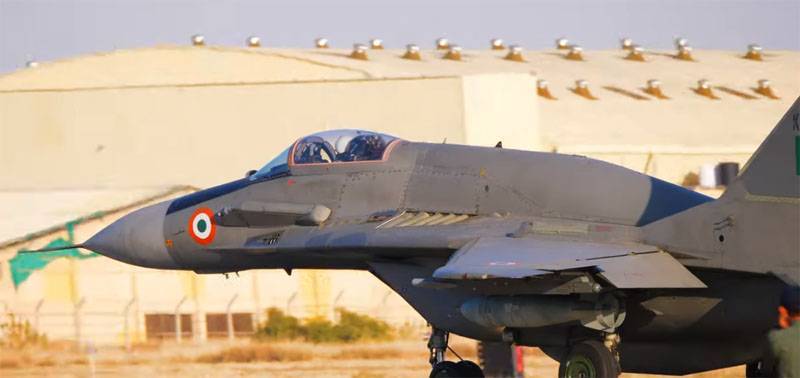 The contract for the supply of India 21 MiG-29UPG fighter can be concluded before the end of this year. This was stated by a representative of the Federal Service for Military-Technical Cooperation (FSVTS) of Russia during the DefExpo-2020 exhibition, held in India.
Contract negotiations are underway with the Indian side on the additional supply of 21 MiG-29UPG aircraft. We expect to sign the corresponding contract before the end of this year.
- he said.
Also, the FSVTS noted that the Indian military is interested in buying an additional batch of 18 Su-30MKI fighters for licensed assembly in India, but this issue is still at the stage of pre-contract discussion.
As regards the additional supply of 18 Su-30MKI fighters, the Indian HAL Corporation expressed interest in supplying the indicated number of machine kits for licensed production of aircraft in India. After confirming this interest, the Indian Ministry of Defense will start contract negotiations.
- indicated in the service.
As previously reported, in service with the Indian Air Force are three MiG-29 squadrons. All of them are located in the west of the country. The deck versions of these MiG-29K / KUB aircraft are part of the Vikramaditya aircraft carrier wing.
Earlier, Indian media wrote that if the contract was signed, "Russia promised to deliver 21 fighters within 18 months."
In April last year, it was reported that India intends to purchase 21 upgraded MiG-29 fighters in Russia at a cost of approximately $ 40 million per fighter. The aircraft are equipped with modern radar, avionics, receive an improved fuel consumption and refueling system. The Indian Air Force command noted that with new capabilities, such a price is very competitive and therefore attractive.
Also in India, it was noted that the purchase of a new batch of MiG-29 is also justified due to the fact that it is not necessary to build new facilities for their maintenance. There is already a HAL Ozar plant in Nashik (Nasik).