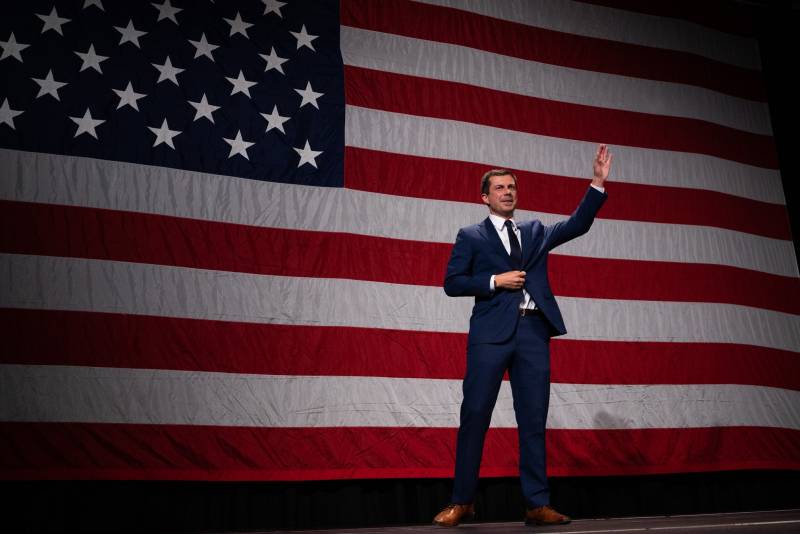 The Democratic Party of the United States presented the first results of the primary election of its presidential candidate. The so-called "focuses" (meetings of party representatives) were held in Iowa and brought very unexpected results.
It turned out that the "main candidate" - Joseph Biden - could not even get into the top three. According to preliminary data, a person who declared his readiness to defeat Trump in the upcoming elections has only about 16 percent of the vote. With a more than 11 percent margin from Joe Biden, 38-year-old Pete Buttigic (27%).
Buttigic is a "dark horse". A former U.S. Navy intelligence officer, a retired lieutenant, previously served as mayor of the small town of South Bend, Indiana. Buttigic graduated from Harvard University and served in Afghanistan. The main points of the program of the ex-mayor of South Band are as follows: the general availability of health care, environmental protection, tightening legislation governing the acquisition of firearms
weapons
. Buttigic is a representative of the LGBT community. In 2018, he married the teacher of one of the schools, Chasten Glezman, having previously admitted his inclinations and announced his engagement.
The preliminary intra-party elections in Iowa are noteworthy due to the fact that the statistics in the USA are unchanged: which of the candidates wins the "focuses" in the first state of their holding, he eventually becomes a single party candidate.
According to the results of the preliminary elections, Bernie Sanders and Elizabeth Warren are in 2nd and 3rd places.
Meanwhile, in the camp of the Democratic Party they said that the vote count was conducted much longer than usual "because of a technical malfunction."