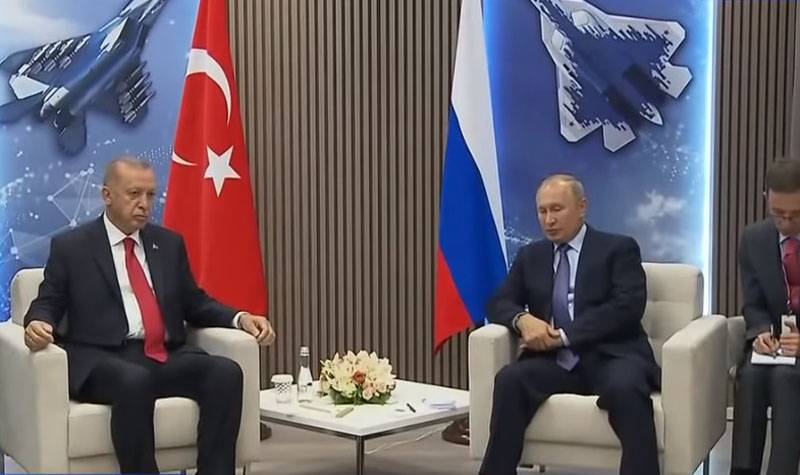 Against the backdrop of a sharp aggravation of the situation in Idlib and Aleppo, the presidents of the Russian Federation and Turkey conducted a telephone conversation. Recall that before this, the Turkish military died in Syria, and Ankara accused Russia of not fulfilling obligations to force Assad to comply with agreements on de-escalation zones. Additional Turkish forces were deployed in the direction of Idlib, and the Turkish contingent struck at the positions of the SAA, eventually declaring the elimination of 76 military personnel of the "Assad regime."
After that, Recep Erdogan decided to call the President of Russia. According to the Kremlin's press service, the Turkish president detailed his vision of the situation in Syria.
According to Erdogan, Assad's troops are advancing in Idlib, carrying out shelling. In response to this, the Russian president noted that only one side of the Syrian conflict, the CAA, cannot comply with the de-escalation agreements. According to the Russian leader, recently terrorist groups have sharply intensified in Idlib and Aleppo, trying to expand control zones and constantly bombard the positions of the Syrian government forces.
Earlier, one of the captured militants during an interrogation told Syrian officers that the group in which he was a member was sponsored by Turkey, supplying both weapons and financial resources.
As a result, Putin and Erdogan agreed to take urgent measures between the defense ministries of the two countries to coordinate actions. Agreements were also reached on further supporting the dialogue on Syria, including in the format of the Constitutional Committee in Geneva.
According to Putin, the escalation must be stopped by both sides of the conflict in the same Idlib, as its further continuation leads to the death of an increasing number of civilians.
It is noted that the presidents also discussed the Libyan agenda and noted the importance of adhering to the ceasefire in this country.