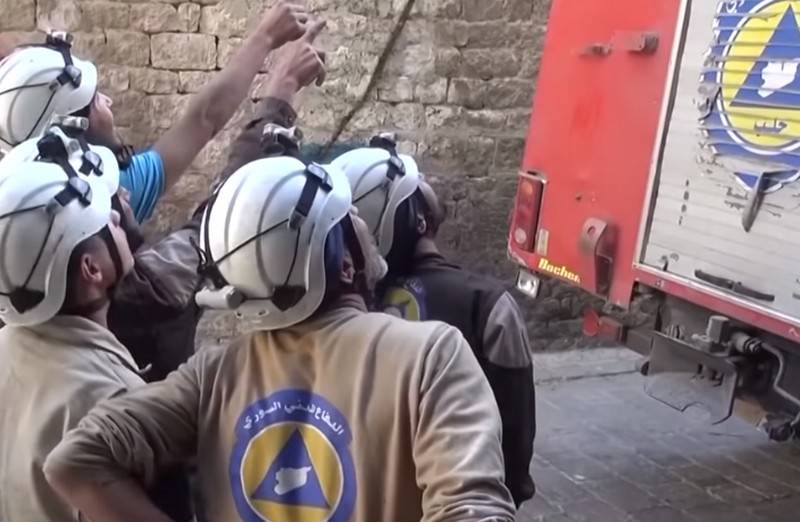 White Helmets, together with militants from terrorist groups, finished filming a staged video about the alleged use of "poisonous substances" by Syrian government forces in Idlib province against civilians. This was reported by the Russian Center for the Reconciliation of the warring parties (CPVS).
According to the statement of the Russian military, around 16-00 the Center received several reports about the filming of a production clip in the village of Zerba, Idlib province. At the same time, it is noted that the information came from several sources that are in no way connected with each other.
It is noted that in the video the "consequences" of the alleged bombing are staged by an unknown "chemical munition" that the Syrian Air Force inflicted on the civilians of the province.
In the shots in thick yellow smoke allegedly "human victims" with signs of "poisoning" were recorded. Currently, the video fake has been prepared by "white whippers" for distribution on social networks for further circulation in Western and Arab media. "
- said in a statement.
Earlier, the Russian military had already announced preparations for a provocation against the Syrian government and the Russian army. According to the information received by the Central Command and Control Center, automobiles with shooting equipment, parts of ammunition and chlorine cylinders arrived in the village of Zerba, as well as representatives of White Helmets and militants.
The purpose of this provocation is to accuse official Damascus of yet another "chemical attack" to disrupt the attack of government forces, since the Syrian army does not seek to stop there and continues to crowd out terrorists.
In the near future, after the publication of the shot fake, a shaft of criticism and accusations of Syria and Russia is expected from the main sponsors of the terrorists - the United States, some countries of Europe and the Arab world.