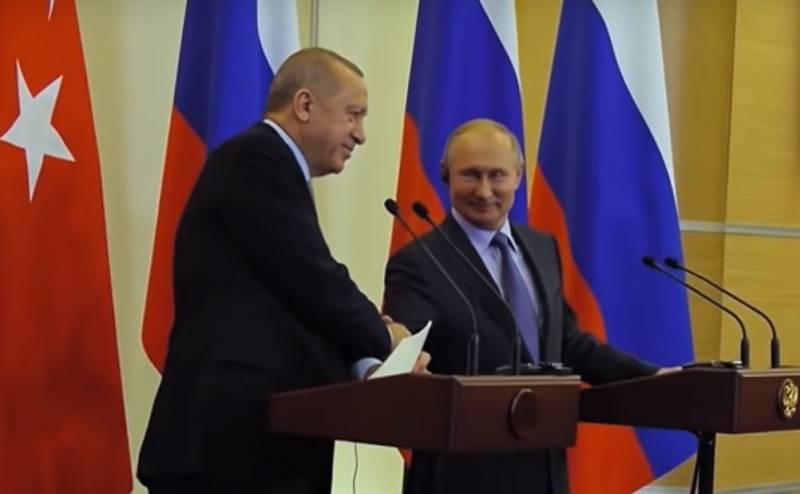 Relations between Russia and Turkey have never been simple. For centuries, our countries have been at war with each other, but trade and cultural ties were no less close. Now Moscow and Ankara are increasingly cooperating with each other, but there are also big contradictions.
After the "black line" in relations between the two countries, caused by the attack of the Turkish Air Force on a Russian plane in Syria, Russia and Turkey eventually restored their former ties. An unconditional breakthrough in Russian-Turkish relations was the sale of Turkey S-400. Ankara has shown the United States independence in foreign policy and, if necessary, will closely cooperate with Russia. Initially, our countries managed to come to an agreement in Syria, too, but now Erdogan's harsh words to Moscow have again sounded and there are reasons for this.
Russia and Turkey, given the totality of geographical, historical, political factors, will always remain rivals. The ideal state for relations between the two countries is partnership. But one cannot speak about Russian-Turkish friendship at the level of states, and not people or public organizations. Too many contradictions between the two countries.
Now the interests of Russia and Turkey are clearly diverging in Libya and Syria. Ankara accused Russia of transferring mercenaries to Libya, where they allegedly fight on the side of the troops of Marshal Khalifa Haftar. In Syria, Turkey is unhappy with the bombing of radicals from the anti-Assad opposition who have settled in Idlib, in which Ankara has its own views. But these are superficial contradictions.
The core lies deeper - in Turkey's desire to revive its former power. A century passed after the collapse of the Ottoman Empire, and for Turkey it was by no means magnificent. The country was modernized, but also was in the wake of US foreign policy, was forced to act not so much in its own, but in American interests. But Turkish is too large
история
, Turkish ambitions are too great to be content with the role of an ordinary Middle Eastern country. And at some point in Ankara they realized that they were already able to declare themselves at least as a regional power.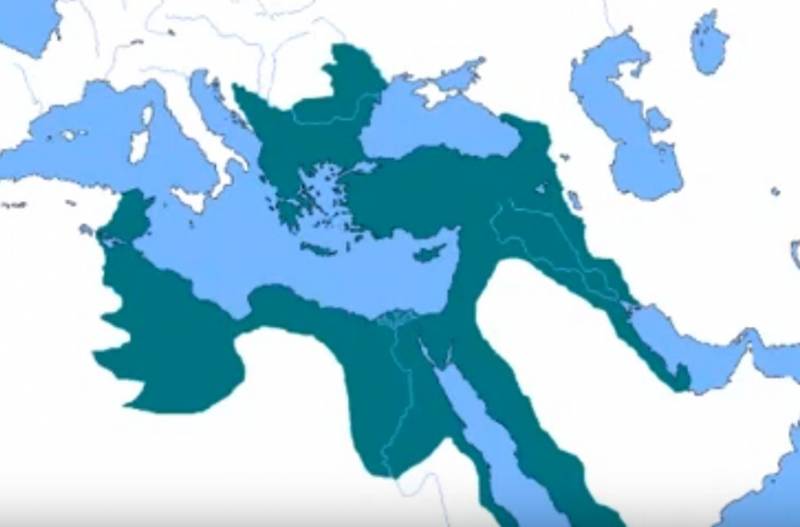 Ottoman Empire. XVIII century
The Turkish geopolitical renaissance is often called the neo-Ottoman project of Erdogan. Of course, it is impossible to revive the Ottoman Empire, but Ankara does not hide the claims for a special role in the countries that once were part of the Shining Port. The same Syria, Iraq, Libya - the traditional sphere of interests of Turkey. But the strengthening of Turkish positions in these countries is not at all profitable for Russia.
We need pan-Turkism even less, which Ankara is not going to refuse either. Turkey has always laid claim to the role of a kind of leader of the entire Turkic world and, on this basis, has maintained close ties with political and public organizations in the republics of Central Asia, Transcaucasia, the North Caucasus, and the Volga region. Be that as it may, in Ankara not only Libya or Syria, but also many territories of the former post-Soviet space and even Russia are considered "historically" "their own". And although Turkish politicians do not officially talk about this, numerous Turkish cultural centers, language schools, and youth education programs from Turkish-speaking republics in Turkey are the best evidence of this.
On the other hand, Turkey is well aware that Russia is a major economic partner. Turkish business is very interested in contacts with Russian companies, in Russian tourists and consumers. In addition, Ankara will always need Russia as a counterweight to the United States and Europe: now Erdogan can at any time show Washington or Brussels his readiness to deepen relations with Moscow.
Russia is also interested in Turkey, and not only as a buyer of energy resources, but now also weapons. By "pulling" Turkey out of the orbit of US and NATO influence, Russia also ensures the protection of its own geopolitical interests in the Middle East and the Eastern Mediterranean. Of course, one cannot speak of any strong friendship, but neutrality, partnership, and in some cases tactical alliances - why not.