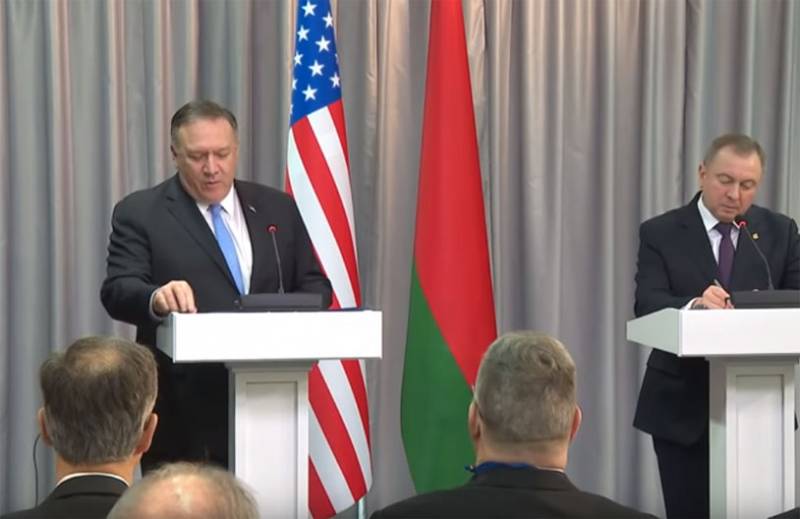 Details of the meeting between the President of the country, Alexander Lukashenko, and the head of the US State Department, Mike Pompeo, continue to come from Minsk. This visit by the US Secretary of State took place 26 years after the previous one. The authorities of Belarus consider the fact of Pompeo's arrival in Minsk as "breakthroughs in bilateral relations".
The press service of the head of the Belarusian state said that the meeting was held "in an atmosphere of mutual understanding."
The Minister of Foreign Affairs of the Republic of Belarus Vladimir Makei also met with Mike Pompeo. According to the Belarusian minister, during negotiations with his American counterpart, "they came to the conclusion that the interests of Belarus and the United States coincide in a number of areas."
One of these areas, the Belarusian side expressed support for its own independence. According to Makei, American support for Belarusian state sovereignty was noted, as well as the US promise to restore full-format relations. The Belarusian Foreign Minister noted that it would be possible to return ambassadors to the countries after a 12-year break.
Makei said that during the talks, issues of cooperation between Belarus and NATO "to preserve peace and security on the European continent" were discussed.
Recall that during a meeting with Lukashenko, Pompeo proposed to provide Belarus with 100 percent crude oil. At the same time, the US Secretary of State did not mention prices. Will they be "fraternal" - "US domestic prices" ...