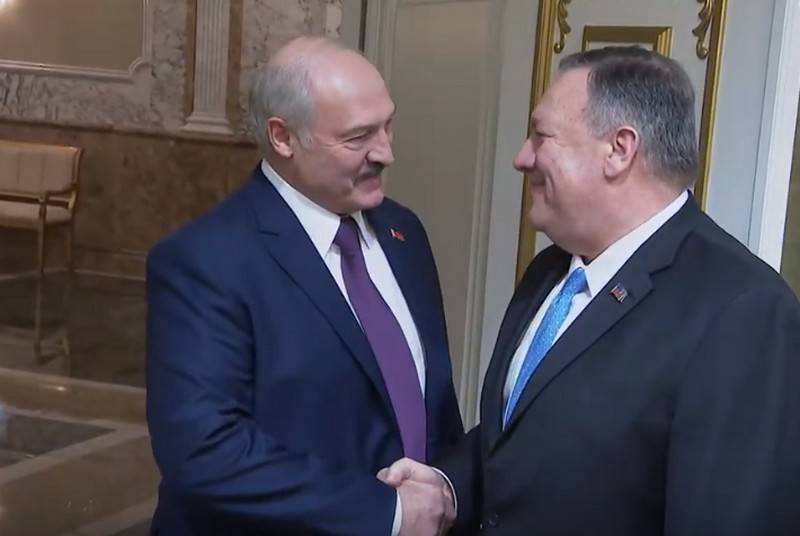 In Minsk, a meeting was held between President of Belarus Alexander Lukashenko and US Secretary of State Mike Pompeo, who paid an official visit to the republic. Following the meeting, the parties made several statements. This was reported by the Belarusian media.
At the last meeting, Pompeo said that the US authorities did not make Belarus choose to cooperate with Russia or the United States. According to him, Washington understands that Minsk and Moscow have "a long
история
relationship, "because the American side does not say" about the choice between us and them. "
At the same time, Pompeo noted that the United States "is very worried about the human rights situation in Belarus," but Washington hopes that "Belarus will progress" on this issue.
In turn, the Belarusian leader Alexander Lukashenko thanked Pompeo for the "risk of coming to Minsk" and to look at "this country - what kind of people are here, what kind of people, what kind of dictatorship and what kind of democracy is here." According to him, between the USA and Belarus for a long time there was a period of "baseless understanding."
But you should know that you have come to a normal country where normal people live. A people and a country who are ready to work for stability and peace. At least in this region. I think we'll talk about this with you. I welcome you to Belarus and I am glad to see you
- said the Belarusian leader.
Lukashenko also promised Pompeo that the republic would not be part of other countries.
Mr Lukashenko said that Belarus is a sovereign and independent country and we cannot be part of any other country. The United States was the first country to recognize the independence of Belarus in the early 1990s. We remain in the same position.
- said the US Secretary of State.
At the end of the meeting, Mike Pompeo said that Washington would soon appoint an ambassador to Minsk. Recall that diplomatic relations between the United States and Belarus at the level of ambassadors have not existed since 2008, when Minsk recalled its ambassador to the United States after Washington imposed sanctions on Belarusian enterprises. Currently, a US Charge d'Affaires is located in Minsk, and the embassy staff includes only 10 employees.
Earlier, the head of the US State Department visited Kiev, and after Minsk will go to Kazakhstan and Uzbekistan.