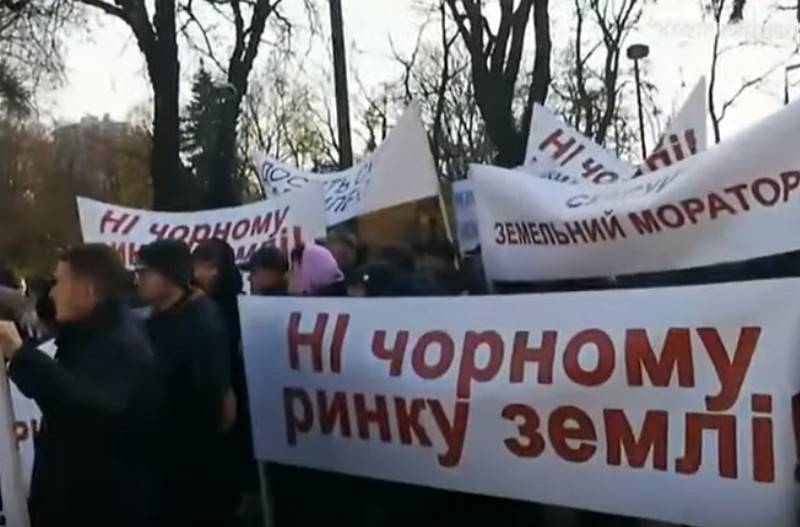 In Ukraine, they again threatened to overthrow the legitimate government. This time, the threats come not from Ukrainian nationalists, but from the opposition. According to Vadim Rabinovich, the People's Deputy from the Opposition Platform - For Life faction, the adoption of the law on the sale of Ukrainian land could lead to the overthrow of power. This is reported by Ukrainian media.
Verkhovna Rada deputy Vadim Rabinovich warned that if supporters of President Vladimir Zelensky - parliamentarians of the Verkhovna Rada from the Servant of the People party - take another step to legitimize the sale of land, then the overthrow of power will probably happen.
We warned them: Dear "servants," if you take one more step towards the sale of land, the people will change power. I do not call for the violent overthrow of power, but I say that, according to the Constitution, the country's owner is the people. And if the people remember this, then he will be able to stop it all ... It's only a hundred thousand people who need to go out at the call of their hearts
- he said.
At the moment, Rabinovich explained, the Ukrainian opposition was able to achieve only that the maximum amount of land proposed for sale in one hand was reduced from 200 thousand hectares to 10 thousand. However, the legalization of the sale of land by the opposition cannot be completely stopped.
In November last year, the Verkhovna Rada adopted by a majority vote a law abolishing the moratorium on the sale of agricultural land on October 1, 2020. According to the new law, Ukrainian individuals and legal entities, territorial communities and the state itself can buy land. In addition, foreigners and stateless persons can buy land if they inherited the land, but on condition that they sell this land in a year.
Recall that the moratorium on the sale of land has been operating in Ukraine for 18 years, and the IMF, which is the main and largest creditor of Ukraine, insisted on lifting it most. It is assumed that through this law, Kiev intends to request new loans from the IMF.