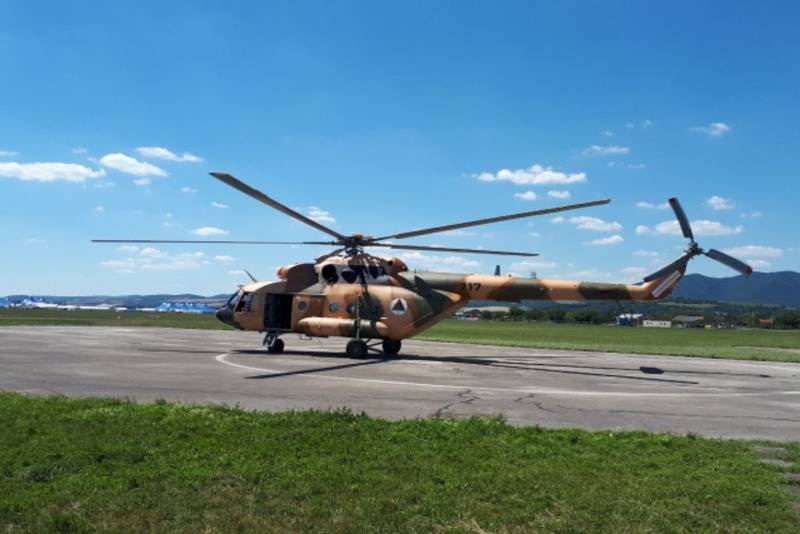 The first Afghan Mi-17V-5 after repair at a Slovak aircraft repair enterprise, August 2018
The United States is looking for contractors in Kabul to organize the repair of the Mi-17 Russian helicopters in service with the Afghan army. This is stated in the announced tender for the repair of rotorcraft, writes the publication "Intelligence online".
According to the article, the new Pentagon structure called the Multi-National Aviation Special Project Office (MASPO), responsible for technical support for the US Air Force allies, announced the search for a contractor who can repair the Russian Mi-17 helicopters available to the Afghan Military air force.
It is noted that the main condition put forward to the contractor is the presence of business ties with the Russian Ministry of Defense, or with Rosoboronexport JSC. Participants are required to use units certified at the Moscow Helicopter Plant. Mile (cost center) and the Interstate Aviation Committee (IAC) of Russia. At the same time, the Americans themselves cannot turn to Rosoboronexport, since it is under American sanctions, which de facto prohibits American companies from dealing with it.
About 80 Mi-17s are in service with the National Air Corps of Afghanistan. 63 vehicles in the military transport modification (Mi-17V-5) were delivered under a contract with Rosoboronexport from 2011. Russia fulfilled all obligations in 2014.
Subsequently, due to the aggravation of political relations with Moscow, the Pentagon refused the services of the Russian Federation for servicing the fleet of Afghan helicopters. The US military, under pressure from the US Congress, had to terminate the contract for servicing helicopters by Russia, although they managed to defend the contract for their delivery to Afghanistan.