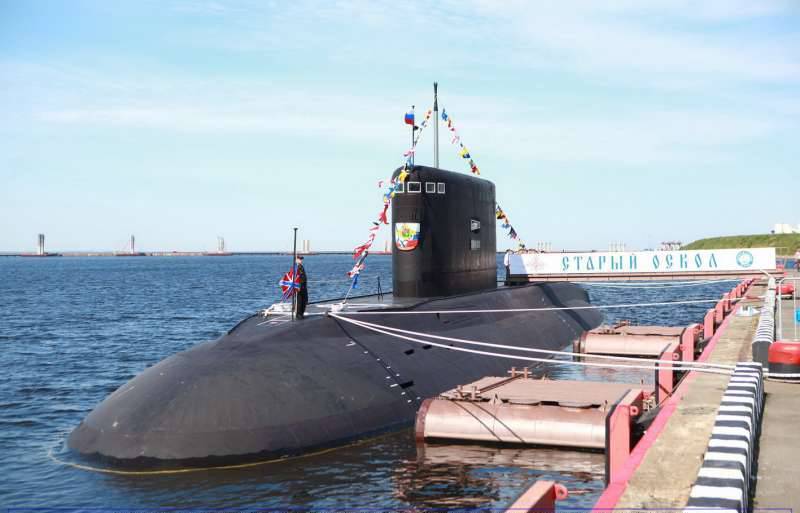 Black Sea diesel-electric submarine
fleet
"Stary Oskol" project 636.3 (code "Varshavyanka") got up for scheduled repairs at the Kronstadt Marine Plant. This was reported by the press service of the Black Sea Fleet.
According to the report, the submarine made an inter-naval transition to the Baltic Sea immediately after completing tasks as part of the permanent operational formation of the Russian Navy in the Mediterranean Sea. Currently, the same type of diesel-electric submarine "Krasnodar" is serving off the coast of Syria, which is also preparing for scheduled repairs. It is estimated that Krasnodar will be repaired immediately after Stary Oskol.
It is noted that the submarine "Stary Oskol" will carry out repairs for at least 4 months, after which, most likely, it will return to combat duty in the Mediterranean Sea.
Last May, it was reported that the Stary Oskol and Krasnodar diesel-electric submarines will undergo scheduled repairs at the end of 2020. In October 2019, the media reported that the repair will be carried out at enterprises in the north-west of Russia.
The diesel-electric submarine "Stary Oskol" is the third in a series of six submarines of the 636.3 project built for the Black Sea Fleet at the Admiralty Shipyards in St. Petersburg. It was tested in polar conditions in the Northern Fleet, after which in 2016 it made an inter-fleet transition from the Polar to Novorossiysk, after which it was introduced into the Black Sea Fleet.
The submarines of the 636.3 project are designed to combat enemy submarines and surface ships, as well as for the defense of naval bases, sea and coastal communications.