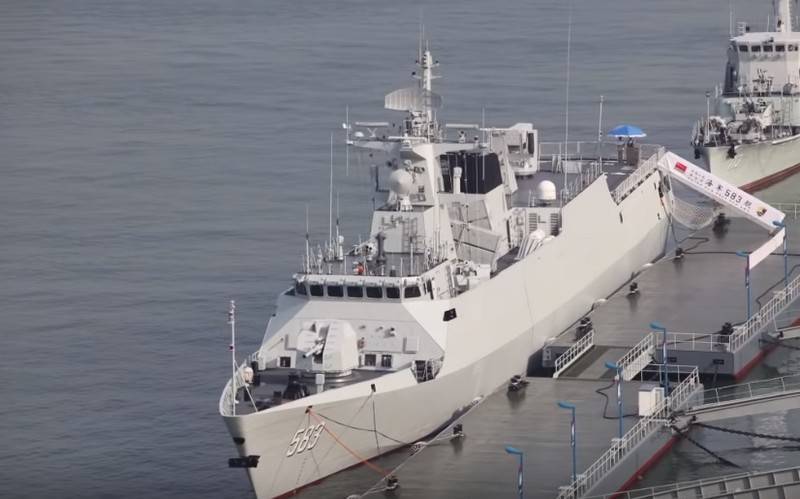 Corvette project type-056 / 056A, previously adopted by the Navy PLA
Two newest corvettes of the Type-056 / 056A project (Jiangdao class) became part of the PLA Naval Forces, thereby bringing the number of corvettes of this type in Chinese
navy
up to 50 units. This was reported by TSAMTO with reference to Jane's Defense Weekl.
According to the publication, the PLA Navy was replenished with the 49th and 50th corvettes of the Type-056 / 056A project Luan and Liaocheng. Both corvettes are made in the anti-submarine version.
Luan, built at the Shanghai Hudong Zhonghua shipyard, will be part of the 14th Eastern Fleet squadron. The ceremony of enlistment took place at the Shanghai-Wusong Naval Base of the Eastern Fleet. Liaocheng, built at the Wuchang Shipyard in Wuhan, will be part of the Northern Fleet of the PLA Navy.
Jiangdao class corvettes have a total displacement of 1500 tons. The case is 89 meters long and 11 meters wide. The ship is equipped with various weapons systems, modern radar equipment and air defense systems. The armament includes: 76-mm gun mount, four launchers of anti-ship missiles YJ-83 with a firing range of up to 160 km, eight-container short-range air defense systems HQ-10, two 324-mm three-tube torpedo tubes. When designing corvettes, technologies for reducing visibility are used.
The ship of class "Type-056" independently developed in China and built with 2012 year. From the end of 2014, the PLA Navy began to receive corvettes of the modified 056A project, which differs from the basic 056 project mainly in the presence of towed GUS. In this case, the construction of both modifications continues in parallel.
Ships are intended exclusively for patrolling territorial waters, escorts, fighting surface and submarine forces of the enemy, and protecting fisheries. This is evidenced by both autonomy limited to 15 days and a cruising range of no more than 2000 miles. In carrying out these tasks, they are intended to replace several types of patrol ships and part of the obsolete frigates of project 053H (class "Jianghu I").
The construction of ships of this type is simultaneously carried out at four shipyards: Hudong-Zhonghua in Shanghai, Huangpu Shipyard in Guangzhou, Liaonan Shipyard in Dalian, Wuchang Shipyard in Wuhan. The average rate of delivery of corvettes is one ship every six weeks.