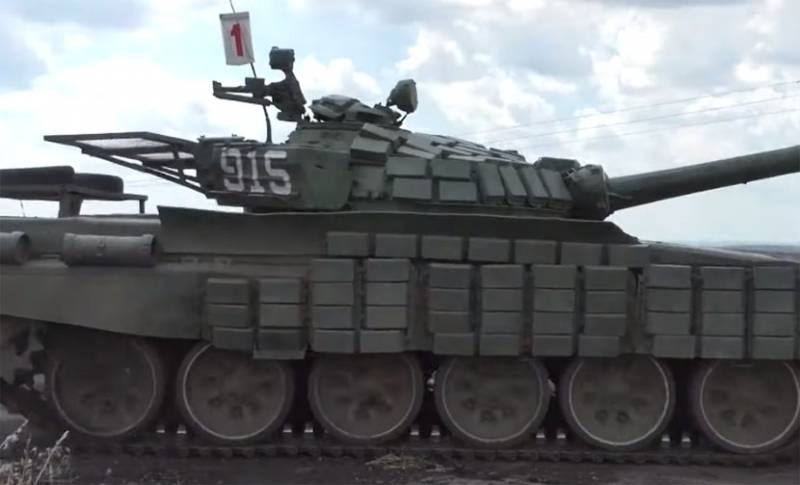 A few hours ago, the press service of the so-called operation of the combined forces published on Facebook a statement of Ukrainian-controlled CCCC representatives. Ukrainian representatives of the special center for monitoring and coordinating ceasefire questions announced that "the armed groups of the Russian Federation continue to flagrantly violate the Minsk agreements."
The report said that "a large number of Russian military equipment was recorded in the territories of the Donbass beyond the control of the Ukrainian authorities." It is stated that military equipment "is not located in places that the OSCE SMM has determined for its maintenance after the process of withdrawing forces and assets."
In the OOS release, it was declared that "49 tanks of an unspecified type" were noticed by AFU in the area of ​​the villages of Manuylovka and Kruglik.
This phrase itself, in conjunction with the information provided above by the CCCC of Ukraine, looks ridiculous. If
Tanks
"Of unknown type", then on what basis in the article do the accusations go to Russia?
It was additionally noted that the Ukrainian side "and the OSCE mission" allegedly found "weapons" such as the self-propelled guns "Gvozdika", towed howitzers D-30, mortar (again "of unknown type"), 2C9 "Nona-S" and one T-64 tank.
From the material:
The Ukrainian side of the JCCC reports that the armed formations of the Russian Federation continue to flagrantly violate the Minsk agreements by deploying military equipment both with violation of the withdrawal lines and outside the designated weapons storage areas.
It is noteworthy that when a few days ago the OSCE SMM recorded Ukrainian heavy equipment outside the allotment area (for example, in the Zolotoy district), the Ukrainian JCCC simply kept silent about this. But now they say that they saw "a large number of Russian equipment."
The fact remains: with the change of power in Ukraine, nothing has changed regarding the war in the Donbass. Neither in military terms, nor in information.