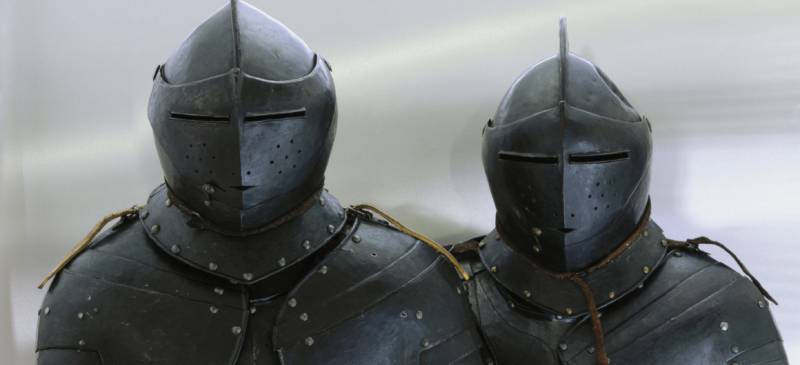 It seems to be knights, right? But no: the guys in these armor did not even stand next to the knights. Typical XNUMXth century cuirassiers armor, and the right one got very cool on the helmet ...
"... finally the riders got tired ..."
First Book of Maccabees 10: 81
Military affairs at the turn of the eras.
We continue our story about the warriors of the era of transition from feudal to market relations, "capitalist", because, as it turned out, this era is almost as interesting as the era of classical knights. Time accelerated its run, "shrunk", changes began to happen faster, it became easier to track them. This is the first circumstance. The second is obviously connected with the first: the technology has improved, the productivity of the enterprises producing weapons has also increased, since the mining industry has developed, which means that there is more metal. And more metal - more armor and at a lower price, that is, it has now become possible to dress a lot of people in them, and not two or three, the richest, as it was before.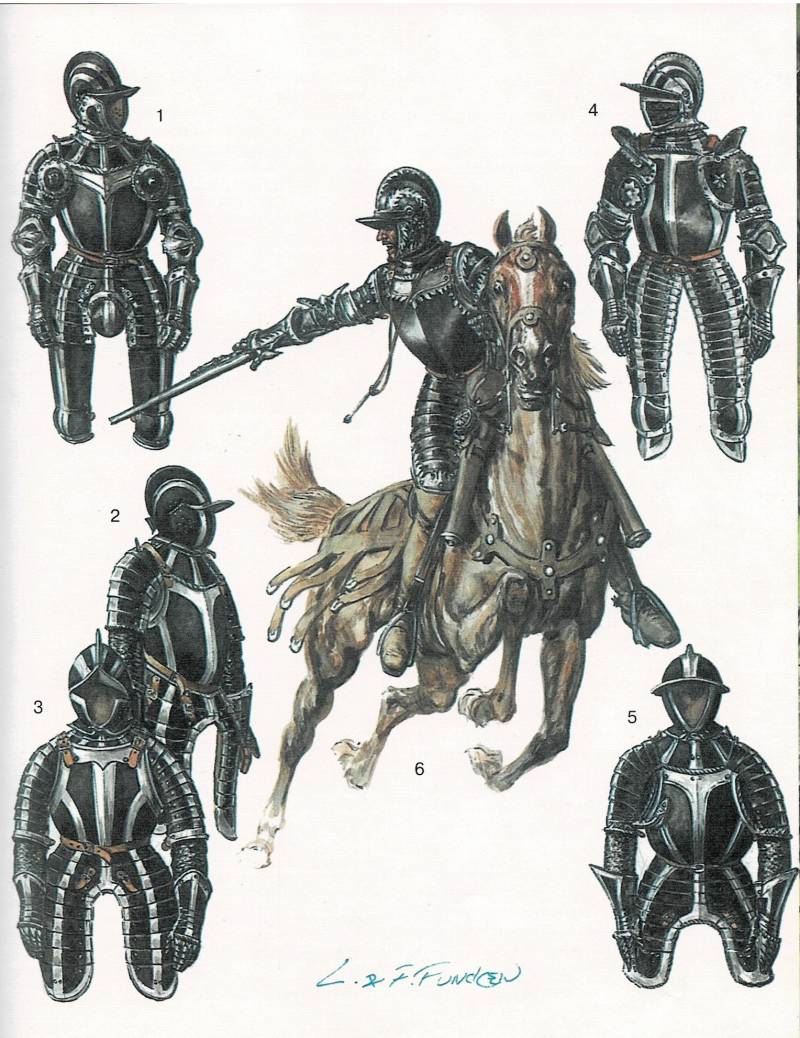 Since in 1986 I became acquainted with the book of Liliana and Fred Funktsen "Encyclopedia of weapons and military costume. The Renaissance Age ", published by the French publishers of Casterman, and I saw her illustrations, well, let's say this one with horse armor of the XNUMXth century, I always wanted to know on the basis of what they drew them
True, the solution of some problems, as always, gave rise to others. So, Henry VIII, replenishing his guard with a detachment of nobles of 50 people in full knightly armament, riding on "armored" horses, could not afford to increase its number due to ... lack of appropriate horses. That is, they had armor (and money for them!). But there were no horses. Well, it just wasn't. By the way, these riders also represented something like an "ordonance company", because each of them was also accompanied by other riders: a horse archer, a light-armed rider with a light spear, and also a servant who took care of all three.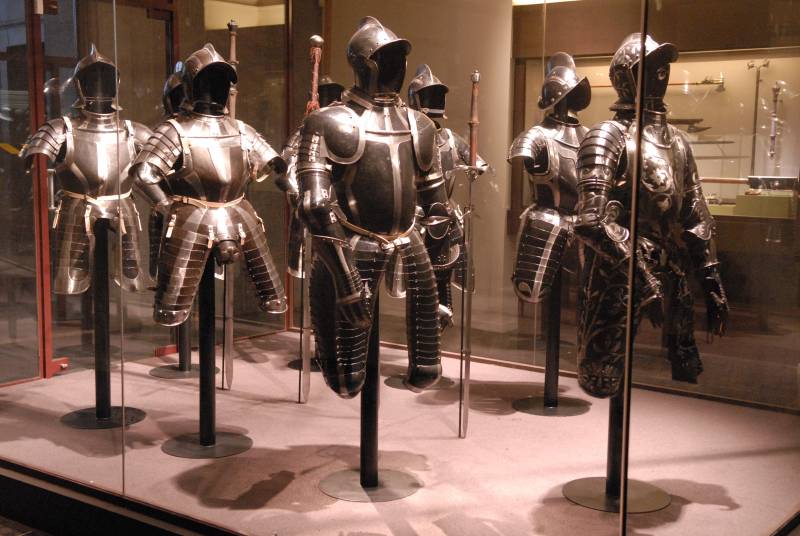 And here they are, it turns out where everything is in the museum of the Walrus castle in Lausanne. Come and draw ...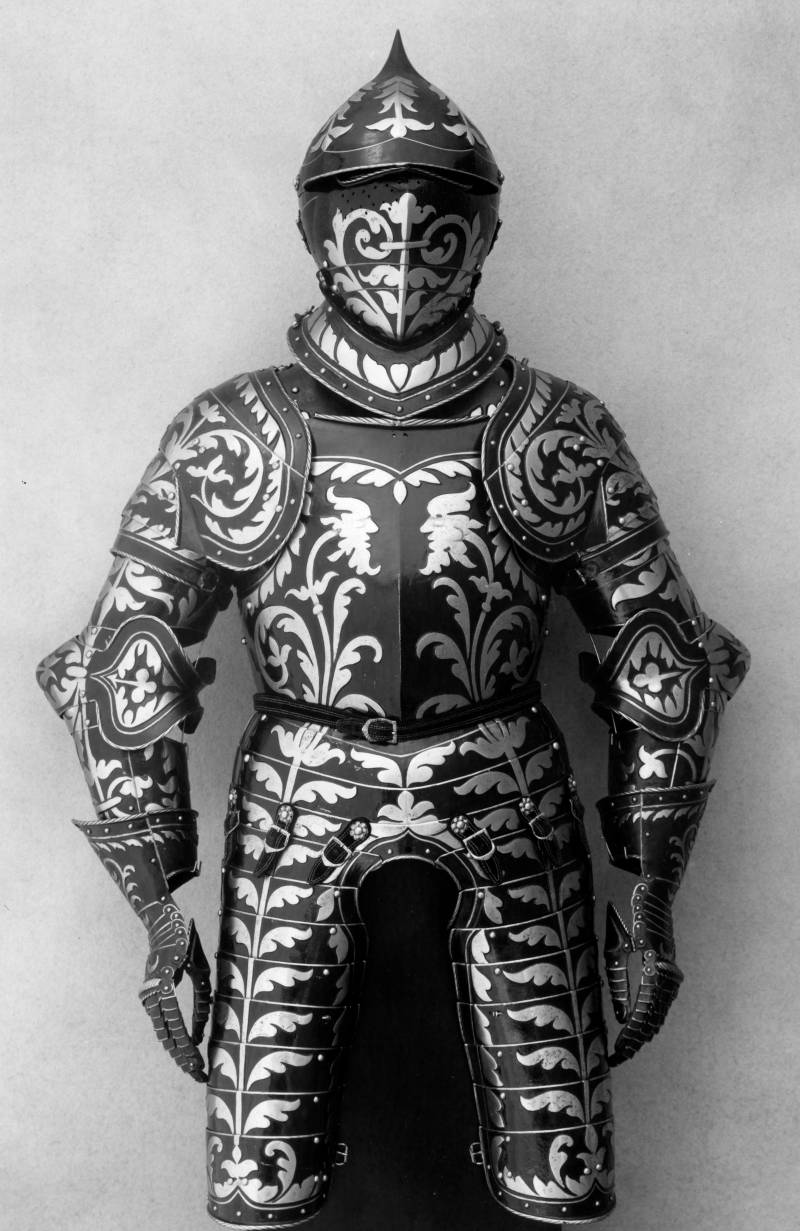 Did you notice the beautiful armor on the far right in the photograph from the museum in Walrus Castle? But what kind of armor is when done, where? The second of the same model is in the arsenal in the city of Graz, and another in the Metropolitan Museum of New York. Therefore, we know for sure that these are cuirassier armor from Innsbruck 1560. Weight 16,92 kg. Helmet weight 2466,4 g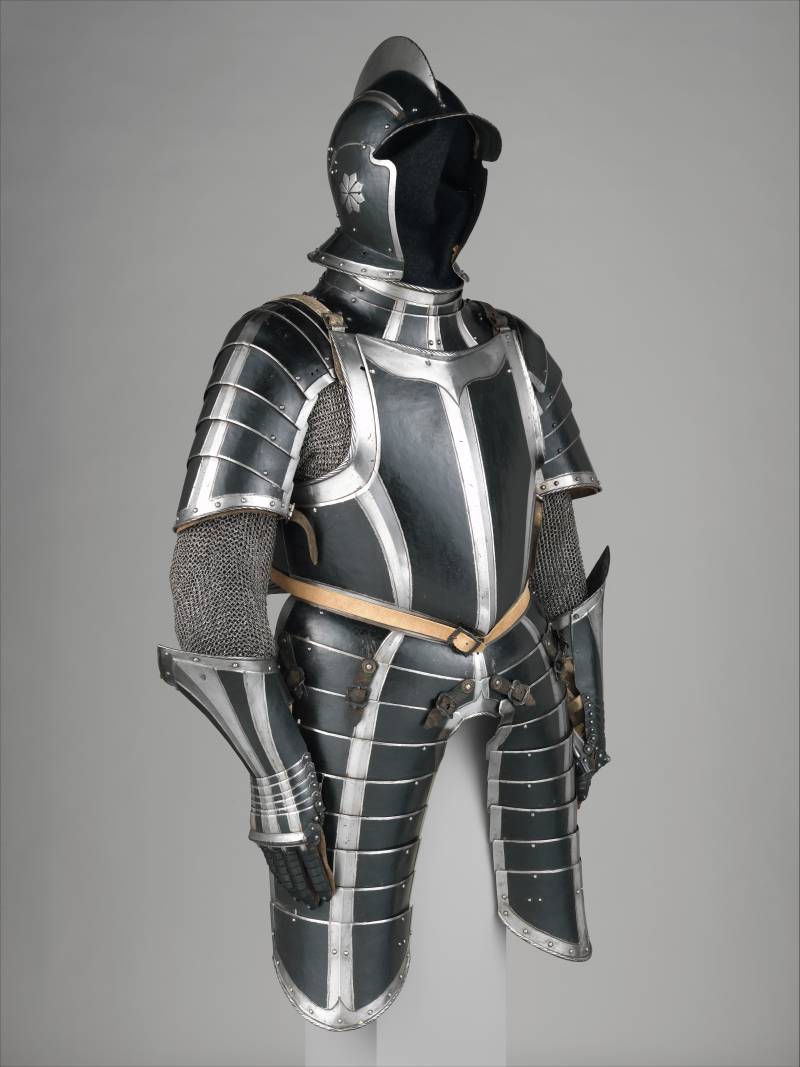 It is known that the gunsmiths from Nuremberg were famous for their ability to produce large quantities of plate armor relatively quickly. In the second half of the 1600th century, they specialized in the manufacture of high-quality infantry armor with a simple but effective decoration in the form of bright stripes contrasting with painted black surfaces. This design was typical of many armor of that time and consisted of an open helmet (bourguignot) and plates covering only the shoulders, trunk and legs from the hips to the knees. Blackened surfaces seemed to make this armor less susceptible to rust, so it barely required maintenance. Circa XNUMX (Metropolitan Museum of Art, New York)
This detachment participated in the famous Battle of Gunegayt (the battle was told about this battle) in 1513, but in 1539 it was completely reorganized as being too expensive. In order to somehow raise the combat readiness of the army, the king even passed a law, according to which every Englishman, having an income of 100 pounds a year, must also have a horse suitable for army service. Not only that, it was ordered that every man whose wife wears a velvet skirt or silk lower skirt, outside of his income (that is, in excess of these same 100 pounds!) Would necessarily also contain a war horse. Like, there is money for marriage from a woman, so please think about the Motherland.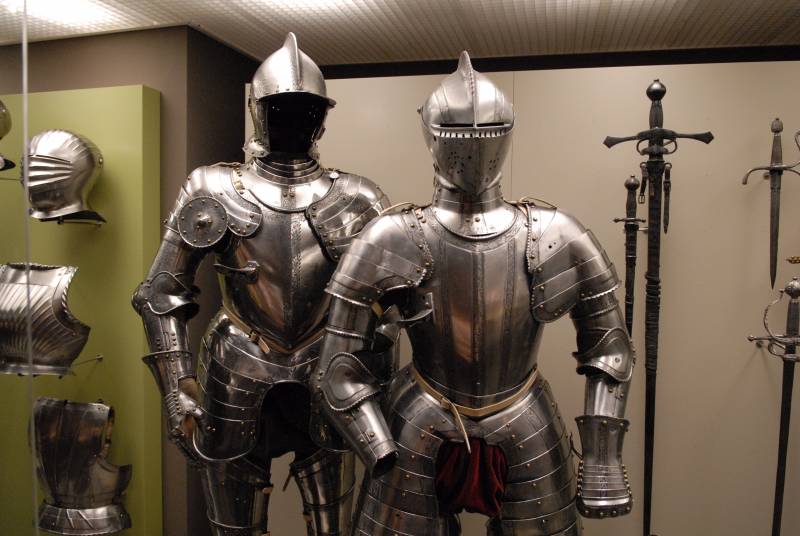 Here we can see these armor too. One helmet is open - bourguignot. But there is a spear hook. So it's not cuirassier armor, and they belong to equestrian spearmen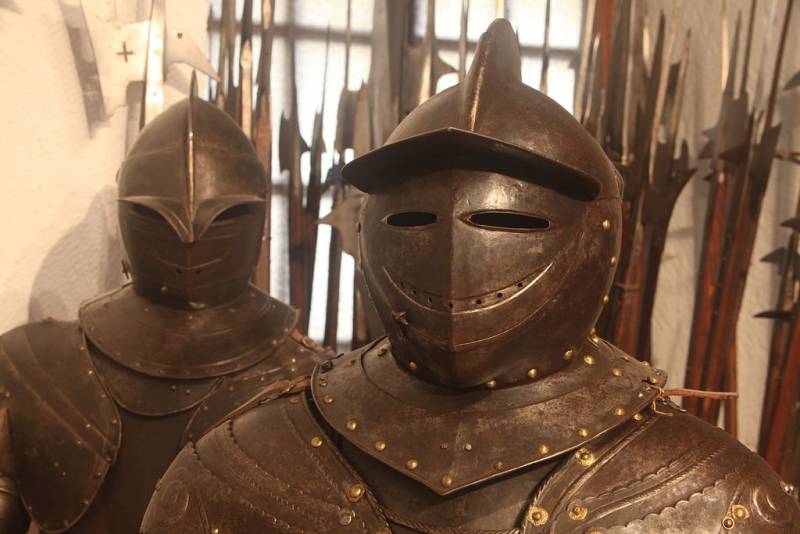 Here they are, how handsome. In general, in the museum of the Morges castle, as in any other western museum - we note this, we are more often faced with cuirassier armor than with any other. Here, for example, cuirassier armor with helmets such as "Savoy bourguignot" or Savoyard. It is easy to distinguish from all the others ...
By the way, we note that not all people who visit museums and admire the knightly armor displayed there are aware that they are not looking at the knightly armor! It does not occur to them that very few genuine knightly armor has survived. And then this is the armor dating back to the middle of the XNUMXth century, and there are practically no earlier ones. What is exhibited in museums is precisely the armor of the transitional period: tournament, ceremonial, and military armor, but again, it is either the armor of ordinary armored mercenaries who have nothing to do with knights, or the armor of "knights" (feudal lords ), who served with these mercenaries ... commanders. That is, very often it is either serial armor of mass production, or more rare, but also quite common commander's armor made to order. It is clear that there were also armor of kings and courtiers. But the bulk is relatively armored mercenaries! And they ended up in museums precisely because there were a lot of them.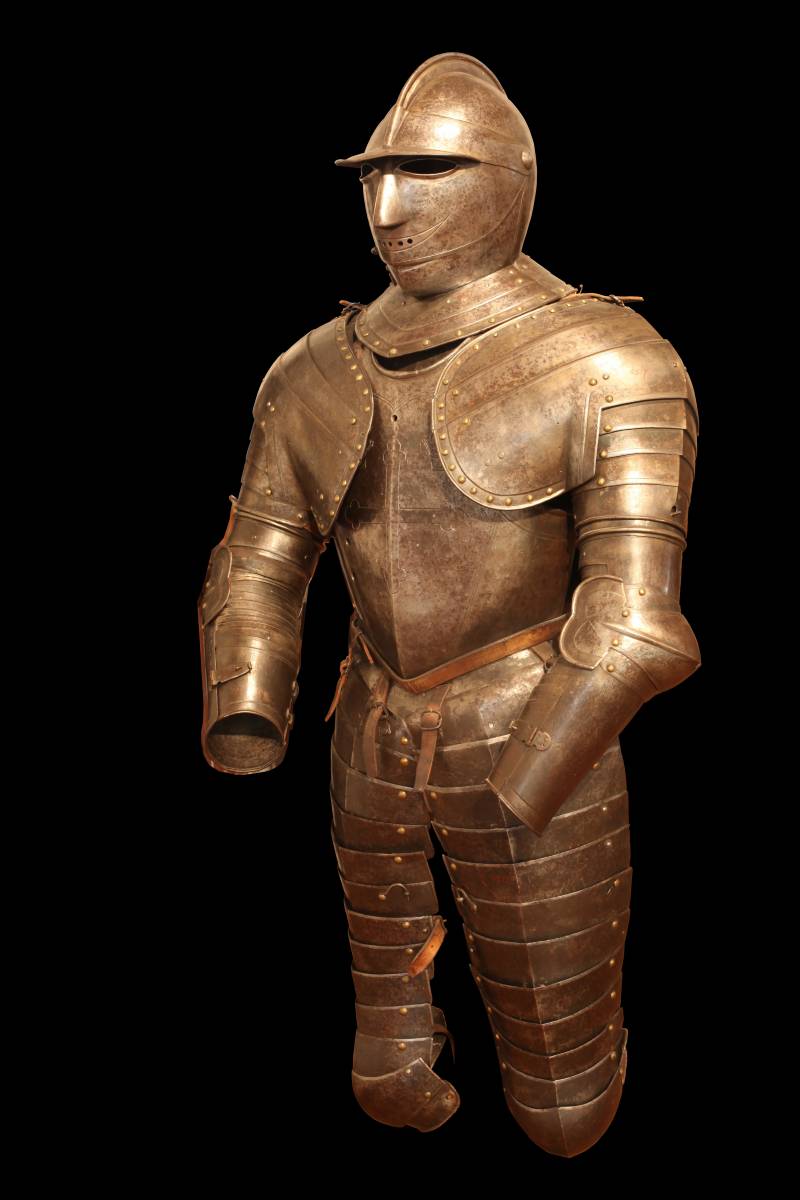 And here is one of the cuirassier armor dating from 1600-16010. (Military Museum of the Walrus Castle, Lausanne)
Recall, for example, the arsenal in the Austrian city of Graz. There, armor made to order and impressive in its finishes, was cut short once or twice, but then thousands (!) Of armor of ordinary horsemen and foot soldiers! By the way, the scale of production of such armor is evidenced by the example cited by English historians D. Edge and D. Paddock, who report that in 1512 the same indefatigable Henry VIII bought only 2000 sets of lightweight armor in Florence (16 shillings per set), and a year later another 5000 in Milan. In 1539, 1200 armor was bought in Colony and 2700 in Antwerp, although the latter were of poor quality and were used only in infantry.
And here is almost completely an analogue of the cuirassier armor depicted on it from
Armory
the chambers of Dresden. They were made by the gunsmith Christian Müller from Dresden, circa 1640. Material - blackened iron, brass rivet heads, leather straps, velvet lining. Height 175 cm, weight 23,07 kg. It is known about the armor that they were bought by the Saxon Elector Johann Georg II from the gunsmith Christian Müller, and he made an order for 50 of these armors, that is, for a whole detachment. This is cuirassier armor, but of improved quality, which could be worn by generals and princes. True, whether Elector Johann George II himself wore it, alas, is not known. The decor of this relatively simple job consists of brass rivet heads.
However, such purchases for the treasury still proved costly. And in 1558 it was decided that the army itself should be maintained by the population. Now every Briton with an annual income of £ 1000 or more was obliged to buy six horses for riders in three-quarters of armor, ten horses for light cavalry, and complete with harness and armor. For the infantry, it was necessary to buy 40 cuirasses with legguards and helmets, that is, equipment for pikemen and arquebusiers, 40 lightweight German-style armor (?), 40 spades, 30 bows with a bunch of 24 arrows, 30 light helmets, 20 copies of the bill "(" Bullish tongue "), 20 arquebuses and 20 morions - that is, an entire arsenal. Well, those who had less income, say 5 or 10 pounds, still had to fork out. They were required to buy one halberd or one bill, one bow with arrows, one light armor and helmet. Naturally, the purchases of all these weapons acquired a mass character, which means that its production also became mass. In addition, it was also standardized, although wealthy people still preferred to order armor.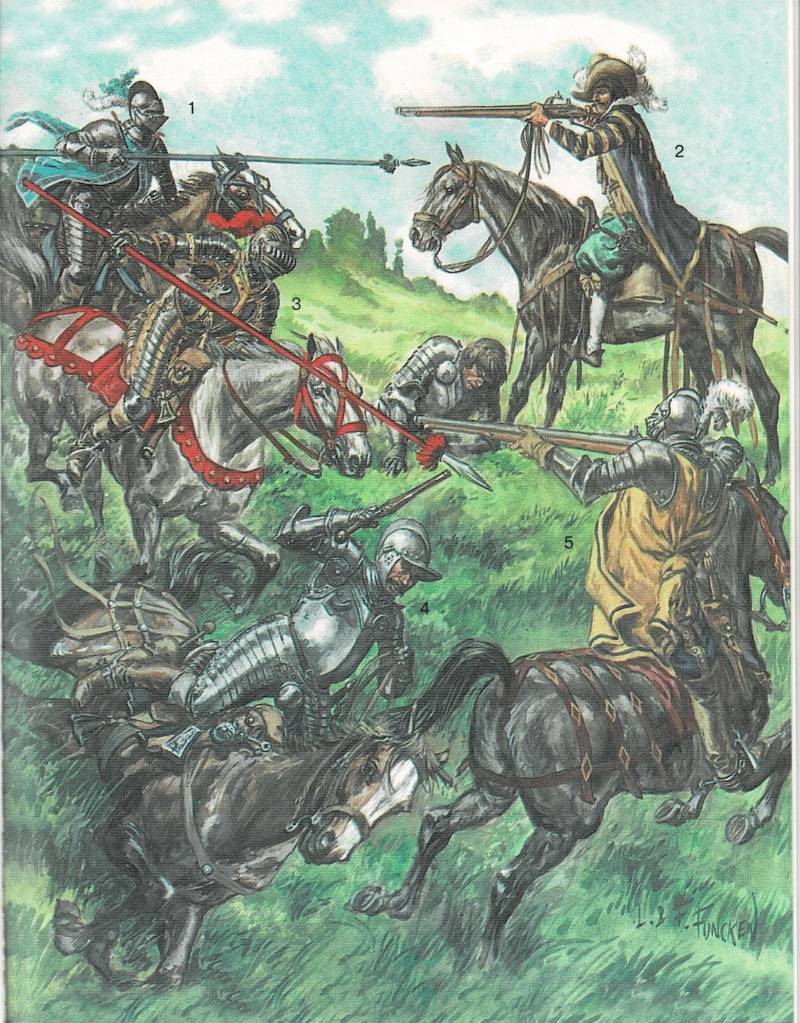 Also the work of Funktsov. Lance-spearmen against horse arquebusiers and cuirassier pistols. Three riders are dressed in "lackey camisoles", that is, they belong to 1570-1580.
However, the price of custom armor was still very high. For example, in 1612, Henry, Prince of Wales, ordered himself cuirassier armor and paid 340 pounds for them. By the way, a pair of cuirassier pistols with wheel locks at that time in England cost 2 pounds 16 shillings.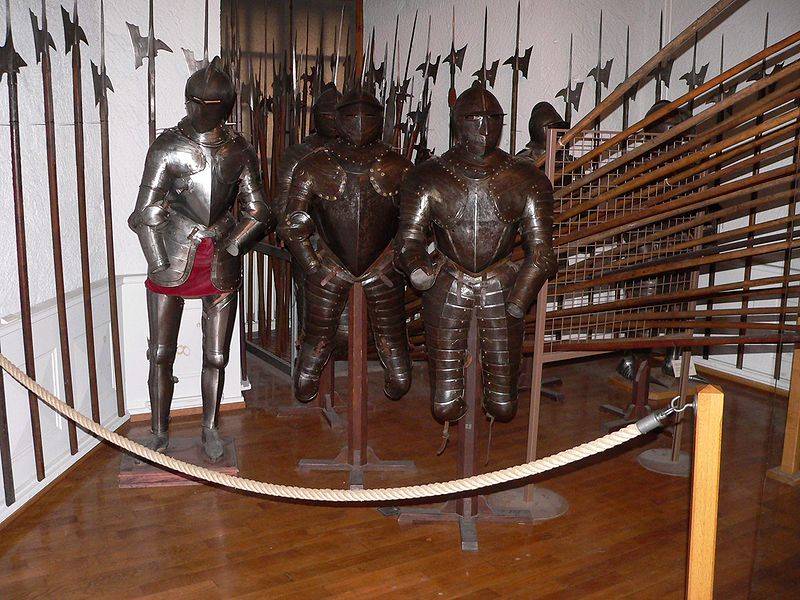 And one more "set" of latniks from the Walrus castle museum. There, it seems, they were also gathered a lot. Although the arsenal in Graz in Austria has not yet surpassed any of the museums!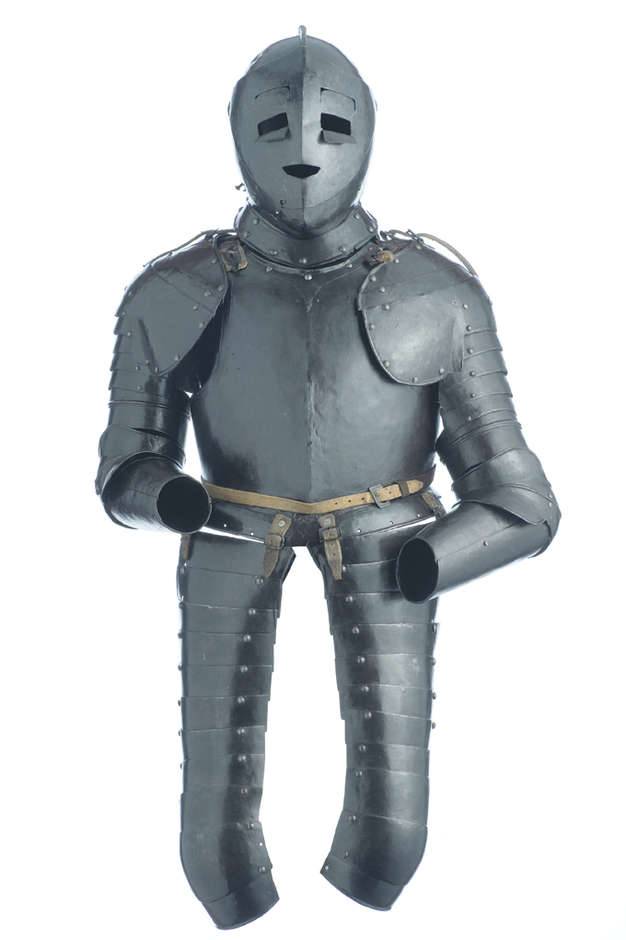 There, by the way, there are also cuirassier armor with a XNUMXth-century savoyard, but only they don't have a scary mask ... (Arsenal of Graz)
During the discussion of one of the materials on cuirassiers on the pages of the VO, the question arose of how long the spear was used by the plate riders of the transition period. And whether it was used along with the gun. Or the gunners were separate, and the spearmen separately. To begin with, France was in front of the whole of Europe in the issue of refusing to use a spear. Here in 1604, the use of the spear was officially prohibited by decree of King Henry IV. But in other countries it was used before this time, and after.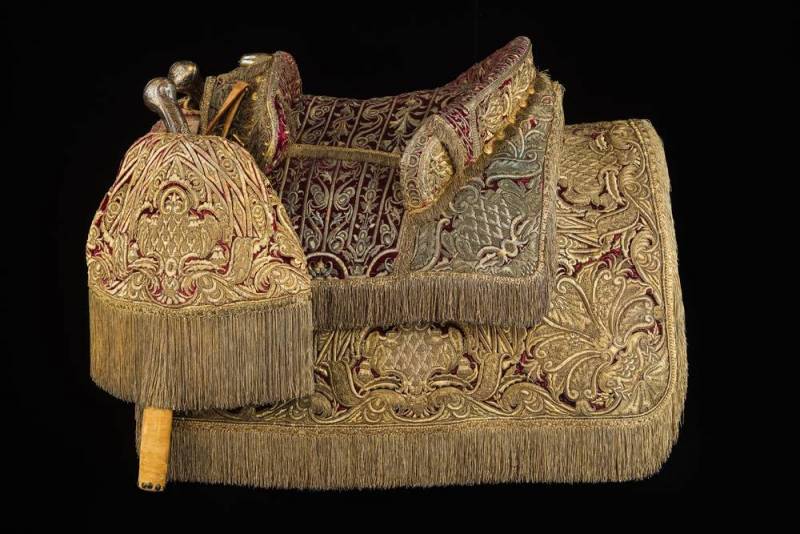 Saddle from the Dresden Armory, dated 1715. Material: leather, wood, horsehair, details from iron and brass - gilded. Fabric - velvet, raspberry silk, embossed brocade. Fringe made of golden threads. Dimensions: length 60 cm, width 68 cm, height 55 cm. The saddle was a gift from King Louis XIV to Polish King Augustus the Strong. A total of six such saddles were made, embroidered with gold and silver, which he sent to Dresden in 1715. The saddles were presented with pistols by the best Parisian gunsmiths
However, in the plate cavalry they were actively used in the XNUMXth century. In fact, the previously existing Ordonance companies survived in this century, but their composition and armament changed in response to the challenges of the time.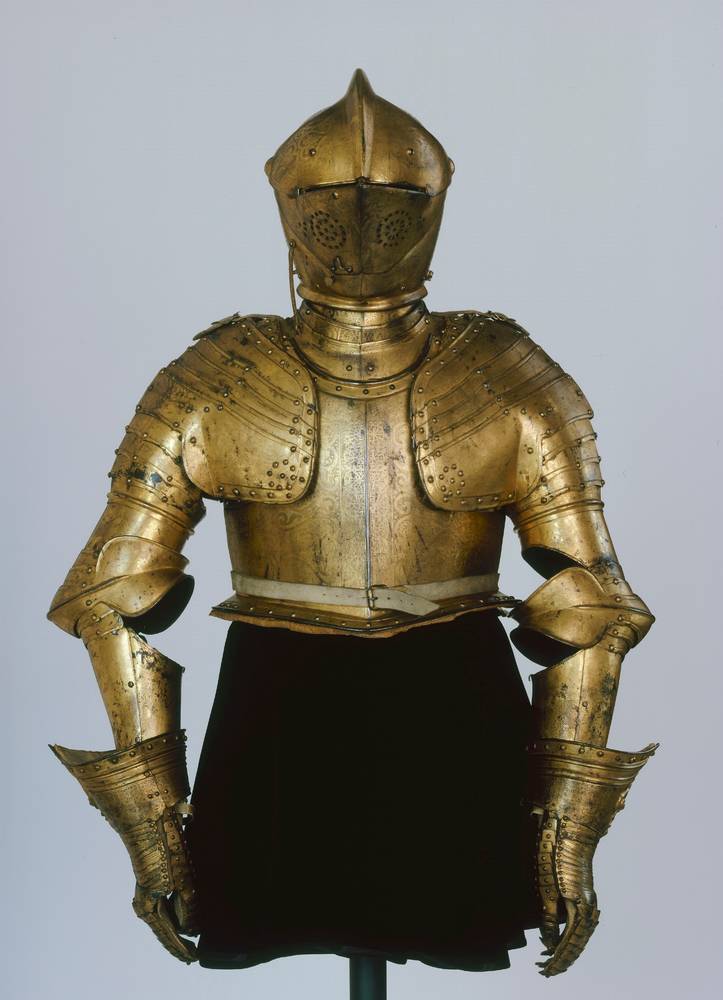 Gilded armor, circa 1650. Weight 16.37 kg. (Dresden Armory). Although it looks like a cuirassier, it is not a combat armor, but a tournament armor, moreover for a foot tournament with a barrier. Dresden's foot tournaments flourished at the end of the XNUMXth century and were mainly held in the courtyard of the Elector's castle. They celebrated various celebrations such as birthdays, christenings, family gatherings, or solemn visits by princely guests.
It is known that foot tournaments were held in 1606, 1613, 1614, 1615, 1622, 1630, 1650, 1652, 1662, 1667 and 1679. The helmets impress with their compact, closed form, which is explained by the nature of the tournament, in which the fighters had to withstand blows mainly on the head. They have been listed on inventory since 1688 with all accessories, including helmets and tournament swords. But despite the numerous information about these foot tournaments, the only thing that was known about these four armors was that they were acquired on behalf of the then Elector Prince Johann George II. In 1650, they entered the weapons warehouse for storage. There are still no references to the manufacturer of these unusual products.
So, in 1522, Charles V approved the composition of horse gendarmes in the amount of eight units, 50 copies each. In 1545, their number increased to 19, but then, in the 1547th, it again decreased to 15. True, this was the size of peacetime. During the war, the number of such units increased rapidly, which is why they were called "growing". The spear of the Ordonance company in 1545 included one gendarme on a horse in horse armor, a squire with the same spear as the gendarme, but in a cuirass riveted from stripes, a page in a Morion helmet and a light spear-guinea, then one latin man in a cuirass and again with a knightly spear, but already without a plate, and three spearmen in burginot helmets, chain-necked drape and pistols in holsters at the saddle.
In 1572, the riders of these ordonance companies received even more uniform weapons: a Morion helmet or a cabasset (the commanders still wore arme), full plate armor, cuirass from the plates on the chest and on the back, on top of which they also wore "spaced armor" additional bulletproof bib, as well as lamellar leg gaiters to the knees. On top of the armor, it became fashionable to wear the so-called "footman's jacket" with sleeves tied to the back. Horse lats have already been abandoned. But in addition to the spear, these riders already had two pistols in holsters. The spears themselves became much easier, so the spear hook on the cuirasses of this time was no longer attached.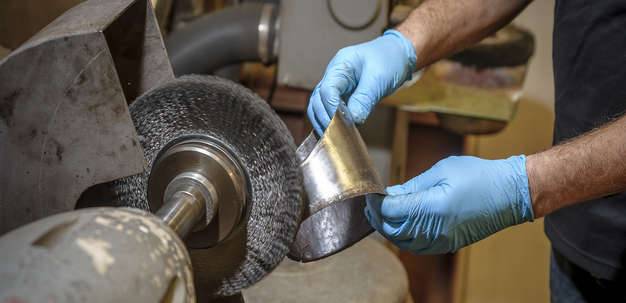 And this is how armor in museums today is cleaned of rust. Therefore, they very often look like new ...
References
1. Norman, AVB, Pottinger, D. Warrior to soldier 449-1660. A brief introduction to the history of British warfare. UK L .: Weidenfild and Nicolson Limited, 1966.
2. Richardson, T. The Armor and Arms of Henry VIII. UK, Leeds. Royal Armouries Museum. The Trusteers of Armouries, 2002.
3. The Cavalry // Edited by J. Lawford // Indianopolis, New York: The Bobbs Merril Company, 1976.
4. Young, P. The English Civil War // Edited by J. Lawford // Indianopolis, New York: The Bobbs Merril Company, 1976.
5. Williams, A., De Reuk, A. The Royal Armory at Greenwich 1515-1649: a history of its technology. UK, Leeds. Royal Armouries Pub., 1995.
To be continued ...