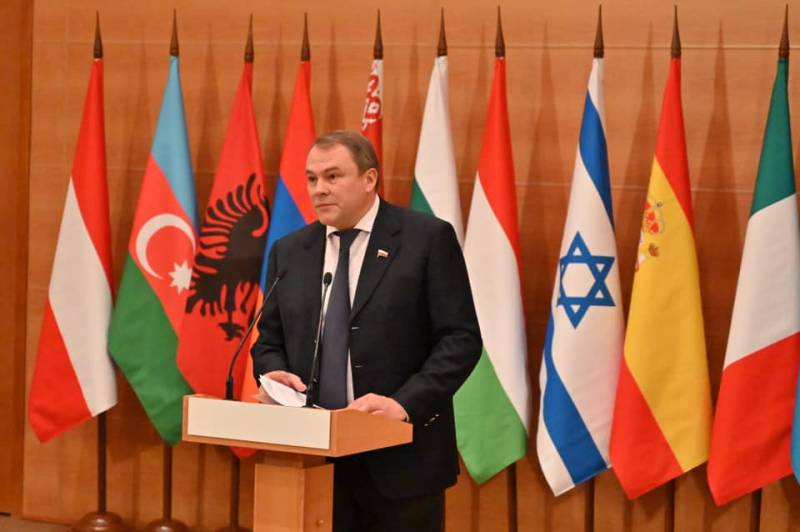 Ukrainian journalists and representatives of the Ukrainian delegation to the Parliamentary Assembly of the Council of Europe reacted violently to the approval of the head of the Russian delegation Petr Tolstoy as PACE vice speaker. The Ukrainian side believes that such an appointment of the Russian parliamentarian "violates international law and reduces the sanction pressure that Russia faces after the events in Crimea."
When Petr Tolstoy appeared in the lobby of the PACE building, Ukrainian journalists jumped up to him with provocative questions.
One of the questions was: "Tell me, which countries consider, like Russia, that there was a reunion of Crimea with Russia, and not annexation of the territory? Who supports your position? "
PACE Vice-Speaker calmly replied:
Our position is supported by the people of Russia, this is enough for us.
The Ukrainian journalist, having received an "injection" from the Russian parliamentarian, managed to ask another question: "Who supports in Europe?"
Peter Tolstoy calmly:
In Europe, it is the largest country - the Russian Federation.
Petr Tolstoy taught a lesson in communication with Ukrainian journalists pic.twitter.com/DpsJnoeBs6

- Volodin-Topwar (@VolodinTopwar) January 29, 2020
Thus, the PACE vice-speaker taught an excellent lesson in communication with those who today call themselves "free Ukrainian journalists".
Recall that a few days ago the Ukrainian delegation announced a decision to return to the meetings of the Parliamentary Assembly of the Council of Europe, but after the appointment of PACE Vice-Speaker Petr Tolstoy, the Ukrainian delegates again had claims to the organization.