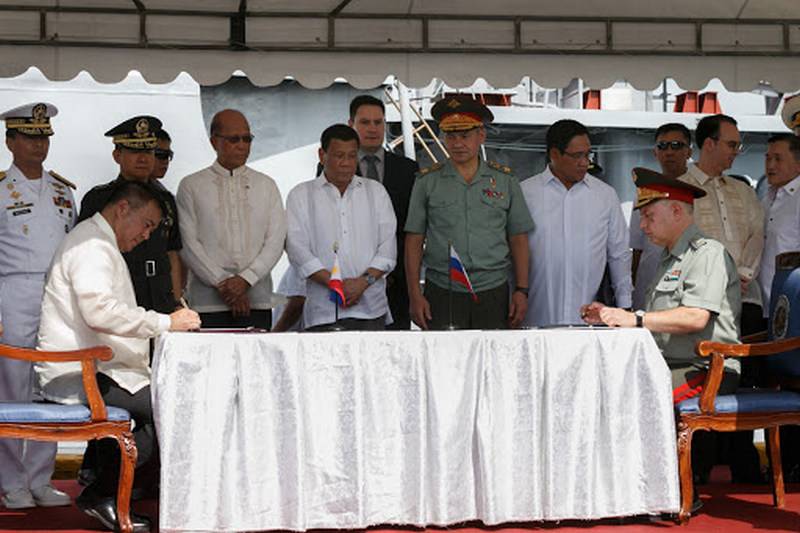 The Philippines intends to purchase 12 military helicopters in Russia. This was stated by President Rodrigo Duterte, reports
news
CNN Philippines resource.
In an interview with Duterte, he said that 12 "Russian-made military helicopters" would soon be armed with the Philippine army. According to him, the previously discussed plan for the purchase of military equipment in Russia was frozen due to a lack of budget funds.
From the fact that Russia is a friend, it does not follow that we do not pay our debts. Now we have placed orders for the supply of 12 military helicopters
- He said, without explaining which helicopters will be purchased in Russia.
In 2019, the Philippine Armed Forces command announced an assessment of the possibility of buying 16 helicopters in Russia, as well as armaments, as part of an ongoing modernization program, which Duterte seeks to complete before the expiration of its term of office in 2023.
Note that until the 2017 year, the Philippines, along with Brunei, remained the only states in the Asia-Pacific region that never bought Russian weapons. However, with the advent of President Rodrigo Duterte, Manila began to actively show interest in establishing military-technical cooperation with Moscow. As Duterte explained, "when Russia sells
weapon
, it does not impose any conditions ", unlike the United States.
Experts characterized Duterte's foreign policy as a turn to Russia and China from the United States. The United States was the largest arms supplier of the Philippine Armed Forces until 2016, when it refused to supply 20 assault rifles to the Philippine National Police.
The first contract Russia signed with the Philippines was an agreement to supply RPG-7V grenade launchers and shots to them. Russian weapons arrived in the Philippines last July.
In November last year, it was reported that the Philippine Defense Ministry is considering the Russian Su-30MKI fighter as one of the contenders for victory in the tender announced by the country's Air Force.