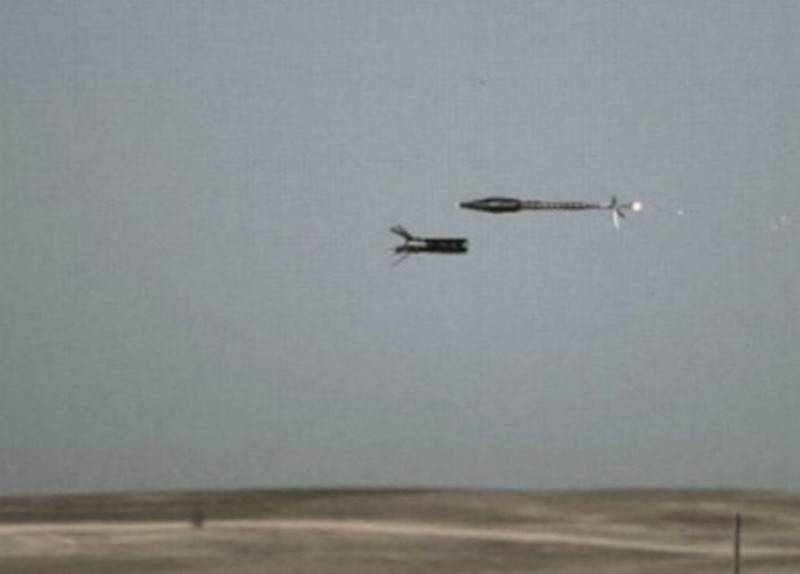 Anti-tank grenade (right) and KAZ Iron Fist
The Israeli company Elbit Systems has tested an advanced active protection system for MBT and other Iron Fist equipment. According to Jane's, the upgraded system intercepted a 120-millimeter caliber armor-piercing stabilized projectile.
The company called these tests successful, because the vast majority of active defense systems that exist today cannot intercept sub-caliber shells because of its smaller size and high initial speed compared to missiles.
During the modernization of KAZ Iron Fist, Elbit Systems specialists introduced a new launcher with exploding explosive elements and a new radar station. During the tests, the complex, thanks to the new radar, "saw" the armor-piercing projectile and shot in its direction with a new striking element, which exploded near the projectile, thereby changing its flight path.
As stated in the company, the task of the improved Iron Fist complex is to change the trajectory of the armor-piercing subcaliber shell so that it either does not hit the target or gets into the tank at an non-optimal angle. Since BOPS is, in fact, a metal disc with a tail, it is impossible to detonate it in the air like a rocket.
At the same time, Elbit Systems recognized that by "teaching" KAZ Iron Fist to intercept sub-caliber shells, they significantly increased visibility
tank
- a working new radar of the complex with a capacity of 200 watts can be detected by electronic intelligence systems at ranges up to 500 kilometers.
We'll add that in Russia there is an active defense system capable of intercepting armor-piercing subcaliber shells. As previously reported, the upgraded KAZ "Afganit", intended for installation on the T-14 "Armata", received new striking elements that can deflect BOPs from the flight path, creating a blast wave.