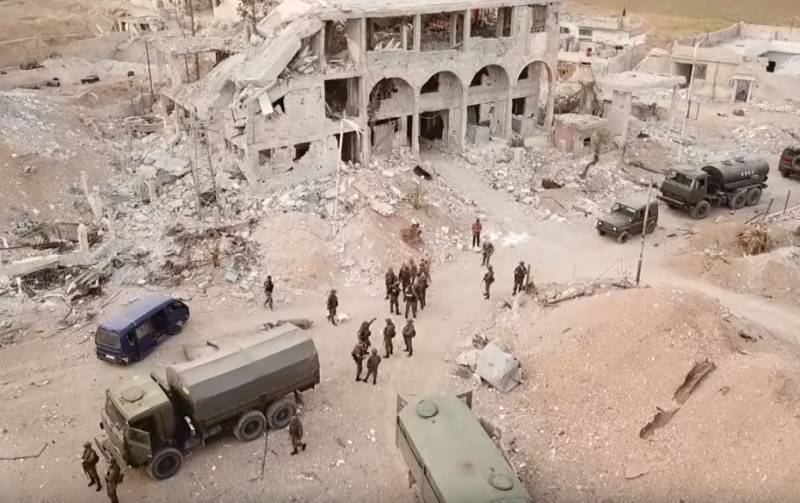 In the photo - the Russian military in one of the liberated cities of the SAR
The military section of the Chinese information portal Sohu published material that describes the successes of the Syrian Government Army (SAA) together with the Russian Armed Forces in the fight against terrorism. The author recalls that a few years ago, the only question that was acute in Syria was how many days the Assad government would fall and Damascus would raise the black flag of ISIS (a terrorist organization banned in the Russian Federation).
Today, Sohu states, the questions are posed quite differently. One of them: how long would terrorist groups in Syria last without foreign protection?
From an article on the pages of a Chinese resource:
As we know, after Russia's intervention in the Syrian crisis, the situation in Syria has changed dramatically. The militants in Syria were defeated by the Russian-Syrian coalition. His opponents no longer remember the overthrow of Bashar al-Assad.
The material notes that the only way that militants in Syria can get a respite and attract additional foreign assistance can be staged "chemical attacks." In particular, examples of performances with the participation of White Helmets in East Gut and Khan Sheikhun are given, which led to strikes by the American coalition on the SAA, but which were subsequently exposed by Russia.
From the article:
Representatives of the "White Helmets" repeatedly transported containers of toxic substances, including chlorine, to places where subsequently shots appeared with the chemical attack allegedly carried out by Assad's forces.
In China, it was recalled that the White Helmets organization was once created and actually headed by a British intelligence officer. It is noted that this fact speaks of the benefits that the special services of Britain and its allies acquire when using the "White Helmets" in their interests.