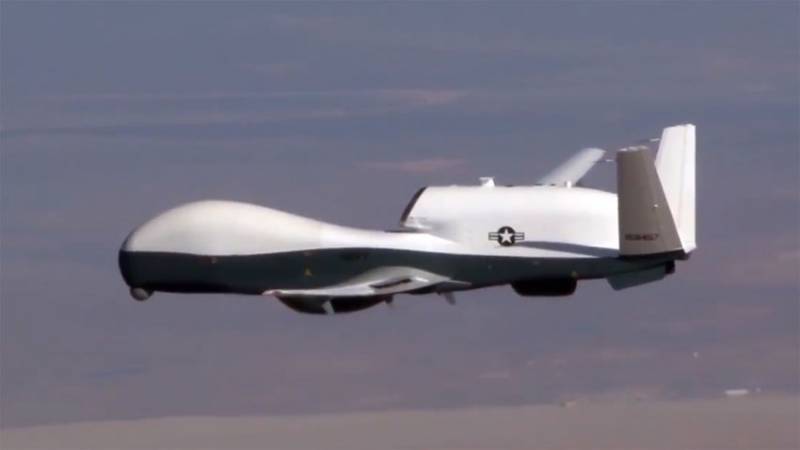 The United States deployed the first pair of Triton drones to the island of Guam. The MQ-4C Triton is the U.S. Navy's version of the RQ-4 Global Hawk.
The UAV has a wingspan of more than 38 m. In the air, it can be continuously for more than a day. The time limit, according to the US Navy, is about 30 hours. Speed ​​Triton is capable of developing up to 310 knots (574,12 km / h). The maximum flight height of the MQ-4C Triton is 18 thousand meters.
According to the US Air Force command, drones were deployed to Guam with the goal of "global monitoring of the situation in the North Pacific." Experts note that the Tritons can be used to monitor the activities of the Chinese Navy and North Korea, including the activity of their submarine forces.
It should be recalled that several months ago it was the base on Guam in Pyongyang that was called its first target (from the US) in the event of a US attempt to attack the DPRK. The video, which was then presented on North Korean TV, demonstrated graphics with possible strikes on the American military infrastructure of Guam.
UAV "Triton" is equipped with a recognition system for ships and ships, has an arsenal of sensors and video cameras, including infrared cameras. An all-round radar is installed on it, allowing you to monitor the territory of thousands of square kilometers of the sea surface.
Drones assigned to the command of the 72nd operational group of the Seventh
fleet
US Navy. Reconnaissance missions are planned to be carried out, including in conjunction with P-8A Poseidon aircraft. It is noted that such interaction will increase the effectiveness of anti-submarine activities.
Earlier, Military Review reported that Germany had refused a contract with the United States for the supply of MQ-4C Triton in the amount of about $ 2,5 billion.