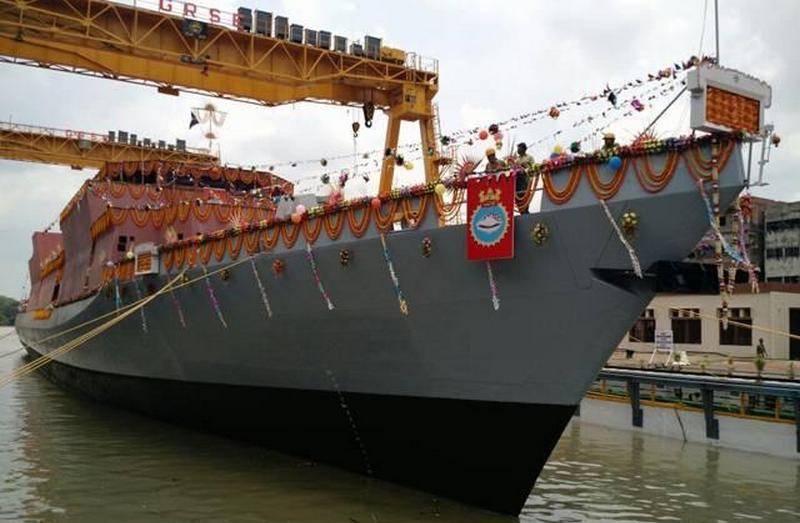 Corvette INS "Kavaratti" (P 31) after launching
The Indian Navy will soon be replenished with an anti-submarine corvette "Kawaratti" class "Camort", the adoption of which
fleet
will be held with a delay of two years. This is reported by the Indian edition of The Economic Times, citing representatives of the Garden Reach Shipbuilders & Engineers (GRSE).
According to the publication, the last in the series, the fourth corvette called the Cavaratti of the Camorta class has finally successfully completed all tests and will be commissioned in the near future.
The ship was built as part of the P28 program, adopted in 2003 and implying the construction of a series of four Kamorta class anti-submarine corvettes. The program itself started in 2006, when the lead ship of the Camorta series was laid down at the GRSE shipyard in Calcutta. Construction was carried out with delays, the launch of the corvette in 2010, and the transfer of the Indian Navy in 2014. The first production corvette "Kadmatt" was commissioned in January 2016, the second production one, "Kiltan" - in October 2017. The last ship of the Kavaratti series was laid down in 2012, launched in 2015 and was planned for transfer to the Indian fleet in 2017.
The ship is equipped for warfare in a nuclear, chemical and biological warfare.
- the shipyard said.
The corvette has a superstructure made of composite materials, which reduced the weight of the ship, increasing its stability. The displacement of the corvette is 3300 tons. Length - 109 meters, width - 13,7 meters. Equipped with a combined power plant with four MAN / Pielstick PA 16 STC diesel engines. Speed ​​25 knots. The crew of 123 people, including 17 officers. Cruising range 3450 nautical miles at a speed of 18 knots.
Powerful radar equipment and electronic warfare equipment were installed on the corvette. The armament includes: a 76-mm gun mount manufactured by the Italian Leonardo group, Israeli-made Barak air defense systems, two Russian-made AK-630M artillery systems, two RBU-6000 Russian rocket launchers and four 533-mm torpedo tubes. There is a multi-purpose helicopter Westland Sea King Mk.42B