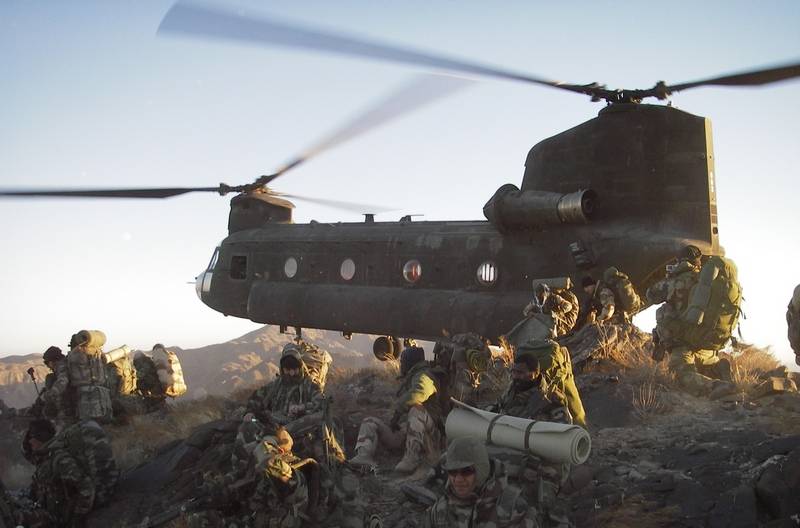 CH-47D Chinook from the 113th Army Regiment aviation USA in southern Afghanistan
The United States intends to completely replace the entire helicopter fleet of the Afghan armed forces, removing Russian-made cars from it and putting American ones. This is stated in the US Department of Defense's latest report to Congress on Enhancing Security and Stability In Afghanistan, which assesses the situation in Afghanistan and the activities of the American side in that country.
According to a published document, by the end of 2023, the United States intends to completely decommission the special operations wing (Special Mission Wing - SMW) of the Afghan armed forces, Mi-17V-5 helicopters, replacing them with American-made helicopters, including transport CH- 47 Chinook.
It follows from the document that at the end of 2019, the Afghan Air Force had 45 Mi-17 helicopters, of which 23 were fully operational. 11 Mi-17 helicopters were to be repaired (four of them were sent for repair to Bulgaria). Another 30 Mi-17s, which are part of the Afghan SMW, began to be phased out and replaced with Sikorsky UH-60A + Black Hawk helicopters. It is planned to supply up to 40 American helicopters to this wing.
As stated in the report, now to the UH-60A + Black Hawk it was decided to add the transport CH-47 Chinook. According to reports, we are talking about 10-15 helicopters. It is indicated that, most likely, helicopters will be delivered from the presence of the American army in the form of military assistance.
Recall that the United States since 2017 has been implementing a program to replace the Russian Mi-17 helicopters with the American Sikorsky UH-60A + Black Hawk in the Afghan army. Helicopters are available in two versions: transport and armed.
According to the bmpd blog, UH-60A helicopters from the 1980s from the U.S. Army aviation are being transferred to Afghanistan, which are being upgraded to the UH-60A + variant by installing more powerful engines.