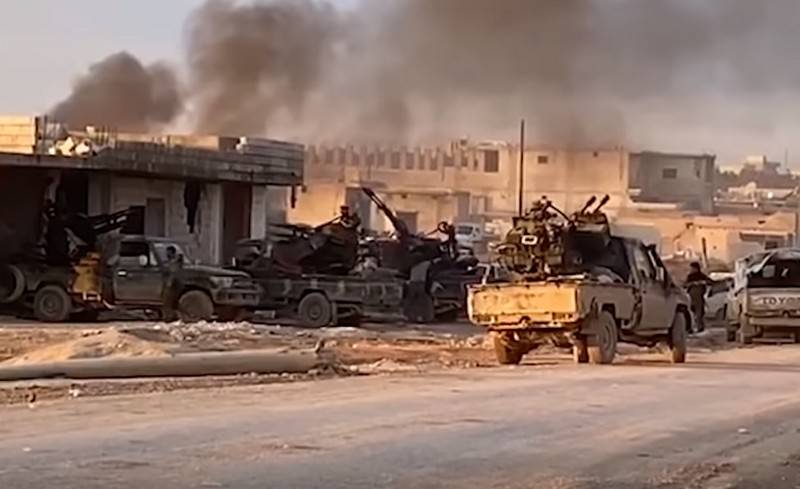 Positive
news
come today from Syria. Government forces seized another village and completed the encirclement of the most important strategic city - Maaret en Numan, which is a major outpost of terrorists from the Jebhat al Nusra group banned in Russia. It is reported by the Arab television channel Al-Hadas.
According to the TV channel, detachments controlled by the official Damascus forces took control of the area in the east of the city and completely surrounded Maaret en Numan. In recent hours, government forces captured the Jabal al-Zawiya region and thus closed the ring around the city.
It is reported that the offensive of the Syrian army resumed on the evening of January 27 directly under Marat al-Numan. With the support of artillery and helicopters, units of the 25th and 4th divisions of the SAA took the nearby villages of Maaratta and Ain ad-Dayr. Later, government forces knocked out militants from the Nasakh checkpoint on the M-5 highway. Already in the dark, the SAA units took the former Hamidiya military base and reached the outskirts of the western suburb of Maarat al-Numan - the village of Kafr Ruma.
Civilians, including militant families, are being evacuated from the city towards the Turkish border.
According to military experts, despite attempts by the collective West to halt the advance of the Syrian army, the largest outpost of terrorists in the province of Idlib, the city of Maaret en Numan, will be taken by government forces within a few days.
In total, as noted, during the operation in Idlib province, which began on December 19 last year, the Syrian Arab Army (SAA) established control over 46 settlements in the south and east of the province and liberated 320 square meters from militants. km of territory.