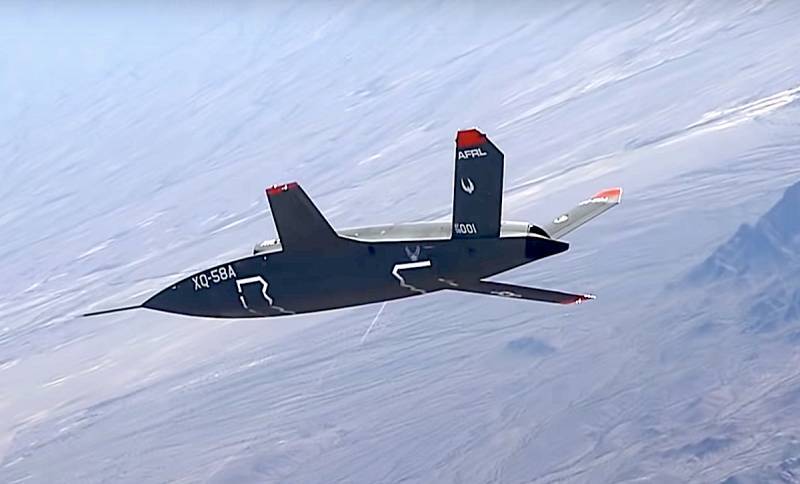 In the United States, the tests of the unmanned XQ-58A Valkyrie drone demonstrator, interrupted last fall after an emergency landing, resumed. As transmits
"NPlus1"
With reference to the report of the US Air Force research laboratory, the first drone flight after the break took place on January 23, 2020 and was completely successful.
According to the report, during a new test, the drone climbed to a great height, which they had not previously achieved. During the flight, information was collected on the vibration of the vehicle and the temperature of the on-board systems. The device made a successful landing at a training ground in Yuma (Arizona).
Recall that the latest tests of the XQ-58A Valkyrie were conducted on October 9, 2019. According to information published by the Pentagon, a drone that landed at the Yuma test site in Arizona suffered damage. This was facilitated by a strong crosswind and a malfunction of a number of UAV systems.
During the 90-minute flight, the XQ-58A completed all the tasks that were set to pass the 56 control points, as well as two additional ones, remaining at the end of the mission with excess fuel. Having successfully completed the main test program, the UAV headed for the landing point. The parachute worked normally, but the peculiar airbags designed to land the unmanned vehicle did not work correctly, causing damage.
The development of the XQ-58A Valkyrie guided unmanned vehicle is underway by the US Air Force Research Laboratory with the participation of Kratos Unmanned Aerial Systems. The goal of the project is the creation of relatively cheap reusable vehicles in production that can serve as a fighter, but whose losses during the war will not be financially sensitive.
Initially, it was assumed that an unmanned fighter aircraft capable of breaking through the Russian echeloned defense of air defense / missile defense (zone A58 / AD) would be created as part of the XQ-2A project, but this concept was later abandoned. The program is now developing a driven unmanned vehicle capable of working "in conjunction" with the fifth-generation fighter F-22 Raptor and F-35 Lightning II, as well as, possibly, with other aircraft.
There are almost no technical details about the project. All that is known: the length of the 9,1 meter meter, wing span - 8,2 meter. Flight altitude - 13,7 thousand meters. Presumably, the device is designed for a range of about two thousand miles (over three thousand kilometers). The weight of the combat load located in the internal compartment and on the external sling is up to 272 kg. Flight speed - transonic.