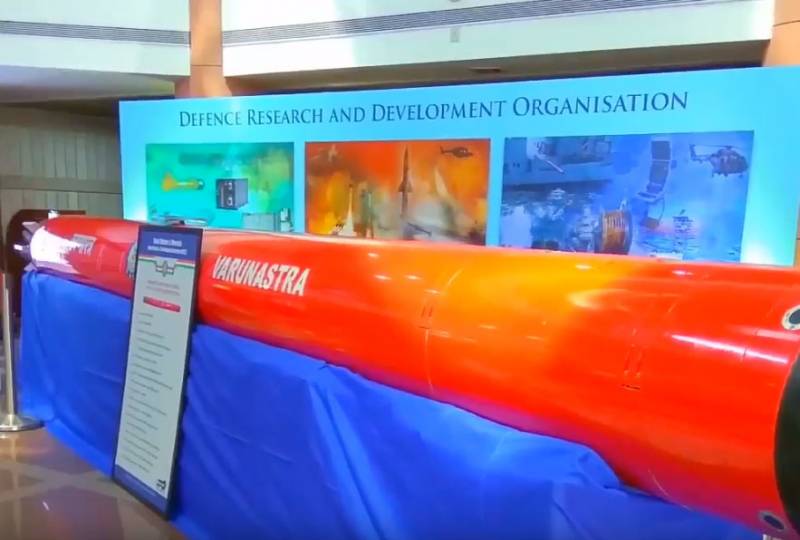 The Indian Navy command spreads the message that in the near future the submarine fleet of the country's naval forces will receive the first batch of advanced anti-ship anti-submarine torpedoes "Varunastra". It is noted that this will significantly increase the combat potential of the Indian
fleet
.
From an Indian media report:
The deployment of such torpedoes puts India among the eight countries with such an effective
weapons
. The torpedo was designed and built in India. It provides decisive firepower in the event of a collision at sea.
Reported on some characteristics of the ammunition.
It is noted that the Varunastra torpedo is capable of destroying almost any surface and underwater target, including submarines, at a distance of up to 40 km. The pilot combat operation of the Varunastra torpedo in India was launched in 2018. Tests of torpedoes from surface ships began to be carried out in 2016.
The torpedo has a total mass of about 1500 kg, of which 250 kg are explosive. The speed of the torpedo reaches 74 km / h. The torpedo goes to the target, adjusted by GPS.
The depth specifications were clarified: the torpedo is capable of operating at a depth of up to 450 m.
The torpedo was designed at the Naval Science and Technology Laboratory of the Defense Research and Development Organization of India (DRDO).
Initially, Sindhu-class submarines will be armed with such torpedoes, including the 2000 Sindushastra built in XNUMX. Also, the "Varunastra" torpedoes were put into service with Talwar class frigates, Kamorta class corvettes and other surface naval warships of the country's Navy.
At the same time, India is already considering the possibility of exporting Varunastra. Previously, Vietnam was named as a country for export.
Indian media:
Today, the Indian submarine fleet consists of 16 submarines, which is much smaller than China with its 70 submarines. New torpedoes will give the country's Navy the necessary firepower.