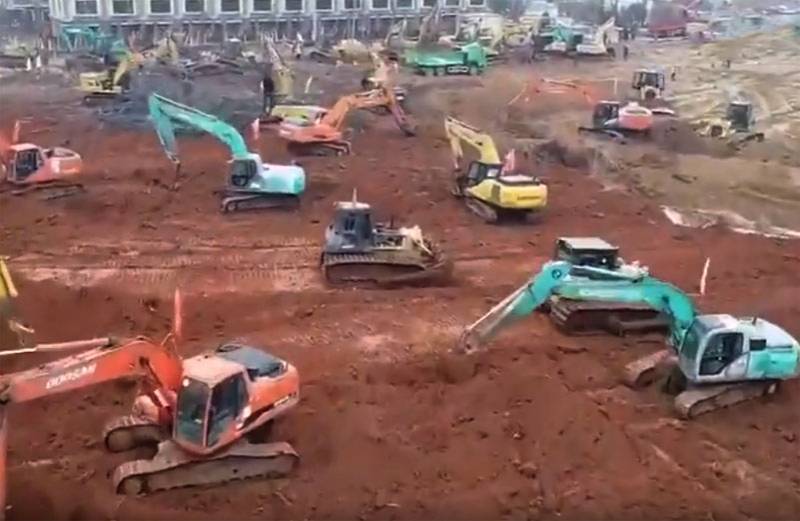 In connection with the outbreak of coronavirus in Wuhan, China, which became the epicenter of the spread of this disease, it was decided to build a new hospital of 25 thousand square meters, capable of receiving at least a thousand patients. A new medical institution, on the construction site of which excavators are roaring today, should start work no later than February 3 of this year. That is, construction work as such should be completed in 6-7 days. Fantasy? Nothing of the kind, just building at normal rates for the Middle Kingdom, somewhat accelerated due to the extremely situation. In any case, the builders of the Beijing Xiaotangshan hospital during a similar crisis - the SARS epidemic in 2003 over the past week coped with the task.
The Chinese comrades, who spare no effort and resources to save the lives of their compatriots, sincerely want to wish success. In this case, of course, the question begs: why can't we do that ?! Or can we? What is the secret of high-speed construction projects in Chinese. Let's try to figure it out.
At one time, our grandfathers surprised the world with much more enormous construction projects, including their unrealistic, as it seemed then, terms. For example, a 33-km gas pipeline to the besieged Leningrad along the bottom of Ladoga was laid in a month! The pace is incredible: more than a kilometer a day in the face of hostilities.
What is wrong now? Before you start looking for an answer to this question, it is worth noting: the incredible speed of construction for China is really, as mentioned above, the norm. New roads there are "driven" at a speed of 750 meters per hour, houses are erected in a matter of days, and what's home there - entire cities rise from scratch almost in no time. Last year, more than half of all the skyscrapers in the world were built in China. How do they do it?
There are many reasons. Perhaps it's worth starting with the colossal construction industry that the country has managed to develop. Already a couple of years ago, a billion tons of cement per year was produced there annually (in the Russian Federation this figure does not reach 100 million). They can let them drive a whole "herd" of excavators into the construction of the hospital, and not mess around, as we have with one that is always breaking. Practically all the construction equipment (up to the most complicated complexes for erecting high-rise buildings) of the most modern designs, China produces independently, is not dependent on anyone and is not afraid of any sanctions.
Another point is organization. Stormy activity on the Chinese construction site does not stop not only that day or night - it does not fade for almost a second! Workers, each of whom clearly knows where he should be and what to do, do not beat the bucks (sometimes - forcedly due to breakdown of equipment or lack of building materials), but do what they are paid for.
And believe me, they pay quite well: those involved in the "high-speed" construction in Wuhan will receive approximately $ 170 per shift for urgency. It's not about specialists, but about the most ordinary hard workers. However, in normal mode, he gets $ 50-60 per shift. Three times less, of course, but also, you see, not bad.
There is motivation, there is discipline. Drinking, taking time off from work, marriage - get out! Millions of those who are ready to work for conscience are breathing in your back ...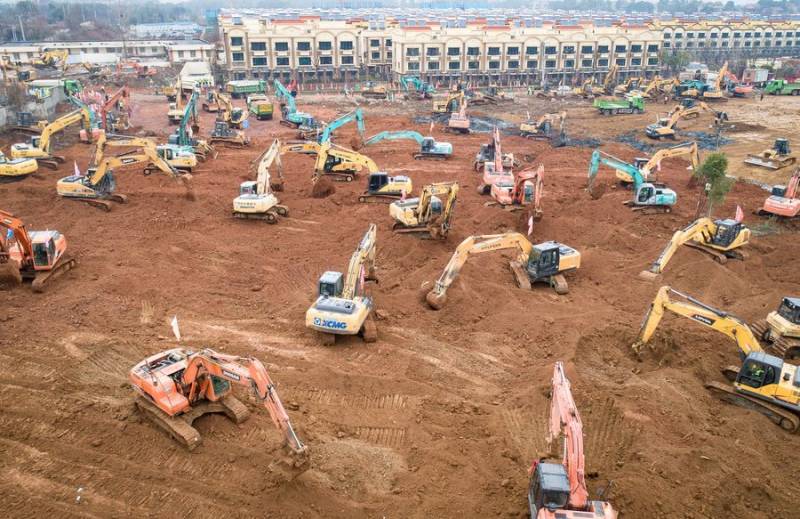 I must admit - the construction industry of the Celestial Empire, like almost everyone else, has gone through a period of "childhood illness" when everything was done with a "bigger number, cheaper price." The result is a very dubious quality. At one time, on the Internet, a sufficient number of photographs of cars that had fallen under the asphalt and "folded out", like card-like, houses made just in China walked on the Internet. There even a corresponding term arose: "tofu-ja construction project", from soy cheese tofu, porous and brittle. The most terrible precedent of this kind were schools that fell apart during the 2008 earthquake in Sichuan.
Be that as it may, but this phase the Chinese builders (as well as manufacturers of smartphones and cars), basically overcame. Self-taught enthusiasts have been replaced by strong professionals who have received the best education and have completed internships in construction companies around the world, and Chinese design engineers today can already teach something to foreign colleagues. Much has changed, but the main thing has remained - tough state control and the absence of many far from always necessary obstacles to really speedy implementation of construction projects imposed by "civilized partners" on our country. It is, in particular, about all kinds of procedures for tenders, "shakes", "hearings" and the like.
I'm afraid that in the realities of native aspens, even the construction of a hospital would be drowned in endless sights, approvals, refinement of estimates and "side-pushing" of competing companies. Do you think not? Believe me, I am not at all against the fight against corruption. However, honestly, admit - our "craftsmen" have long learned to circumvent the same tenders. It is possible to deal with thieves and bribe-hungry officials in different ways. In China, such entities are sent to jail without unnecessary ceremonies, and often even shot at all. In our country, they are transferred to another position, and not always with a decrease. Under Stalin, there were no tenders at all. There was Beria. And they built it - to the current China to envy. Moreover, everything erected in those years - from dams to residential buildings stands firmly to this day. Perhaps the secret is not only in the quantity of equipment and the level of remuneration of workers ...