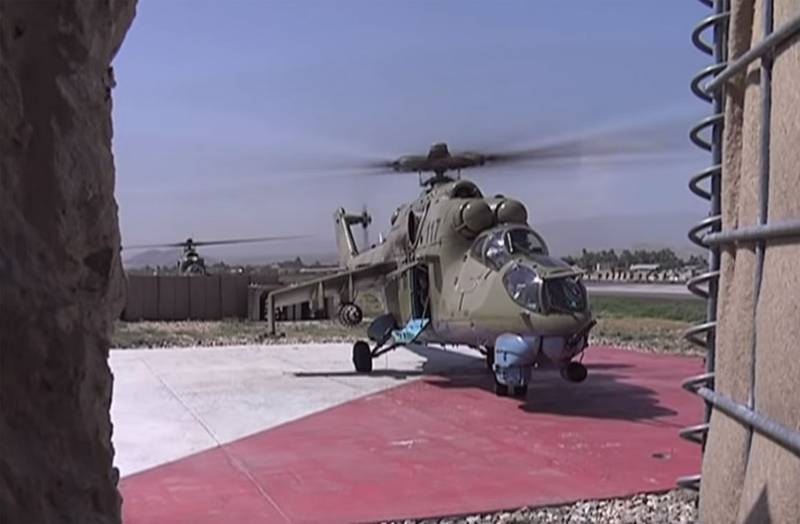 It became known that the U.S. Air Force conducted training using Mi-24 helicopters. According to recent reports, these rotary-wing aircraft of the United States Air Force were used in the area of ​​the Davis-Montan air base near the city of Tucson (Arizona).
Mi-24 attack helicopters were deployed during the exercises of the 55th US Air Force Rescue Squadron. The information is confirmed for the media by the representative of the aforementioned US air base, Captain Kurt Wallin.
According to Captain Wallin, these trainings allow you to better assess the capabilities of their own, American, helicopters, including upgraded versions of the UH-60 Black Hawk. It's about the HH-60G Pave Hawk version.
American officer:
Training with the Mi-24 drums is a serious step forward, which allows us to draw conclusions about the capabilities of our helicopters, the relevance of our tactics, the procedures and weapons used.
It is noted that the HH-60G Pave Hawk helicopters actually opposed the Mi-24 in the Davis Montan area. And this is not the first training in the US using
aviation
Russian (Soviet) production, including the same Mi-24.
The American media noted that the Mi-24 helicopters are in service with several countries that "are potential opponents of the United States."
Stephen Adams, 55th US Air Force Squadron pilot, answered a question about the reasons why it was necessary to use the Mi-24 during the exercises:
We must understand how to act against a particular threat in the air. That is why such teachings are very important to us. We conduct training, evaluate our capabilities, evaluate strengths.
According to some reports, the Mi-24 helicopters that were used during the exercises are those rotorcraft that were previously exhibited at the US Cold War Aviation Museum. A few years ago they were bought by private American companies in Bulgaria. Soon they became interested in the US military as an imitation of air threats.