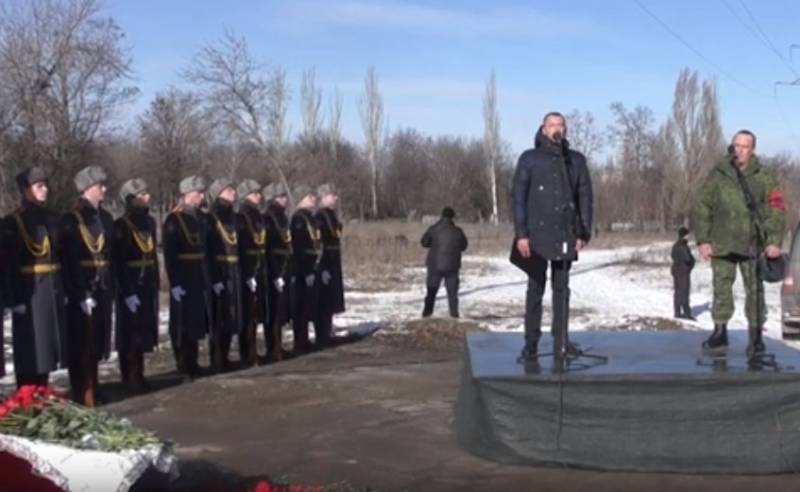 In words, the peaceful policy of Zelensky, who not only did not integrate the so-called Steinmeier's formula in the legislation of Ukraine, but also did not give an order to his armies for a truce, an order fixed on paper continues to bear its bloody fruit.
On January 22, a twenty-year-old corporal of the NM DPR Nikita Fokin was killed by a sniper bullet. Farewell to him took place on January 24, 2020, the funeral service of the Ukrainian sniper Nikita Fokin, who died at the hands of the Ukrainian sniper, took place in the central church of Gorlovka - the Epiphany Cathedral. Thousands of people came to say goodbye to him, who gathered in the square in front of the temple and then, as part of the mourning procession, went to the place of farewell, where they were able to lay flowers and wreaths as a tribute of respect and memory.
Goodbye to Nikita Fokin and the head of the Donetsk People's Republic Denis Pushilin. The head of the republic took part in the mourning rally, which was held at the central city cemetery of Gorlovka.
Nikita Fokin grew up in Gorlovka. After graduating from the 9th grade of the 40th school, he entered the Gorlovsky College of Urban Economics. In 2018, Nikita decided to defend the Donetsk People's Republic.
We must recall one more mournful date. It just so happened that on January 22, 2015, Ukrainian troops fired at the stop along with a stopped trolley bus. About 20 injured, a third of them died. On January 24, 2015, Ukrainian security forces staged a provocation with shelling of the eastern quarters of Mariupol, transferring blame to the DNI militia.