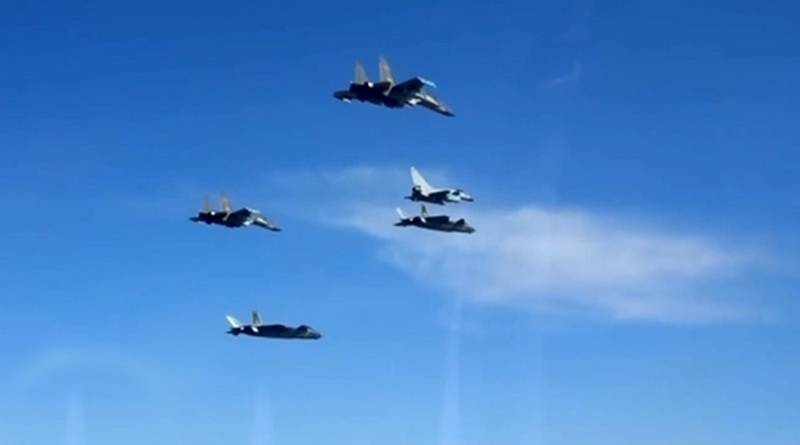 J-20, J-16 and J-10C in one formation
In China, a training battle was held with the participation of the latest combat aircraft of the country's air force J-20 and its earlier "associates." Some of his shots were published by Chinese media.
Musketeers of the Chinese sky
China's most advanced J-20 stealth fighter jets train as part of a real combat scenario along with powerful J-16 jets and agile J-10Cs
- indicates the Global Times with reference to the PLA Air Force.
Techniques of various types worked together; each model was assigned its own role. As noted, this tactic allows you to organize effective defense of the country's airspace. The exercises involved the J-20, J-16 and J-10C, which have already been dubbed the "three sky musketeers."
If the J-20 is positioned as a completely domestic development, then it should be noted that the J-16 was created on the basis of the Russian Su-30MKK fighter. J-10 is presented as a Chinese answer to Soviet (MiG-29 and Su-27) and American (F-15, F-16) machines.
J-20
According to the patterns of F-35
As you can see from the video, the "battle box" consists of two J-20s, two J-16s and one J-10C. As military expert Fu Qianshao explained, the latest J-20 stealth is more advanced because it uses advanced technologies, including more advanced avionics and AFAR radars. According to him, the J-16, the least secretive of the three types, can openly use the radar during the attack to detect targets and attract the attention of the enemy.
At this time, the "invisible" J-20s are able to hide nearby and launch sudden missile attacks after enemy targets reveal their location, trying to destroy the J-16. The J-10C fighter, equipped with a thrust vectoring engine, must take on close combat thanks to its inherent "super maneuverability".
In another tactical scenario, the J-20, using its stealth, is tasked with destroying the "strategic nodes of the enemy's defense," in particular, early warning aircraft [AWACS] and air tankers. Then, "to the eyeballs", an armed J-16 strikes at the enemy's ground forces, including mobile radars. At this time, the J-10C provides air dominance.
It should be noted that in general, the American experience is clearly traced in the described tactics of the battle. The US Air Force's stealth F-35 also plays the role of a "behind-the-scenes" player, while the F-16 or F-18 should provoke a "highlight" of the target that opens when they are detected. When working out the scenario of infrastructure destruction, F-35 fighters are tasked with delivering a lightning strike at enemy air defense centers. After that, earlier missiles loaded with missiles gain air superiority and complete the defeat of the enemy.
#ChinaDefense J-20 fighter jets assigned to an ace unit have been conducting real-combat scenario training as the Chinese Air Force revealed footage for the first time. https://t.co/h2qaFMFSOy pic.twitter.com/HBfNicOXOc

- Global Times (@globaltimesnews) January 20, 2020