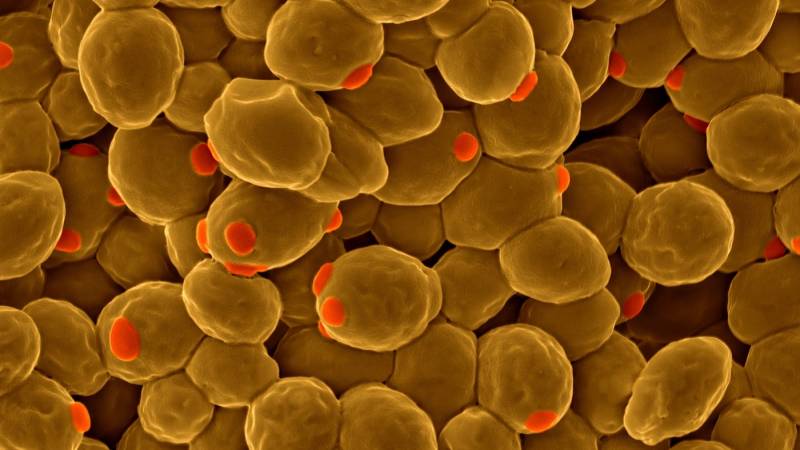 Yeast under the microscope
This article has long been conceived in a cycle under the general title "Hunger and War." Such a cycle involves the consideration of various measures against hunger, which usually accompanies any war of any length. Starvation during the war arises for many reasons, among which there is a drop in production, depletion of food supplies, the seizure of producing areas or supplies by the enemy, the destruction of food during the war, the enemy blocking the supply routes and so on.
This is a serious problem that should occupy a prominent place in the system of measures of military-economic training. You can fight without food, but not for long.
My interest in this topic is explained by the fact that in the literature on
stories
military economy there are absolutely no works devoted to this particular issue. Moreover, both in Soviet and German. In some places, especially among German authors, there are separate references to attempts to resolve food difficulties, in particular, the use of various kinds of food substitutes and, so to say, unusual food products, such as the same yeast. This is strange in light of the fact that hunger and war are a combination, in general, of the ordinary. Therefore, this topic needs to be developed.
The topic of yeast, or rather, alcohol-yeast production, was very interesting and interesting for me, so that I even did some experiments to study this issue.
Nutritional yeast
Yeast is mentioned as a food product in the puffy volume of the fascist German professor of food, Dr. Wilhelm Ziegelmeyer, who after the war became a major food specialist already in the GDR. A review of German literature provided some information on the nutritional use of yeast in Germany. Already during World War I, IfG, with the support of the government, built ten yeast factories with a total capacity of 5 to 10 thousand tons of yeast per year. They were used in bakery, as animal feed and as dietary protein.
Yeast in general in nutritional value is similar to pork (in 100 grams of product):
Yeast is slightly more nutritious than pork, and contains a wider variety of nutrients, vitamins and trace elements. 598 grams of yeast covers 100% of the daily protein requirement. Because yeast was used in Germany as an additive to meat.
The raw material for the production of yeast was molasses - an ovark during the processing of sugar from sugar beet juice. Germany was notable for its large production of sugar beets, so at first there was enough raw material for production. However, already in 1916, the cultivation of beets was reduced, and yeast production had to be reduced, which led to the cessation of food consumption of yeast.
The Nazis approached yeast production on the other hand. The main raw material was sulfate liquor - a waste of wood processing for cellulose. IfG Director German Fink believed that about 14 thousand tons of yeast can be produced from 50 million cubic meters of sulfate liquor in cash. During the war years, yeast production did not reach this indicator, but was significant: 18 thousand tons in 1944. There is mention of the nutritional use of yeast.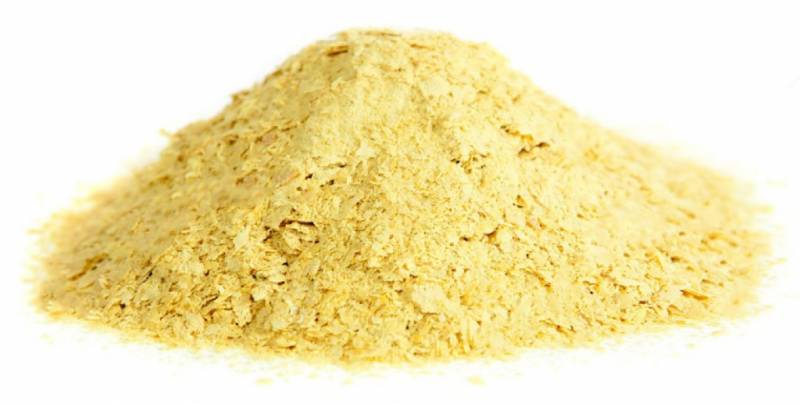 Yeast is now used as food. In the photo, just such food yeast
In the USSR, yeast, apparently, was deliberately not allowed to be consumed for food, but there were some references to baking yeast being prepared for food: they were fried with vegetable oil, and a product was obtained that was somewhat reminiscent of a meat paste. With a shortage and high cost of meat, yeast went as a delicacy.
Fast production
Yeast differs from other types of products in an extremely fast production cycle. Vegetation of wheat takes 110 days, potatoes - from 40 to 100 days, a pig reaches marketable weight in 8 months of fattening. Yeast is produced much faster. With a special dilution, 8 mg of yeast turns into 65-70 tons of finished products in just 11 days. This product is enough for 320 people during the year.
Yeast also does not require arable land, warm weather is not required (fermentation tanks can be heated to the optimum temperature by burning wood or mineral fuel), so that yeast production can be year-round. It is easy to calculate that one fermentation tank per 200 cubic meters will produce 2310 tons of yeast per year, which is enough for 10,5 thousand people during the year. The military-economic benefits are quite obvious.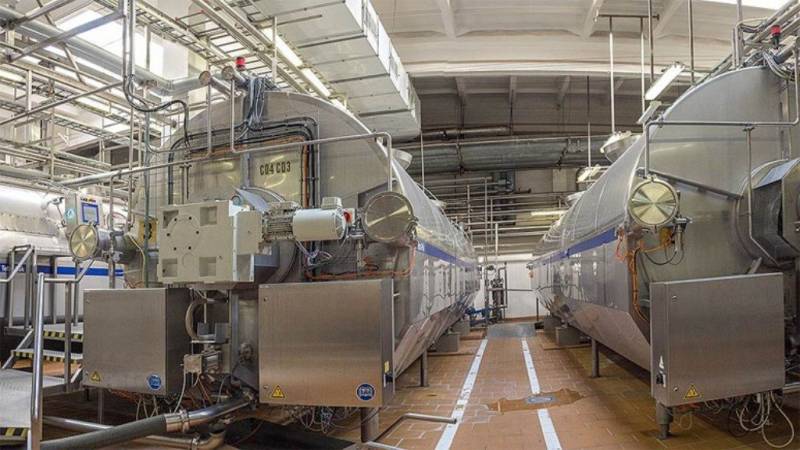 Large Yeast Factory - A Well-Equipped Enterprise
In addition, there are different methods for producing yeast. For example, during hydrolysis, 1 ton of coniferous wood can be obtained by alcohol-yeast production up to 180 liters of ethanol and up to 40 kg of yeast; in furfural-yeast production up to 80 kg of furfural and up to 100 kg of yeast; or in pure yeast production up to 200 kg of yeast.
In Russia, in 2018, 140,2 thousand tons of yeast were produced, mainly baking and fodder.
Practical experiences
It would seem that there is no problem. But you need to consider some points that may occur during the war. All yeast in Russia is produced on molasses, while the main areas of sugar beet production are in the zone in which there may be active military operations in a large war. That is, beets can be lost. Moreover, under military conditions, the production of sugar beets and sugar is inevitably reduced with the transfer of arable land for crops, which are more important than sugar in nutrition. If beetroot drops, then molasses and yeast fall along with it.
The hydrolysis production of yeast looks better. However, in wartime, it may not be in sufficient quantities of the necessary sulfuric acid and lime, or their transportation may encounter difficulties.
In general, it's great to produce yeast, the only question is the source of sugar. Sugar for yeast should be extracted as easily and simply as possible, without additional reagents that may not be available or that may be transferred for more important production. It was precisely this problem that I was puzzled with.
A study of the literature showed that it is relatively easy and simple to obtain sugar from wood or other plant materials. The juice of most tree species contains about 3-4% sugar. Some types of wood juice, sugar maple, and birch are used to make sugar syrup, alcohol, or even alcohol. Experiments have shown that juice containing 200 grams of sugar can be squeezed out of 6,8 grams of fresh wet pine shavings.
Thus, the extraction of freshly chopped wood pulp (fresh wood chips, shavings, sawdust is suitable) by itself makes it possible to obtain juice suitable for subsequent fermentation. Ethanol is distilled off from the fermented juice, and yeast is filtered out from the remaining stillage for further processing.
But you can go further. In this direction, I conducted some practical experiments. Sugar dissolves well in water, moreover it dissolves more readily in hot water than in cold water. Sugar contained in juice and partly in wood can be extracted with hot water. Taking wood chips and shavings from different tree species, I conducted a series of experiments on soaking wood in hot water (about 60 degrees).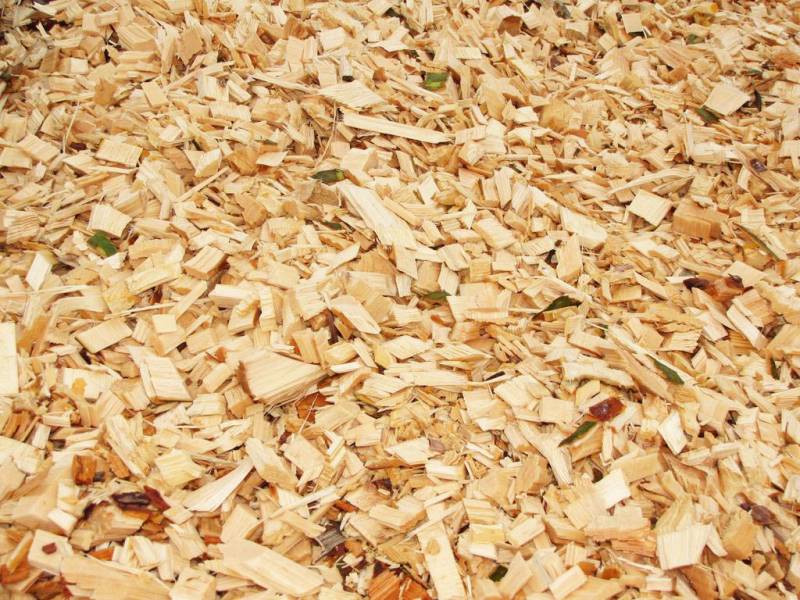 Pine chips - non-food raw materials, can be used for food production. You can procure a lot of this good.
It turned out that only 15-20 minutes were enough to get a very decent sugar syrup. Alder gave an infusion of light brown color, resembling brewed tea. The pine tree gave an infusion of delicate light golden color. Birch is almost transparent. The infusion has become noticeably more viscous than water, with a characteristic oily consistency. All samples were perfectly fermented with yeast, gave an alcohol yield of about 4% and a good yeast residue. And without acid hydrolysis it works.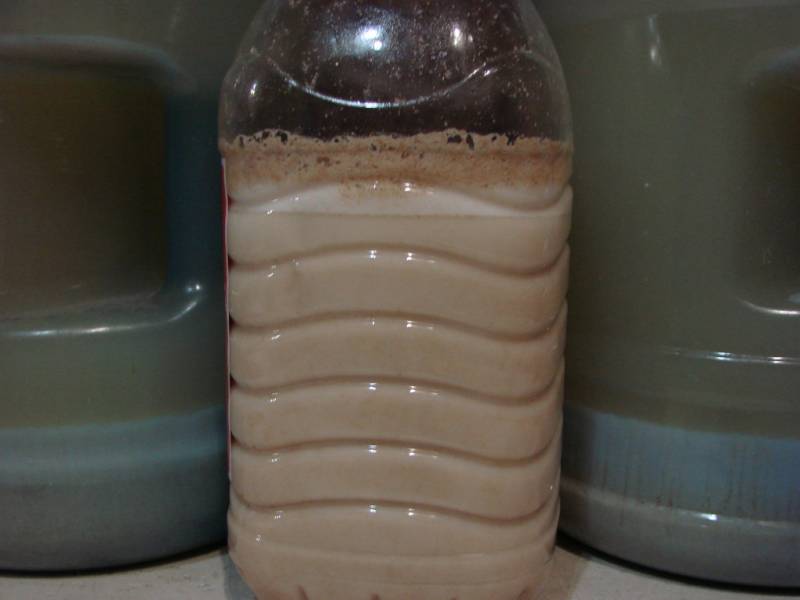 A roaming infusion looked something like this
The next series of experiments consisted in repeatedly soaking wood in hot water. It turned out that wood gives a fermentation suitable for fermentation for 3-4 soaks.
Can be soaked in cold water. Quick soaking gives a low result, significantly worse than hot water. But if you leave the wood in cold water for about a day, it also works well and the fermentation of this infusion is going pretty well.
The military-economic advantage of this method is its simplicity. It does not require sulfuric acid and lime to extinguish it; intermediate processing steps are excluded. No acidproof containers required; any buckets, containers or barrels that have turned up under the arm are suitable for soaking, the main thing is that it is convenient to drain the infusion and dig out the crushed wood (or turn the container over to remove it). I also used plastic trash bags placed in boxes made of construction plywood. Yeast can be drained from water using a fabric filter before distillation of the fermented infusion or after it. Used and dried wood pulp can then be used as fuel.
The whole cycle can be done not only at the factory, but also in the field, if there is enough wood and there is some equipment that can be found or made from improvised materials. I think that no one needs to be taught how to make the simplest moonshine. If the war didn't go according to plan and you ended up in an isolated area with obviously inadequate food resources, then you can support your strength with fried yeast and moonshine obtained from fermented wood juice and infusion. The smell of both will be so-so, but this, you see, is much better than eating any carrion, grass and bark.
I conducted only part of the experiments, as far as my capabilities were enough. But it is better to do everything to the end, with the preparation and tasting of the finished product. Perhaps this will be done in the future.
Preparation for a major war sometimes does not require millions and special institutions. Enough desire, inquisitiveness, ingenuity and perseverance.