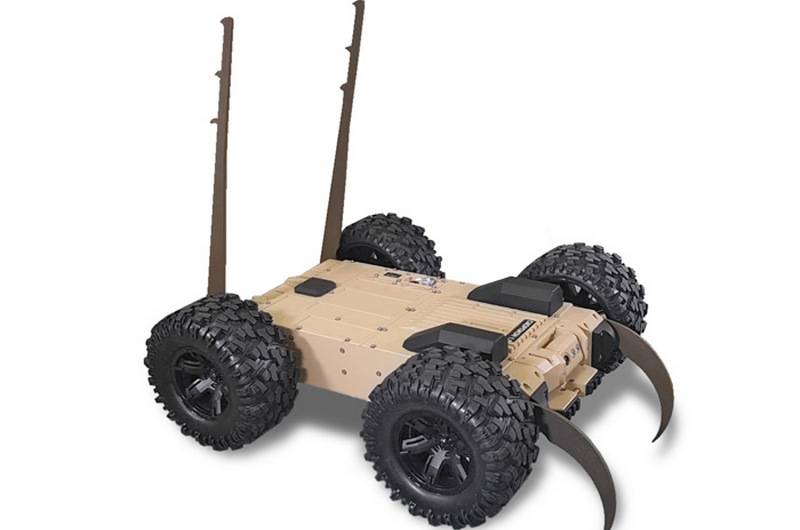 Small-sized portable remote-controlled robotic reconnaissance and clearance complex
The latest compact Scorpion reconnaissance and clearance robot will go into mass production later this year. It is reported by RIA
News
with reference to the development company JSC "SET-1".
As previously reported, the Scorpio robot is a further development of the Scarab lightweight sapper robot used by Russian sappers in Syria. A prototype "Scorpio" was tested in the engineering forces, this was reported last summer. Currently, the company has received the first order for several robots.
The development of a new remotely controlled robotic device for reconnaissance and clearance "Scorpion" is at the final stage, this year we are starting its serial production
- said the company.
The robot is a four-wheeled platform weighing up to 20 kilograms, compatible with various types of attachments. Replaceable batteries provide autonomy from 4 to 10 hours, allow you to work in low temperatures to minus 30 degrees.
According to the developers, the control system is based on a single digital radio channel for managing and transmitting data of its own design. The radio channel has an algorithm that provides ease of binding the control panel to the robot and eliminates control interception. There is an additional wire control for operation in conditions of radio silence or suppression of a radio signal.
Recall that the company "SET-1" is a developer and manufacturer of engineering robots "Sphere" and "Scarab", used by Russian sappers during clearance in Syria.