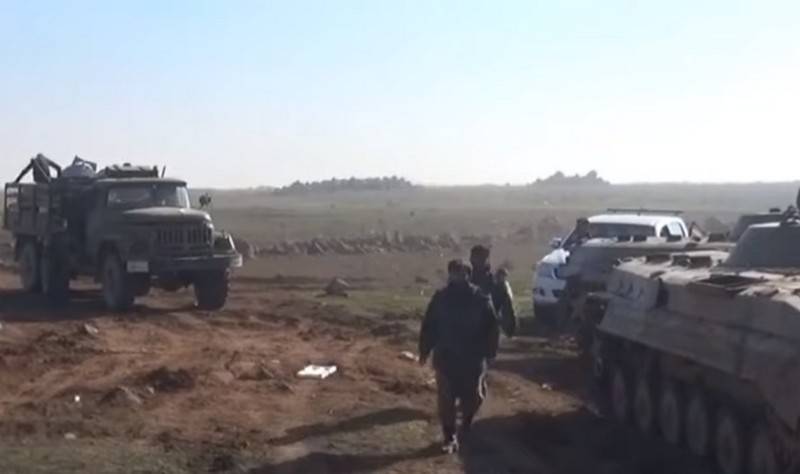 Syrian government forces were forced to retreat from their positions in the southeastern part of the Idlib de-escalation zone after a massive attack by militants. This was reported by the Russian center for reconciliation of the warring parties in Syria.
According to the report, the positions of government troops in Idlib province were simultaneously attacked by militants in two different directions at once at night. The first attack was carried out in the direction of Abu Jreif - Female by militants of the Islamic Party of Turkestan banned in Russia terrorist group. Up to 200 terrorists took part in the attack with the support of 20 pickups,
tank
, two infantry fighting vehicles and two jihad mobiles. Before the attack, the positions of the Syrian troops were fired from "ballonometr", MLRS and drones.
This attack led to the loss of two settlements - Huayn al-Shaaf and Samka.
The second attack was carried out in the direction of Maar-Shmarin-Krati. About 250 terrorists took part in it with the support of 34 pickups with heavy machine guns, two tanks, one BMP and two jihad mobiles. Syrian forces have lost ground, nothing has been reported about the loss of settlements.
In addition, the militants conducted a series of attacks with small forces, which the Syrian troops also managed to repel.
According to available information, terrorist attacks led to the deaths of up to 48 Syrian military, more than 90 people were injured. Losses of militants amounted to 56 people, more than 100 terrorists were injured.
According to the Syrian media, terrorist attacks have been going on for a week, militants are trying to break through the defenses of the Syrian government army, there are fierce battles.