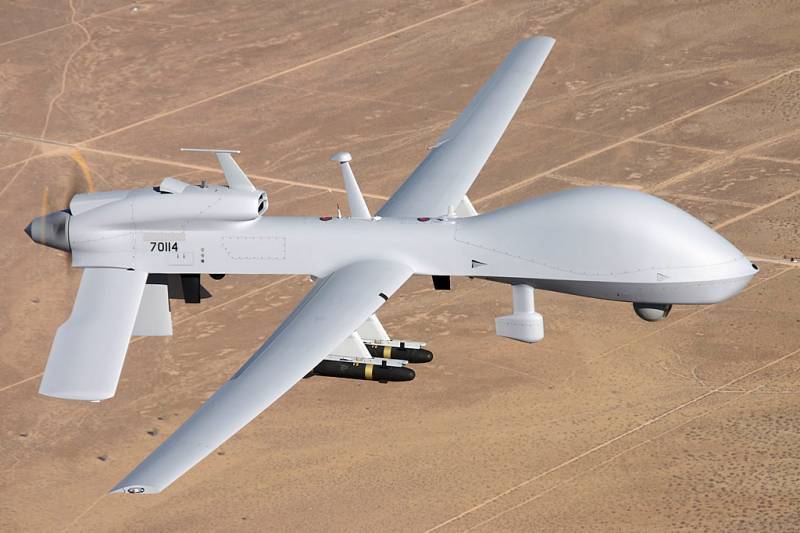 The American long-range reconnaissance and drone drone MQ-1C Gray Eagle (Gray Eagle) can get two more functions. As transmits
"NPlus1"
General Atomics, the company producing this drone, began testing the UAV version as a gunner for ballistic missiles, and also as a carrier for small unmanned drones.
According to available information, tests of both versions of the MQ-1C Gray Eagle UAV began back in November last year and are being carried out on an initiative basis at the company's expense. The capabilities of new developments will be demonstrated by the US military during the tests planned for this year, after which General Atomics plans to receive funding for its developments.
It is assumed that in the version of the gunner for ballistic missiles, the MQ-1C Gray Eagle will be used to more accurately target the strikes of new tactical ballistic missiles, developed to replace obsolete ammunition with cluster warheads of ATACMS tactical complexes.
The device will receive a Lynx Block 30A radar station with a synthesized aperture and a mode for detecting and identifying ground and surface targets. Thanks to this radar, the drone will be able to detect and identify ground targets of the enemy and transmit targeting data to LRPF missile launchers.
In the version of the carrier of small drones, it is assumed that the latter can significantly expand the intelligence capabilities of the MQ-1C Gray Eagle. By sending them to the sides, the drone can significantly expand the field of view, more reliably identify ground targets, etc., as well as significantly expand the communication zone. Also, small drones can serve as false targets when attacking an UAV with anti-aircraft weapons.
At the moment, it is too early to talk about the prospects of these developments, but General Atomics intends to bring the developments to the likely adoption of the American army.
Earlier it was reported that the drone MQ-1C Gray Eagle can be in the air for up to 30 hours, while developing a speed of up to 280 km / h. The drone is intended primarily for reconnaissance, but can serve as a shock drone. To do this, he can carry four missiles AGM-114 Hellfire and four guided aerial bombs GBU-44 / B Viper Strike.