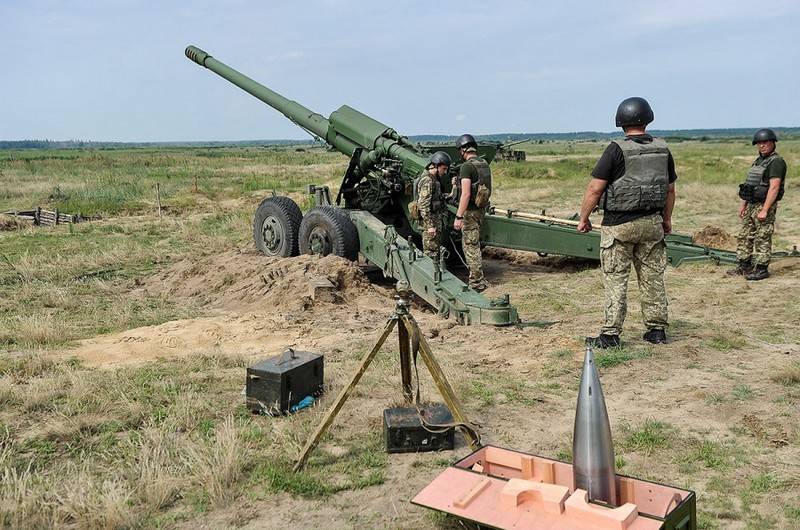 The 152-mm artillery shells widely advertised in Ukraine for Ukrainian-made Hyacinth cannons developed in the USSR turned out to be not only of poor quality, but also dangerous for artillerymen. This was reported by Ukrainian military blogger diana_mihailova in the material
"Dangerous problems identified during testing of Ukrainian 152-mm artillery shells"
.
In her article, the Ukrainian blogger drew attention to the publication of Vladimir Schetinin, who on his Facebook page posted unpleasant information about the tests and problems of domestic (Ukrainian-made) 152-mm artillery shells for 2A36 ("Hyacinth-B") and 2C5 (" Hyacinth-C ").
Reportedly, Ukrainian shells do not meet certain criteria inherent in artillery shells. According to Shchetinin, manufacturing techniques were violated in the manufacture of shells.
So, he writes, a Ukrainian artillery shell gives only 50 to 100 fragments during an explosion, while a similar Soviet-made projectile OF29 - from 1700 to 2000. It turns out that Ukrainian gunsmiths use different explosives and inappropriate metal in the manufacture of shells. The use of low-carbon steel, whose chemical composition gives the material a high impact strength, negatively affected the creation of fragments after the detonation of ammunition after being hit.
Since the projectile is prefabricated, this makes it impossible to shoot at the rebound - when it hits the ground, the projectile will collapse, fragmentation, moment of inertia also change, which negatively affects the derivation and ballistics of the projectile
- stated in the material.
It is also reported that the shells are equipped with explosives, which turned out to be unsuitable for long-term storage and increase their volume over time. However, such shells are delivered to the Ukrainian army and, according to the expert, pose a threat not only during firing, but even during storage.
You can read a full review of Ukrainian shells from Vladimir Schetinin by clicking on this
link
(Caution, profanity is present!)