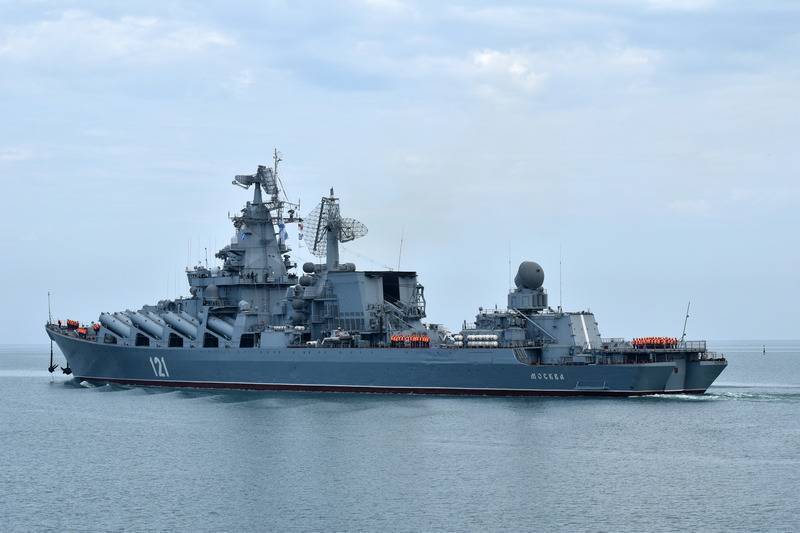 ФлР° РіРјР ° РЅ Черноморского
fleet
RIRP ° рдейский№ СЂР ° РєРµС'РЅС ‹Р№ крейсер" РњРѕСЃРєРІР ° "вроектР° 1164" АтлР° РЅР ґРІР РІР Р ° РІ Р'оенно-РјРѕСЂСЃРєРѕРіРѕ С "Р» отР° РІРѕ втором РєРІР ° ртР° Р »Рµ 2020 РіРѕРґР °. RћR ± этом СЃРѕРѕР ± С ‰ Р ° РµС 'РўРђРЎРЎ СЃРѕ СЃСЃС‹ R
Currently, the ship is located at the 13th shipyard, where the cruiser's marching readiness is being restored. As Director of the 13th Shipyard Alexander Yuryev stated earlier, the ship's repair is near completion.
The cruiser Moskva has not gone to sea since 2016 in connection with the repair and modernization of the ship, the first voyage after the completion of the first stage of the repair took place on June 5, 2019. When the work was completed in full, it was not reported that the dates for testing the ship in December 2019 were called. .
In October 2018, it became known that work was begun in Sevastopol to restore the marching readiness of the Project 1164 guards missile cruiser Moskva, code Atlant. At the same time, it was emphasized that the task was to return the ship to the course, there was no talk of modernization. At the same time, the USC said that they were ready to upgrade the cruiser if the military and technical project wanted. However, the Northern Design Bureau (SPKB) reported that the Ministry of Defense has no funds to modernize the ship and the development of the modernization project will begin, at best, after 2020.
The cruiser "Moscow" was laid on the stocks of the Nikolaev shipbuilding plant named after the 61 communard in the 1976 year as the Slava missile cruiser, is the leading missile in the series of missile cruisers. Launched 27 July 1979 g., Was put into operation in 1983 year. Displacement - 11380 tons. It is equipped with 16 launchers of Vulkan missiles, artillery, air defense systems, torpedo tubes and depth-fire bombs.
The last time the cruiser was at sea from September 2015 of the year to January 2016 of the year in the eastern part of the Mediterranean Sea for air defense from the sea direction of the Russian Hmeimim airbase in Syria.