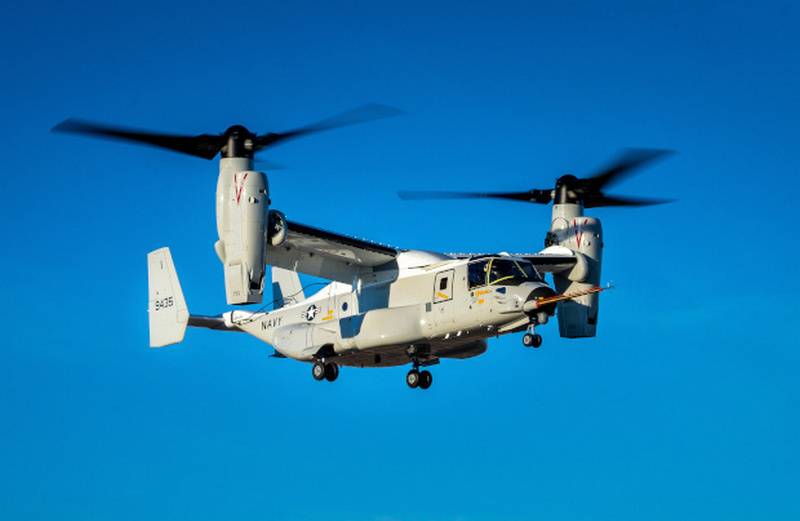 Transport tiltrotor CMV-22B
Designed to replace the obsolete deck carrier C-2A Greyhound, the transport version of the CMV-22B tiltrotor made its first flight. It is reported
"NPlus1"
with reference to the press service of Boeing.
According to the company, developed by Bell and Boeing based on the V-22 Osprey, the CMV-22B transport tiltrotor made its first flight on January 21, 2020. Flight tests of the machine are carried out at the aerodrome of the Bell plant in Amarillo in Texas.
Details of the tests are not given in the report, but it is known that they are recognized as successful.
Currently, U.S. Navy aircraft carriers at sea use C-2A Greyhound transport aircraft to deliver fuel, spare parts and provisions. The transporter has a length of 17,3 meters, a wingspan of 24,6 meters and a height of 4,8 meters. The maximum take-off weight is 27,2 tons. It is designed to carry up to 26 passengers or cargo weighing up to 4,5 tons. C-2A is capable of flying at speeds of 465 kilometers per hour over a distance of 2,4 thousands of kilometers. The U.S. Navy X-NUMXA entered service in the 2 year.
The CMV-22B transport tiltrotor is being developed by order of the U.S. Navy and is expected to replace the outdated C-2A Greyhound deck carrier aircraft. In 2019, the command of the American
fleet
ordered the delivery of the first 39 transport convertiplanes.
Bell and Boeing, which are leading the development of the new tiltrotor, do not much talk about their new car. Today it is known that the tiltrotor received conformal increased fuel tanks located on the sides of the fuselage to increase the flight range to 1,85 thousand km. In addition, the cargo compartment has been changed to accommodate the engine of the F-35C Lightning II fighter. This power plant does not fit in the cargo compartment of the C-2A, which was one of the reasons why the US Navy ordered the development of the CMV-22B.
It is reported that, according to the plans of the US Navy, C-2A transport planes will be written off in the 2026-2028 year. The first serial convertiplane CMV-22B should enter the fleet in the 2021 year.