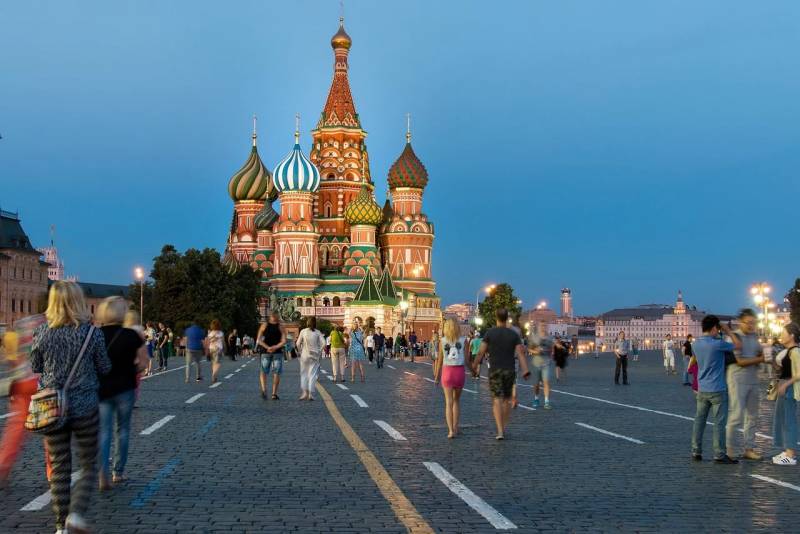 ... wherever the path may run, we Russian dreamed land.
V. Nabokov
foreword
How did this article come about?
I am Russian. The roots of my ancestors, simple peasants, are lost in the depths of centuries in the villages of two northern Volga provinces. And my grandfathers (one of whom was a participant in the Russo-Japanese War and brought his wife from the Far East, the future mother of my father) are lying on a quiet graveyard under tall birches near a church near a small Volga town, famous for its old park, manufactories and well-known throughout Russia weavers and illustrious military leaders (for some reason, most are aviators). And in other cemeteries of this town, many of my relatives are buried. My close relatives today live in Orel, Yekaterinburg and Moscow, and my distant relatives live in Leningrad-Petersburg, Stalingrad-Volgograd, Gorky-Nizhny Novgorod, Eastern Siberia, the Don, Kuban and in the same town in which I often as a child spent the summer holidays. My parents also come from this town.
The father, who had become a regular soldier before the war, had the fate of a typical military USSR, with frequent relocations. He served in Moscow, the Caucasus, the Far East, in the post-war East Prussia, Lithuania and Latvia. After another service, again in the Far East, where he retired, he moved his family and settled in one of the Russian cities of New Russia (today it is the territory of Ukraine). Where did I, his son, born on a frosty January morning of the second year after the Victory in the Far East, go when I grew up, on business trips and campaigns throughout the Soviet Union. He returned here with his family, having worked for many years in the seas of the Far East.
And in 1991, the collapse of the USSR. Then it was thought that this would not be for long. It turned out - for a long time. And in 2014 something happened that was not even dreamed of in the most nightmare dreams: the power in Ukraine overnight, as a result of a coup d'etat, was seized by Bandera (it later became clear that the coup had been carefully and thoroughly prepared by the Americans)! And again, at first it was thought that it would not be for long: even the hardest World War II lasted less than four years. But for the seventh year already, pro-American compradors with the help of hand-held Bandera keep the whole country under a hood and sights. They are a minority, but they, supported by the West, hold power tenaciously, carefully monitoring and brutally suppressing the slightest attempts to counter the majority of the people who disagree with them. There is no opposition at all: those who call themselves opposition are accomplices of power.
And we are all waiting for the beginning of the offensive of the Donbass, carefully following both the Donbass and what is happening in the homeland, in Russia. There are a lot of people like me in Novorossia (and in central Ukraine there too). It's only a pity that the mood of most Russians (judging by the communication on the Russian Internet) towards us has changed a lot. Instead of the fraternal "Russians do not abandon their own!" In 2014, one can now increasingly hear that ALL Ukrainians are stupid scum and subhuman (and after all, over 130 nations and nationalities live in the state of Ukraine, most of which are against Bandera!). And many, having learned that you are from Ukraine, are simply insulting. VERY unpleasant to hear this from the brothers! But it seems that they were virtually all infected by the fool Nastya Dmitruk ... On the one hand, we are pressed by the current pro-Western authorities with Bandera and their media, calling cattle, sucks, scoops, Sovdeps, quilted jackets, cotton wool, Colorado, rashists, putinoids and terrorizing as soon as possible On the other hand, they are close-knit Russian non-brothers (not all Russians!), offering for no reason to help, die quickly and calling stupid Ukrainians and, in general, almost the same words as Ukrainian Bandera.
As an answer to everyone who, without understanding and without thinking, offends ALL residents of Ukraine, this article arose.
About emigration
This topic is extremely popular and relevant recently in Russia. Not a day is passing now so that at least one or several events of this topic are not widely covered, hotly and heatedly discussed by both Russians and Russians abroad.
In the last thirty years, many Russians have begun to travel and go abroad. Some for a while, others for good. Some retain Russian citizenship, others do not. They behave differently abroad and talk differently about Russia and the Russians. Differently and they are estimated by Russians. Sometimes it's wrong. Here, in order to better and more clearly understand who the famous and ordinary Russians and Russians really are, who are really Ovechkin, Malkin, Medvedeva, as well as Kasparov, Chichvarkin, Babchenko, Serebryakov, Maksakova, Loiko, Pozner, Makarevich, Basilashvili, Akhedzhakova, Panin, Lisa Peskova, many others and you yourself, this article is written. I believe that it does not bother everyone to look in the mirror, think and draw some conclusions. Those, of course, who have normal brains and they work in the right direction.
Emigration has always been. For a variety of reasons, people left their countries and left, left, sailed away, flew to other countries. There was always emigration in Russia. In different periods it intensified, then weakened, changed its intensity and direction. In difficult times, it was larger, in the years of improvement it almost stopped.
About Russian patriotism, patriots and false patriots
It so happened historically (geographical location, vast expanses, wars, revolutions, periods of devastation, restoration, stagnation) that Russia, being the largest country in the world and possessing huge natural wealth, has never been the most prosperous and comfortable for people to live. But, despite this, in Russia there has always been, is and I am sure that there will always be that majority of the resident population that is called
the people of Russia
. These are people who, despite natural and artificial, man-made shortcomings, difficulties, sometimes deprivations (difficult, and in some places very harsh climates; labor, housing and domestic inconveniences sometimes; not always kind and attentive, and sometimes just cruel attitude authorities and officials to the needs of ordinary people; injustice sometimes in wages, other absurdities and hardships of Russian life), do not leave anywhere, do not run, but live and work in their country and for its sake (but not for the sake of temporary workers - officials and rulers!) ready for privation I, difficulties and even death in the midst of the defense of the homeland. it
true patriots of Russia
, its foundation, its strength. These are people of different nations and nationalities of the multinational Russian Federation, who in other countries are called briefly in one word -
русские
.
Recently, some began to make patriotism dependent on the number of banknotes. This is completely wrong: patriotism for money is not patriotism.
True patriots always act in the name of the good, development and prosperity of their Fatherland and for its benefit. True patriots love their country and people, but they relate normally to the peoples of other countries. Unlike
false patriots (cheers and national patriots)
who, hiding behind loud demagogic phrases about love for the motherland, act to her detriment, often pursuing their mercantile goals. And national patriots, if they manage to break through to power, always lead their states to collapse.
One kind
false patriotism
-
cheers patriotism
(
ultra-patriotism, or leaven
) Hurray patriots (ultra-patriots) also love their homeland and state, but with hypertrophied exaggerated blind love in extreme, reckless forms and demand the same from all members of society, accusing them of lack or lack of patriotism. Ordinary cheers-patriots are always ready to rush into a battle with a real, and often imaginary, fictitious adversary, on the instructions of the leaders or their own fabrications, without any reasoning or thought. The leaders of the cheers-patriots exercise leadership and direction of the rank-and-file cheers-patriots, but usually they themselves do not engage in battles, preferring to observe from the side and from afar. Hurray patriots consider the people of their country to be significantly higher than the peoples of other countries.
Separately, it must be said about
radical extremes of jingoism (ultra-patriotism
) - about the dead end (according to world experience) branch of patriotism, its right extreme:
national patriotism
or
chauvinism
. National patriots are also patriots. But, unlike real patriots, who are well disposed towards normal people of their own and other countries, they painfully and exaltedly love only their Motherland and only that part of their people that shares their radical beliefs, and all other peoples and that part of their people that they do not support them, they hate and consider them enemies, they fight against them with the most cruel methods. What are similar and do not differ from all other nationalists in the world. Including from Estonian, Latvian, Lithuanian, Polish and Ukrainian (Bandera). Very accurately, M. Zhvanetsky once said this a long time ago:
"Nationalism is also patriotism, but with a bias in schizophrenia."
There are many national patriots in Russia. From the most radical underground neo-Nazi to the relatively soft semi-underground and open type of NOD.
About emigrants and emigration from Russia in detail
But there are other people in Russia -
emigrants
. This is a small part of the Russian population compared to the people of Russia (recently, 200-300 thousand a year, up to 0,2% of the Russian population or up to 1 out of 500 people). The Russian emigration consists of several groups.
The first group is
emigrants according to circumstances
. These are people who did not really want or do not really want, but were forced to leave or were forced to leave Russia. Most of them are emigrants after the collapse of the USSR, when millions of Russians, Russians remained outside of Russia. And the program to return compatriots seems to have been adopted in Russia today, but it is so poorly implemented that one can speak either of its sabotage, or of its declaratively fictitious character, causing significant reputation damage to the Russian state and casting doubt on the popular motto "Russian they don't give up! "This is especially noticeable in comparison with other countries of the world, where such programs are not only extremely effective, attentive and kind to compatriots, but also bring great benefit to these states gifts, and to people and societies themselves. Another significant part
emigrants according to circumstances
- These are members of families where one of the spouses is a foreigner (foreigner). Most of the emigrants who have remained abroad or leaving do not break ties with Russia due to circumstances, many retain Russian citizenship, language, culture and teach their children to them, and never oppose condemning Russia and the Russians either. There are other reasons for this type of emigration.
The second group is
internal emigrants
. This is a special, very specific emigration. After all, living in Russia, communicating with fellow citizens and government officials, a person refuses to recognize (usually partially) the real and existing Russian state, government, laws,
history
, Russia itself and its people, not responding
his
requests, interests and concepts. The most famous and active figures of this virtual emigration (usually from among the creative intelligentsia), who themselves have appointed and declared leaders and the voice of the whole Russian people, on behalf of themselves and their supporters, who they call the whole Russian people, demand from the supreme power of Russia to immediately fulfill all
CASH
requirements and immediate harmonization of Russian laws with
CASH
requests and interests.
Their
The "ideal state" for some reason is very reminiscent of the state of Western democracy. And funding for their activities usually comes from there. Internal emigration is almost always the forerunner
emigration of tiers
.
Citizens who, in addition to Russian, have foreign passports of other states, work in Russia and freely act in the interests of
своих
foreign states, do not belong to internal emigrants. And the assessment of their usefulness and expediency of staying in Russia is determined by the FSB. Finally, on January 15 of this year, V.V. Putin drew attention to this and proposed amending the Constitution of Russia on this issue.
The third group is
emigrants
. If very briefly, then
get out
- these are the Russians who do not want to be Russians and Russians. For a variety of reasons, the feeling of patriotism in these people is either poorly developed or completely absent. And by character, they are usually adventurers. These people have recently been a significant part of Russian emigration. They leave Russia for a better and richer life (because this emigration was once called long ago
"Sausage"
), assuring that the developed Western countries willingly accept emigrants and give people more opportunities than "backward Russia". For the sake of this, they are ready to abandon everything: their homeland - Russia, Russian citizenship, language, culture, often relatives and friends, and accept citizenship, language, culture, and customs of the host country.
Get out
they leave, knowing that difficulties await them there and will not be easy. But they do not know how enormous these difficulties are! Why? Because Russians all over the world, with the exception of several countries friendly to Russia, are afraid, afraid and considered capable of any crimes because of powerful Western anti-Russian propaganda. And also because mainly ambitious people emigrate from Russia, although they are well educated, of secondary qualifications and abilities, and it is precisely such a contingent that is least needed in the developed countries of the West. Most of all there is a demand for workers of prestigious low-paid professions, where they are reluctant to take educated, demanding, with high self-esteem and justice of Russians, preferring to them all Latinos, Asians and Africans.
Who are welcome in the West?
First, the
very well-educated talented and promising young people or well-known, outstanding, world-famous creators and scientists. Especially with a significant amount of data (preferably of a secret nature) about Russia.
Secondly
, rich and very rich people who make significant contributions and investments in the economy of the host countries. Moreover, the sources, methods and methods of acquiring capital are usually not of interest to the host countries at first. Although in the future, under certain circumstances or the aggravation of relations with Russia, a sharp increase in the interest of law enforcement bodies of these countries to the circumstances of enriching a guest or a new citizen right up to trial, arrest, annulment of capital and expulsion of their former owner from the country is not uncommon.
Third,
well-known, famous, media figures from Russia, agreeing and leading Russophobic propaganda in the Western media. For not very rich, but popular in Russia people,
Russophobia
- the easiest, easiest, affordable and cheapest way to get and establish yourself in the West. The more Russophobia is, the more kindly they are treated there, the better for them. The truth, truthfulness and accuracy of Russophobia in the West do not bother.
Recently, the main emigration does not come from deep Russia, but from capitals (Moscow - almost half, from St. Petersburg - almost a fifth) and large centers. This is surprising and sad because these cities have significant benefits, privileges, higher salaries and they live much better and richer than the Russian hinterland. Even sadder is that during the Great Patriotic War it was these cities that showed high patriotism and served as an example of it. And now some of them are fleeing abroad ... However,
such
people have always been.
There are many trials and difficulties awaiting Russian foreigners in a foreign land. But the biggest, hardest and sometimes terrible test for many is
nostalgia
. Sooner or later, she always comes to all emigrants. But if you can avoid other difficulties, hide or run away from nostalgia, you won't run away from nostalgia: it is in you, it constantly worries and disturbs the soul. In different ways, people fight and endure it. For some, it passes quickly and almost imperceptibly. Others have been tormented by it all their lives. There are cases of fatal defeat ... Some find ways to distract. Others do not stand it and return to Russia. Only the children brought by their parents are little nonsense, and the children of immigrants who were born in a new country do not know it and live in peace.
Special mention must be made of Russians who go abroad for significant periods of time, but who are not emigrants. These are people who go to other countries of the world to study, internship, on business trips, to work, for training (elite athletes). They have Russian citizenship, relations with the embassy and Russia, they behave there, as a rule, with dignity and do not appear in the Western media with discrediting Russia and Russian revelations, statements, speculations and fabrications. They always return to Russia. They are -
true patriots of Russia
.
Last question, last answer
In the world, everything is complicated and ambiguous. Almost all questions have many answers. And only the question ("
Are you a patriot of Russia?
») Always resolved uniquely. Either yes or no. There is no third option.
Afterword
I know that those whom I touched on in the article will now fall upon me with reproaches, accusations and insults. There is nothing surprising in this: like all societies in the world, Russian society is heterogeneous. And it was never uniform! But the real Russian patriots will understand and support me.