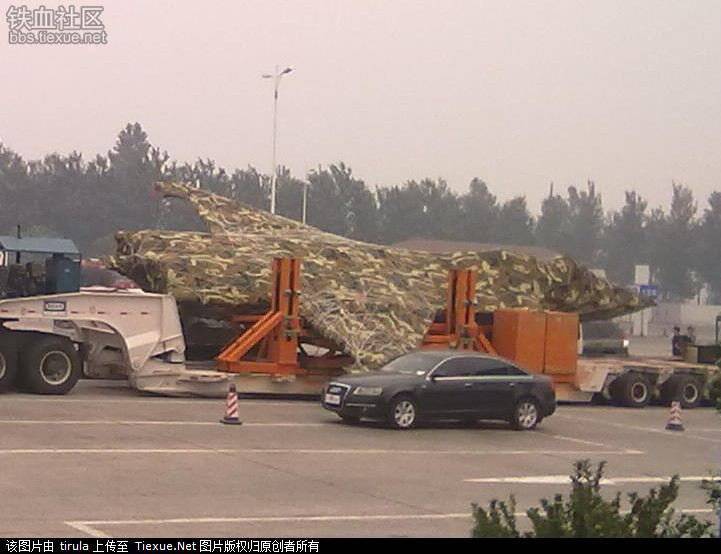 China has built a second fighter using stealth technology. A photo of a draped aircraft appeared on the Internet, taken during its transportation on a car platform. The photo was distributed by the Washington Free Beacon company.
Experts believe that the day-to-day transportation of a new aircraft may indicate the intention of the Chinese authorities to organize a deliberate "leakage" of information about its existence. However, the presence of a Audi car next to a photographed fighter allows you to calculate the dimensions of the aircraft.
US intelligence agencies recently announced new information about the second Chinese fighter-bomber, created with the use of "stealth" technologies.
The new F-60 fighter is an 5 generation aircraft, its photos have appeared on two Chinese military websites since June 21.
Experts believe that the configuration and design of the F-60 aircraft is similar to the US Air Force F-22 Raptor fighter, although the Chinese aircraft is smaller.
There are opinions based on information from counterintelligence sources that China was able to obtain information about the design of the American F-22 fighter through espionage or cyber espionage, as happened with the version of the American Fighter 5-generation F-35, information about which was obtained using Chinese hackers a few years ago.
A spokeswoman for the intelligence department of the US Department of Defense declined to comment on the appearance of a Chinese low-profile fighter.
According to analysts who analyzed the photo that appeared, the first prototype of a new Chinese fighter was shown on it during transportation, which was transported to a test center for conducting strength tests.
At the same time, some experts claim that the twin-engined plane depicted in the photo without vertical tail stabilizers and cockpit canopy is an L-15 training aircraft.
At the same time, photo analysis shows that the new aircraft is larger and has different wing shapes and air intakes of the power plant, which may indicate that this is a new F-60.